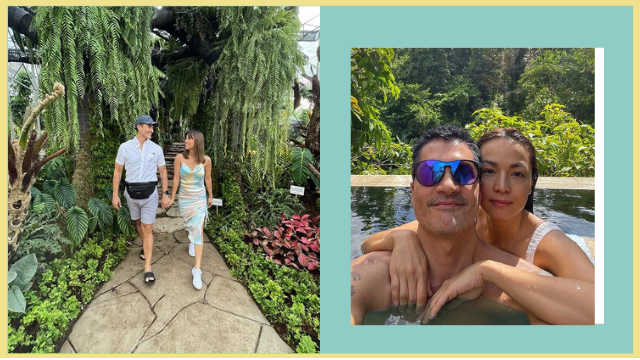 Long-time celebrity couple Aubrey Miles and Troy Montero are 18 years strong!
The couple celebrated their anniversary with a staycation at The Farm at San Benito. Despite almost two decades together, the two still looked like they were in the honeymoon stage! On his Instagram, Troy wrote a sweet message for his significant other:
ADVERTISEMENT - CONTINUE READING BELOW
"Eighteen years of breakfast dates with you. Mostly in pajamas and pang-bahay na damit, but every so often we get a bikini and boardshorts, hotel robes, or birthday suit treat.
"Thankful to get those bikini/hotel robe dates but it's the pajamas and pang-bahay breakfast days that got us to 18 delicious years. Cheers to our way of doing things @milesaubrey," the dad wrote.
On her Instagram, Aubrey shared how she and Troy managed to be in a strong, committed relationship. "For me, it's not really complicated," she writes.
She adds, "Always remember when you enter a relationship, could you see a future with this person? Maybe even growing old together?"
The mom of three adds that while nothing in this world is guaranteed, staying together is a choice. "All I can say is everything is a choice. Wrong or right, you know what you're doing. Of course, there's always struggle and ups and down. Definitely nothing is perfect, but make sure you have more ups than downs."
ADVERTISEMENT - CONTINUE READING BELOW
She also says that it is important to be with someone who inspires you to be different and better. She ends her post with another piece of advice. "One more thing, Control, balance and keep it to yourself. Take note: Don't forget to ENJOY IT WITH CAUTION."
Back in May, the two revealed that they had already planned an intimate wedding in Batanes that was supposed to happen in April 2020. However, they kept postponing it because of the COVID-19 pandemic. 
ADVERTISEMENT - CONTINUE READING BELOW
The couple have two kids together, Hunter, 12, and Rocket, 2. Aubrey also has a 20-year-old son, Maurie, from a previous relationship.
Research by Czainnah Gajito
Aubrey and Troy are building their future family home in Antipolo! Check it out here.
Load More Stories