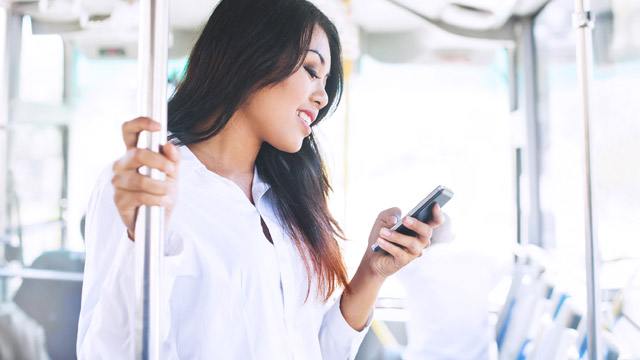 Breaking up is hard to do, but you know what's harder? Calling it quits and having a hard time moving on because you keep on seeing his selfies and his other Facebook updates. As they say, "Out of sight, out of mind," but how can you do that when you're still Facebook friends with your ex?
In case you're too proud to unfriend or block him, no worries, as there are other ways to cut social media ties without him knowing that you did. Here's a step-by-step guide that can help.
Step 1: Go to your Facebook profile and click "Take a break from someone"
You can easily take a break from anyone you want to see less (the ex, for example) on Facebook, simply by doing the following: click the Question Mark option on the upper right side of your profile page, then type "Take A Break." A help drop-down will appear, and all you have to do is click the "How do I take a break from someone?" option before clicking related the link in-article. Or, you can just go here: https://www.facebook.com/?take_a_break=1. A pop-up with then appear:
ADVERTISEMENT - CONTINUE READING BELOW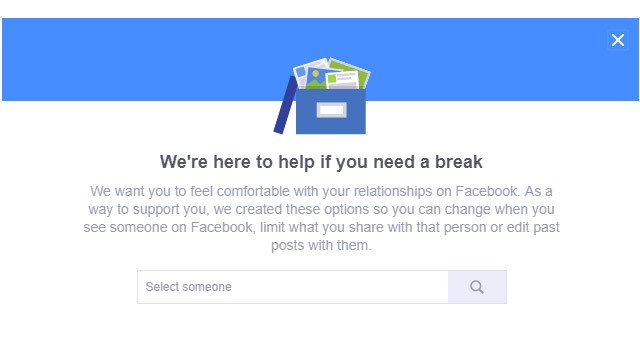 After typing the name of the person you want to take a break from, you'll see several options: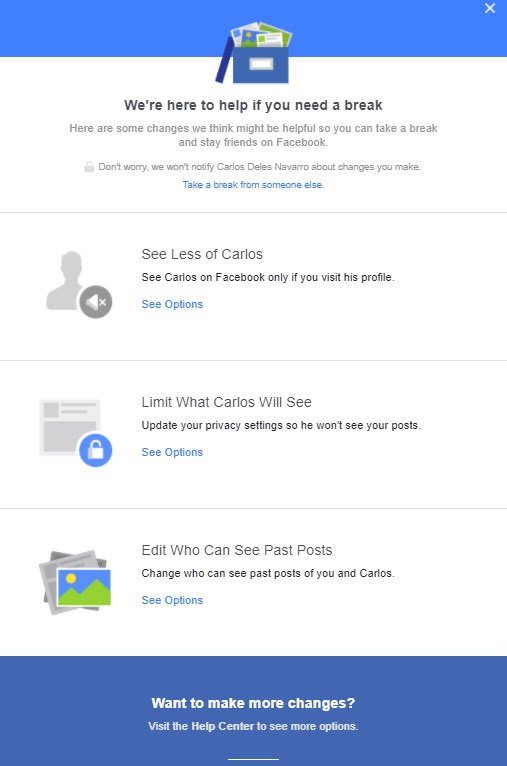 Step 2: Click "See less of someone"

ADVERTISEMENT - CONTINUE READING BELOW
Clicking the "See less of someone" option limits what you see about your ex on Facebook. If you choose this, his posts and posts he's tagged in won't appear in your News Feed anymore. Also, your ex's name won't be recommended when you tag friends in a new post or pictures. You also won't be tempted to message him because you won't see if he's online or not. To see his posts again, just go to her profile and click the "follow" button.

Step 3: Click "Limit what someone will see"

This option hides all your future posts and posts you're tagged in from your ex. They'll be added to your Restricted List and will only see your posts if you tag them in or if you share something publicly.
Step 4: Click "Edit who can see past posts"


This one limits who can see your past photos, status updates, videos, or posts you're tagged in. Clicking this changes your privacy settings, making your past (and future posts) visible to the audience of your choice only. You'll also be removed as a contributor from any shared albums you have with your ex.

ADVERTISEMENT - CONTINUE READING BELOW
With these steps, you don't have to block or unfriend your ex, and you can still do a little stalking any time you want because technically, you're still Facebook friends. Our advice, though? Don't do it. Enjoy your time being single and focus on loving yourself first. Before you know it, you've moved on to become someone better.
This story originally appeared on Fhm.com.ph.
* Minor edits have been made by the Femalenetwork.com editors.
Comments
Load More Stories