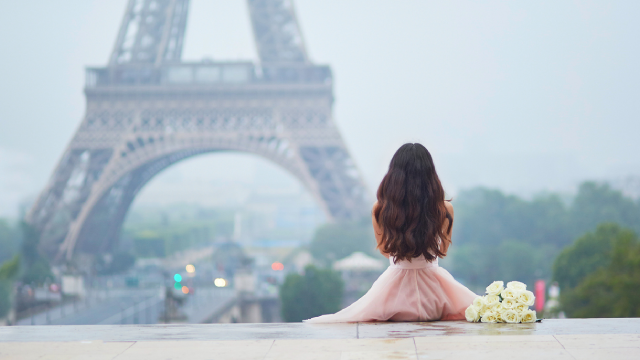 While people get married for a myriad of reasons, from companionship to preservation of wealth, there's good enough data out there that suggest that people now do it more frequently for love.
ADVERTISEMENT - CONTINUE READING BELOW
As to who or what they love, well, now that's a different story. In recent years, there have been unusual nuptials not necessarily between two humans that have gone viral online. Here are some of the most unconventional that have been found by Esquire Philippines.
The One Who Married a Robot
In 2017, Zheng Jiajia, a Chinese "AI-expert," married a "female" robot he made, supposedly after failing to find (or love?) a human girlfriend. "YingYing" or how Jiajia chose to call his new partner, can say simple Chinese words and even read a few Chinese characters. Whether or not the robot can even say the name of her new partner remains undetermined. Since they can't get legally married, Jiajia and YingYing opted to have a simple nuptial ceremony that was even by attended by friends and family of the groom.
The One Who Married a Hologram
Similarly unlucky in the human dating scene, Kondo, 35, decided to give his love to his favorite anime character instead. So he made the most logical and sane decision any fanboy would make, he married a hologram of her.
Kondo has been a longtime fan of digital pop singer Hatsune Miku, a 16-year-old anime character. When Japanese startup Vinclu introduced Gatebox, an AI-powered home assistant device that also projects a hologram of any anime character, he didn't hesitate to purchase one.
In 2018, he married Miku (or technically his Gatebox) in a formal wedding ceremony, which even saw him wearing a white tux and Miku under a veil.
"[Miku] lifted me up when I needed it the most. She kept me company and made me feel like I could regain control over my life. What I have with her is definitely love," Kondo told CNN. 
The One Who Married an Amusement Park Ride
Linda Ducharme had always loved the Skydiver, an amusement park ride that resembles a Ferris wheel, except the cars spin while they rotate around the metal wheel. In an interview, Ducharme said she even joined a touring carnival just to be with "Bruce", the name she gave to the Skydiver she fell in love with. Unfortunately for her, they had to part ways in the '80s since "Bruce" needed fixing. Decades later, she found him again in a junk shop, where she decided to never let him go. They got married in an informal ceremony.
ADVERTISEMENT - CONTINUE READING BELOW
The One Who Married the Eiffel Tower
In 2008, an award-winning archer named Erika married the world's most iconic metal structure, the Eiffel Tower. The archer "married" the iconic French landmark in a commitment ceremony, and even adopted Eiffel as her surname. Unfortunately, recent reports revealed that her relationship with the iron tower has not been particularly strong and stable.
When news of her marriage to the Eiffel Tower was made public, the operators of the famous landmark eventually banned Erika from visiting. She was understandably distraught. The latest report said she's now trying to start a new relationship with a German tower. She said: "They think I can't develop relationships with people so I choose objects so I can have control. But I had no control over my relationship to the Eiffel Tower. If this was all about control, I'd love my toaster, you know?"
The One Who Married a Rock
In 2016, British artist Tracey Emin revealed she married a rock from her garden in France. It was her latest artistic exploration of what it means to love that "transcend the carnal—about love that goes beyond lust," as The Guardian puts it.
ADVERTISEMENT - CONTINUE READING BELOW
"Somewhere on a hill facing the sea, there is a very beautiful ancient stone, and it's not going anywhere. It will be there, waiting for me," she said.
The One Who Married a Zombie Doll
Felicity Kadlec shared that she married a zombie doll she has had since 16. Kadlec even wore a wedding gown for the intimate ceremony, with the zombie doll donning a tux too. 
The One Who Married a Dog
In Ireland, one woman took her love for her canine companion to another level: she married him. Wilhelmina Morgan Callaghan and her dog, Henry, will be celebrating their ninth wedding anniversary this year. While it's not legal to get married to a dog in the United Kingdom, Callaghan and Henry reportedly had a "spiritual" ceremony and even have a certificate to prove the nuptial.
For the 43-year-old Irish, "dogs are better than men." 
Objectum sexuals and digisexuals
Human relationships with inanimate objects may be related to a person's "history of sexual trauma", according to some experts.
ADVERTISEMENT - CONTINUE READING BELOW
"[Sexual trauma] may certainly strengthen an existing wariness, confirm a lack of interest, or add to distaste for considering or conducting human sexual relationships," clinical sexologist Amy Marsh wrote in her published paper on the subject. Still, she contended that further studies must be done to strengthen this claim as most objectum sexuals do not entirely identify any traumas as the cause for their love for their inanimate partners, but simply a natural occurence.
This is probably how most "digisexuals" also feel. In 2017, academics studied the growing community of  "digisexuals" or those "whose primary sexual identity comes through the use of technology." There are the first wave digisexuals, people who use technology to achieve sexual pleasure, think online dating or sexting. Then there are the second wave digisexuals, those who form relationships with a type of technology, like robots and holograms.
In an interview with The New York Times, one of the study's authors Neil McArthur said this phenomenon will eventually become part of the human experience.
ADVERTISEMENT - CONTINUE READING BELOW
"Each time we have new technologies, there's a wave of alarmism that follows. It happened first with porn, then with internet dating, then with Snapchat sexting. One by one these technologies come along and there's this wave of panic. But as people start to use these technologies, they become part of our lives."
Would these kinds of relationships become more common in the future? Can we even call them relationship when it's not between two consenting adults? Only time will tell.
This story originally appeared on Esquiremag.ph
*Minor edits have been made by FemaleNetwork.com editors
Load More Stories