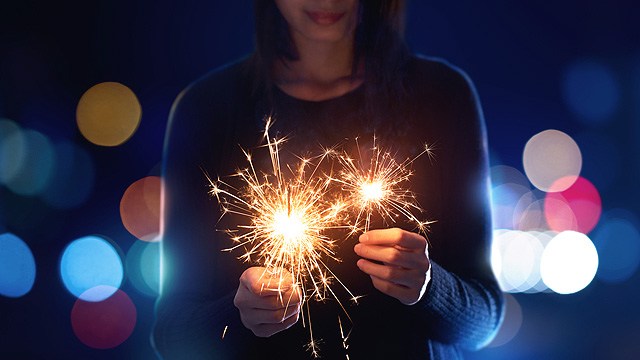 You're a single woman in her thirties and it's New Year's Eve. 
Some people talk about it as if it were a problem: "Aww, you'll find someone soon," "Baka puro ka kasi trabaho?" "Uy, kailangan mo na magka-baby." Being single at this point in your life usually means unwanted comments about your desirability and life choices, so much so that it's really understandable why you'd want to beg off those family reunions full of nosy relatives.
ADVERTISEMENT - CONTINUE READING BELOW
It's as if solitude were a sin, when in fact, it's probably the most natural thing in the world: You weren't born romantically tied to another individual, and you've basically spent a huge chunk of your life enjoying your own person. Going your own way with no strings attached doesn't have to be awful or even tragic the way many make it out to be. If only they knew—the best things in life often come in the silence of your thoughts, and the craziest miracles happen when you're the only person to see it.
Being alone is not synonymous with being lonely. You've found that secret joy known only by those who have gone against society's dictated norms on relationships; a freedom that comes from being comfortable in one's own skin and being confident in one's own strength. Jerry Maguire's "You complete me" is a silly concept to you, as you know better than anyone else that you're whole on your own.
Singlehood is an adventure. It teaches you to journey back into yourself and reintroduces you to who you really are, unencumbered by the weight of another's baggage. And while being in a relationship is its own lesson-filled story, gaining your happily-ever-after in one is only possible if you've successfully become your own knight in shining armor.
As you greet the New Year without someone to kiss at the stroke of midnight, may you remember that your life is never about waiting for someone else to sweep you off your feet. May you find happiness in making your own choices and breaking your own boundaries, and know that you are exactly where you're meant to be.
And so we raise our glasses—to the single woman who rose above the pain of being abandoned for another; for the single woman who realized that letting go was the answer; to the single woman who was brave enough to break free from her abuser; to the single woman who juggles two jobs to raise sons and daughters; to the single woman who chooses herself over the demands of others.
ADVERTISEMENT - CONTINUE READING BELOW
For auld lang syne and for memories yet to be made, this toast is for you.
Load More Stories