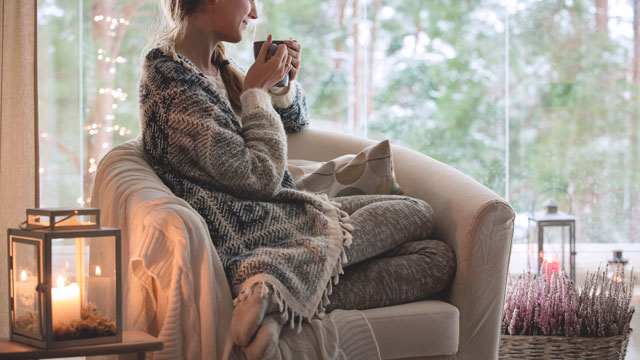 So it's Christmas and you're single—big deal. While it would be pretty great to have a squeeze during this cool (and even rainy) time of the year, being a single, 30-something woman during the holidays need not be a lonely affair. Aside from going out with friends and spending time at a local animal shelter, here are a few simple things that can help you " warm up" the season literally and figuratively.  
ADVERTISEMENT - CONTINUE READING BELOW
Hug yourself.
This may sound a tad bit patronizing, but it's true. A feature on Psychology Today notes that hugging yourself helps reduce physical pain—crossing your arms tightly over your chest "impairs [the brain's ability to localize tactile stimuli." Moreover,  hugs, whether given by others or yourself, can help lower blood pressure, make you feel happier, and get you just all-around toasty. 
Feel good about who you are.
NBSB? So what! You don't need a love life to be happy. Girl, you weren't born tied to a romantic relationship, and you grew up into the fine lady you are today on your own. Feel good about your own achievements and the fact that you're your own person.
If that seems intangible, then grab that planner for which you so meticulously bought coffee and stickers for and start journaling. According to a feature on Medium, journaling can be your keystone habit, or one that trickles positivity in other aspects of your life. Journal twice a day—in the morning and the evening—and you'll realize how much you've actually done and are still capable of doing in your life.
"Even if you start a journal session in a bad mood, the insight writing brings has a subtle way of shifting your mind towards gratitude. When you start writing what you're grateful for, new chambers of thought open in the palace of your mind," says author Benjamin Hardy. "You'll often need to put your pen down and take a few overwhelming breathes. You'll be captivated not only by the amazing things in your life, but by the awe and brilliance of life in general."
Come home to people you consider family.
Family doesn't always mean being blood-related, and while tradition suggests that it ought to be, it's important to acknowledge that you're not required to make yourself feel uncomfortable around dysfunctional folks. Remember, coming home means being happy in the presence of positive people who give you that cozy hygge vibe—if you and your blood relatives only cause each other distress, celebrate with other people.
ADVERTISEMENT - CONTINUE READING BELOW
If you do feel obliged to stop by, secure your personal boundaries. Your love for them doesn't mean you'll have to force them to change or that you'll have to mentally and emotionally torture yourself by staying. As Martha Beck writes on Oprah.com:
"If you've been deeply wounded by your family, you can stop trying to control them by accepting full responsibility for your healing. I'm not suggesting you shoulder all the blame, but rather that you acknowledge that you and only you have the ability to respond to injury by seeking cures instead of furthering pain. Whatever the situation, accepting that you can control only your own thoughts and actions will help you mend more quickly and thoroughly."
Spread kindness
Yes, the world is a mess, and while it's very tempting to be mean and nasty to people who are also mean and nasty, there's no harm in trying the opposite and practicing a little bit of kindness. "Acts of kindness are often accompanied by emotional warmth," says Huffington Post contributor David R. Hamilton, Ph.D., noting that it releases the hormone oxytocin, which helps in reducing blood pressure, and therefore keeps your heart healthy. Moreover, kindness is contagious, so you'll literally pass on the positivity.
ADVERTISEMENT - CONTINUE READING BELOW
If all else fails, well, there's always hot chocolate and Netflix. Happy holidays!
Load More Stories