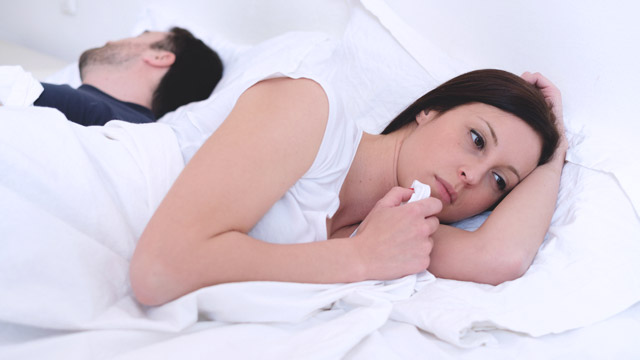 We all lie—to our friends ("Sorry I'm busy tonight"), to ourselves ("I'll only buy ONE item from the supermarket"), and to our significant others ("I got home before midnight"). In fact, according to several studies, an average American tells one to two lies a day, reports Time.com.
ADVERTISEMENT - CONTINUE READING BELOW
And while many of these lies don't seem to be harmful—what we call "white lies"—being lied to by your partner when you're in a supposed loving and trusting relationship can be painful. Finding out and uncovering these lies after you've believed them for so long is, for sure, traumatic.
How do you spot a liar?
People behave differently when they're telling a lie and when they're telling the truth, according to body language expert Traci Brown, author of How to Detect Lies, Fraud and Identity Theft: Field Guide. To know the difference, you first need to be familiar with how a person—for example, your S.O.—behaves when he is being truthful about something he says. That's your baseline. Shifts in these behaviors could indicate that a person is telling a lie.
Signs someone is lying
There are usual signs that give away a liar: the facial expression, tone of voice, bodily movements, and content of speech, says Dr. Lilian Glass, author of The Body Language of Liars. However, how we interpret them may differ, according to our biases. Moreover, "It can be tough to accurately interpret someone through their body language since someone may feel tense or look uneasy for so many reasons," says clinical psychologist Dr. Jenny Taitz. 
While they are not foolproof, the following behaviors could signal that someone is lying, according to body language experts. 
1. The eyes wander—then stare.
It's true that the eyes are the windows of the soul. They also provide clues about a person's dishonesty. A person telling a lie tends to look away briefly at a crucial moment, says Glass, possibly to think of what to say next. Interestingly, in a 2015 study, 70% of the clips of people telling a lie showed them staring more intently at the other person's eyes.  
2. They "zip" their mouths.
A person pursing his lips may not necessarily tell a lie, but it's a sign that he does not want to divulge information. A study done in the University of California, Los Angeles (UCLA) showed that persons who lie will "hide" their mouths when they are asked sensitive questions. 
3. They sweat in discomfort.
Does the person suddenly become sweaty around the mouth and in the forehead area? The nervous system could trigger this reaction when someone is telling a lie, and cause him to bite his lips or swallow hard, too.
ADVERTISEMENT - CONTINUE READING BELOW
4. The tone of their voice changes.
Nervousness causes the muscles in the vocal cords to tighten up, causing the voice to sound high-pitched. You might also detect a slight break in the voice, if you listen closely. 
5. They talk louder than usual. 
A change in volume could be because the person, in his mind, is getting defensive.
6. They use their hands a lot.
Studies have shown that people who are being dishonest tend to keep their palms away from the person they are talking to, as if holding back information, or keep them in their pockets. They also tend to use BOTH hands more than usual.
7. They become fidgety.
The nervous system under stress could affect bodily systems, so you'll possibly see a person who is lying scratching a body part here or doing other movements like touching the hair, etc.
8. They try too hard to appear honest.
Sentences that begin with "In all honesty," or "To be honest" are sometimes a tactic to let you believe someone is telling the truth, but it is often the opposite. 
ADVERTISEMENT - CONTINUE READING BELOW
9. Ultimately, they slip up. 
A famous idiom says, a fish is caught by its mouth. Listen intently to what is being said—including the "changes" in the statement.
Still, these signs are not conclusive that someone is actually lying, since our perceptions of people could prevent us from seeing things objectively. Reminds Dr. Taitz, "It's easy to imagine shirking eye contact, as people often associate with lying, for any number of reasons from feeling socially anxious to bored to ashamed because you know you're lying. We're not always as adept at reading others as we assume."  
Load More Stories