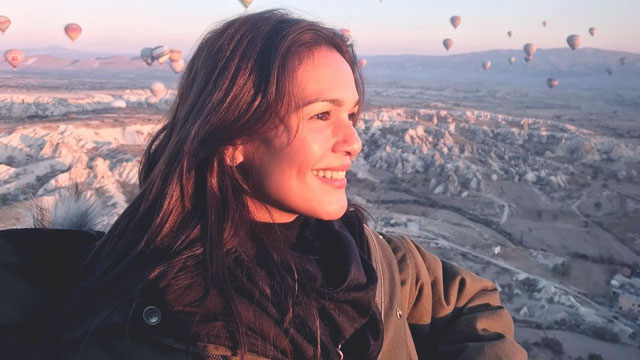 It's not easy to date a daddy's girl. It's not even about how you'll need to get her father's approval—it's how you'll get hers. You see, she has a very stringent set of standards when it comes to choosing a partner, and she won't take anything less. That's something she got from the first man in her life.
ADVERTISEMENT - CONTINUE READING BELOW
Like her father, she has a no-nonsense approach on everything—after all, there's so much to do and so little time, especially since she knows that she can do anything and everything she sets her heart on. She has never really believed in the word "impossible" simply because she was never taught to think that there are things that aren't for her. She could fail, yes, and it would greatly frustrate her (she has her dad's stubbornness, after all), but it can never be said that she never tried.
She's a princess in every way: wearing her invisible crown, she rocks both skirts and slacks but doesn't let her wardrobe hinder her from doing what needs doing. In fact, her style is so easy-going and always on point that it's almost easy to get jealous about how she does it so effortlessly.
Yet her 'royalty' goes beyond looking classy. She is, through and through, a woman with a sense of quiet pride and dignity. If there's one thing that her father has taught her that she has kept with her all these years, it's to do honest work with integrity. She has tried to live her life according to this precept and at some point, she blindly believed that others are the same. Her faith in people sometimes leaves her demoralized and disappointed—not everyone will choose to go straight and narrow like her who has always thought that doing the right thing is the most natural thing to do.
CONTINUE READING BELOW
Recommended Videos
That being said, Daddy's Girl has found herself disillusioned too often to count, and every chance was a lesson on how life was rarely fair. She has had her share of heartbreaks: once upon a time, she admittedly had an almost childish outlook on love that when the first boy she kissed failed to be the Prince that she dreamt of, she felt as if someone had knocked the air out of her.
It was later on that she realized that it did more than that—it knocked some sense into her. Yes, life and love may have brought her down, but she knew that what didn't kill her only made her stronger. She'll get up (this time, without the rose-tinted glasses) and get back into the game before anyone could have the chance to advise her on the 'proper' way to move on.
Dating a daddy's girl is dating a woman with her feet on the ground. She's been through many rough patches to know well enough that the ride won't be smooth. She may demand much of you, but treat her with the respect she deserves and she'll do the same with you. Consider yourself lucky that she finds you to be strong enough to be her match because she doesn't easily take to people. Remember that she values dignity, and she has found it in you.
ADVERTISEMENT - CONTINUE READING BELOW
So don't be intimidated by the sharp brightness of her eyes and keep her company. Love her for the way she is and you'll find that she's more than Daddy's Princess because she's her own Queen.
Load More Stories