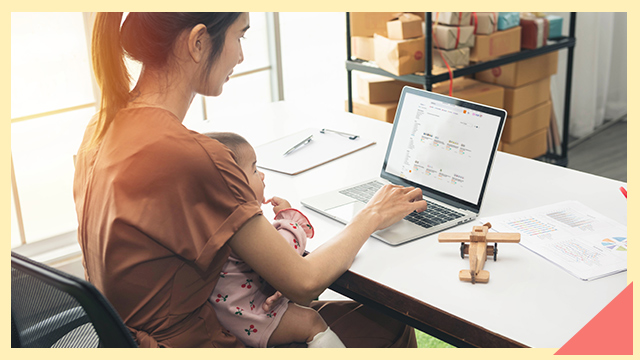 If you've opened this letter, it's because you're feeling overwhelmed by not only the country's situation, but also your situation at home. Though we're months into a lockdown, you might be driving yourself crazy wondering why you can't seem to adjust to working at home while taking care of your family. 
Working from home can already be tough—especially with the tons of distractions you face each day. Your productivity is down and you might be feeling stuck in your career. And since you can't see your favorite officemates, your morale is down, too. Who else would be able to relate to the struggles in your field? Messaging them just isn't the same as having quick breaks in the pantry to unload.
And while you're putting in the work, your at-home setup just isn't as conducive to being productive as your office setup was. Now, with your child distance learning by your side, it can be hard to not drop everything and do what you can to help him with his studies, especially when he asks for your assistance.
Your work-life balance is also completely off its axis. Now, you worry about keeping a tidy home, making meals for your family, and meeting deadlines for work—things that were easy to compartmentalize before. After all, how can you focus on work when your child is hungry? Or when your other family members are watching TV loudly? Or when you can see chores that need to be done?
Remember, your family is there to support you. Work together to regain some normalcy in your household. Create a dedicated workspace away from your distractions and let your family know that you won't be able to attend to them at the moment. Create a schedule for not just your deliverables, but also tasks for you and your family. That way, you don't feel like you have to do everything at home.
Have set meal times for your family, too. You'll welcome the break you'll have with the people you love most. And remember that there are little ways you can take care of them, too. Accompanying their meals with Nestlé Fortified Milk is just one of the small ways you can show your family that even though you can be busy at times, you still care for them. Not only is it affordable at P65 per 1L pack, it also has vitamins and nutrients that help in boosting immunity, growth, cognitive development, and energy when combined with a balanced diet and exercise—and trust us, they'll love its delicious taste.
Mom, it's okay to feel overwhelmed. Know that it's not just you, and you're not alone in your struggle. The best thing you can do now is to take a step back and breathe. Not everyone has it all figured out and that's okay. What's important is that you know in your heart that you're showing your family all the love you have to give them. Be firm with the way you want your household to be run, and you'll find that you'll be excelling in your career as you did back when you could go to the office.
Learn more about Nestlé Fortified Milk by following Nestlé Milk on Facebook.
This article was created by Summit Storylabs in partnership with NESTLÉ FORTIFIED MILK.