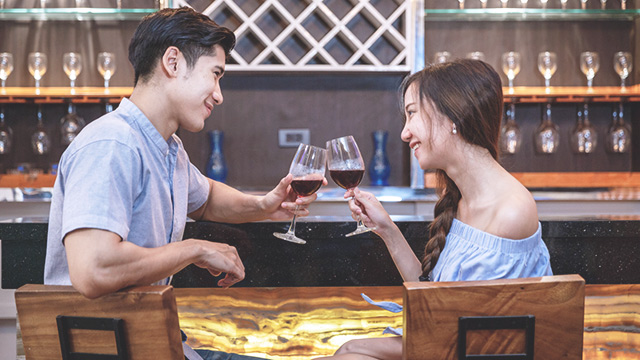 When was the last time you went out on a date night with your partner without the kids? According to a survey, parents go for about two months without having even a simple date night. The study, commissioned by Plum Organics, also reported that the younger the couple's kids, the longer couples go on without a date night. 

ADVERTISEMENT - CONTINUE READING BELOW

Well, that makes sense. New parents can't think of date night when they practically have no sleep. But relationship experts say date night is one you can't ignore at this exhausting time of your life. 

"You adore your baby...But, today, the only reason your family will survive is because the couple is happy," said relationship expert Esther Perel, author of the book Mating in Captivity, told Motherly. 

Psychologist and family coach John Rosemond writes in an article that if you want to raise independent and less entitled kids, you need to prioritize your relationship or marriage with your significant other. "Many if not most of the problems [parents] are having with their kids...are a result of treating their children as if they, their marriage, and their family exist because of their kids when it is, in fact, the other way around."

In a study made by Harry Benson from the Marriage Foundation and Steve McKay from the University of Lincoln where they studied a group of almost 10,000 couples with a young child (who were monitored until 10 years later), "the couples who had date nights once a month had the highest odds of staying together compared with the other groups. But that was only true for married couples," says a feature on The Knot.

CONTINUE READING BELOW

Recommended Videos

"Couples who went out weekly, rather than monthly, were as likely to succeed as couples who never went out at all. What does that mean? Just one night out a month is the magic number, implying that too many nights out may result in too much planning stress, too much budget going toward a babysitter, or not enough time at home to get personal or household tasks done." Simply put, more dates isn't necessarily better. Our advice? Focus on quality, instead.

 



The Institute of Family Studies states that "occasional date nights bring added stability to the relationship between new parents." What other benefits date nights offer?
Spending time with your partner alone is the perfect pick-me-upper if you're with the kids 24/7.
As a couple, the bond you share during date nights could transcend into the bedroom, under the sheets.
You kids also benefit—they get to learn to be independent and have their me-time.
Your kids see you and your husband's relationship as a mold they can want to have when they're older. 
ADVERTISEMENT - CONTINUE READING BELOW
The first thing you and your partner have to do is make time. Stop making excuses to postpone or cancel. Put your foot down. Mom and dad need their time together without the kids. Here are some tips to make every date night count:
Don't feel pressured to make date night a production. It doesn't have to be grand or fancy. It could be an activity at home when the kids are in bed. Carve out time to just be focused on each other, psychologist and relationship expert Melanie Schilling told The Huffington Post. 
Change things up. While watching a movie or having coffee is easy, go out of your way to explore. Try a hobby your partner loves or an activity you both haven't tried before. Going out of your comfort zone can lead you to discover something new about you or your partner.
Leave baby talk out. Try to speak less about what's up at home or with the kids. You discuss these during in-between to-do lists. Perel explains that if your partner asks "How are you?" answer truthfully and don't give a reply that discusses your baby more than yourself. 
ADVERTISEMENT - CONTINUE READING BELOW
Having kids shouldn't be a free pass to neglect your partner. Having regular, genuine date night is crucial for relationship growth—and your whole family's well-being.
With additional reporting by Ysabel Y. Yuzon.
This story originally appeared on Smartparenting.com.ph.
* Minor edits have been made by the Femalenetwork.com editors.
Load More Stories