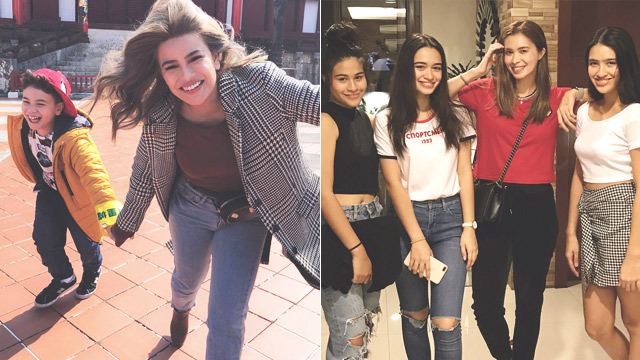 Sunshine Cruz
ADVERTISEMENT - CONTINUE READING BELOW
Sunshine Cruz had to juggle her career, academics, and raising three daughters: Angelina, 15, Samantha, 12, and Chesca, 11.
In a previous interview with PEP.ph, she revealed one of the biggest hurdles she faced. "I had no money. I had no job. I had to borrow from my mom para may malipatan kaming bahay ng mga anak ko. Hinulug-hulugan ko 'yun."
In a separate interview, she said, "Sabi nga nila di ba ang mga single moms daw, iyan ang isa sa mga priorities daw ni God.
"Of course lahat tayo prayoridad, pero may special place daw sa heart ni God lagi ang mga single moms.
"Siguro nakikita naman ng ating Panginoon 'yung effort at 'yung ginagawa ko para mapabuti especially 'yung buhay ng aking tatlong mga anak."
LJ Reyes
LJ Reyes posted about being a proud single mom to her son Aki after Senator Tito Sotto's "joke" about single moms became viral in 2017.
"You become two persons. Mom and dad. Nurturing and strong. It's hard but necessary."
Jennylyn Mercado
Jennylyn Mercado gave a shout out to her fellow single moms in a tweet:
ADVERTISEMENT - CONTINUE READING BELOW
"I have high respect for my fellow solo parents by choice or by force. Mahirap dahil mag-isa, pero lahat kinakaya dahil sa love sa anak."

Like most moms, the Kapuso star's top priority is to secure the future of her eight-year-old son, who was diagnosed with Asperger syndrome, which, according to Autism.org.uk, is "a lifelong developmental disability that affects how people perceive the world and interact with others."
Bettina Carlos
ADVERTISEMENT - CONTINUE READING BELOW
Bettina Carlos is a very hands-on mom to Gummy.
She is busy with her business, she has hosting gigs and some TV projects, she works out regularly, but being a mom is her most important role.
In a previous interview with PEP, she recounted one "superwoman" moment:
"So I drove slowly and carefully while breastfeeding Gummy. Of course, moms, please don't do that. But as a single mom, you just have to be times two."
Denise Laurel
ADVERTISEMENT - CONTINUE READING BELOW
Denise Laurel considers her son Alejandro as the "best gift God has ever given me... the one thing I've done right."
To her, being a single mom is...
"... really empowering, because there's more purpose. I wanted to show people that no matter what happens to you, it should never stop you from doing what you want to do."
Vina Morales
ADVERTISEMENT - CONTINUE READING BELOW
Vina Morales has always looked at her daughter Ceana as a blessing.
"Siguro mako-consider [ng iba] na failure pagiging single mom, pero suwerte 'yun kasi nagkaroon ako ng anak, isang buhay na ibinigay sa akin ng Diyos. I guess, I take it in a different way, mas positive."
Ruffa Gutierrez
ADVERTISEMENT - CONTINUE READING BELOW
Ruffa Gutierrez didn't let her bad past hinder her from having a happy life.
Since she and ex-hubby Yilmaz Bektas called it quits in 2011, Ruffa has been doing her best to become a cool and supportive mom to her two daughters Lorin and Venice.
In an interview, the former beauty queen left this note to fellow moms:
"My tip to single moms is to strive hard and never let the past rule you. You know, think of the past as lessons in your life and just look forward to the future. Because every day, you can start a new beginning and that's what I did."
Geneva Cruz
ADVERTISEMENT - CONTINUE READING BELOW
Geneva Cruz wrote an open letter to Senator Tito Sotto when his "joke" went viral in 2017.
A part of her letter read:
"... just so you know, as a mom, I actually did not plan on being single. But in life, we all have to deal with the cards we are dealt the best way we can. We single moms all have different stories; some were married, others chose not to have a partner, and some were even raped."
She added, "Raising a #family is difficult enough, we don't need to be ridiculed by you. We need encouragement and opportunities, not belittlement nor obstacles of any kind."
The singer is now based in the U.S. with her two children, Heaven and London.
K Brosas
ADVERTISEMENT - CONTINUE READING BELOW
K Brosas is the "hero" of her unica hija, Crystal.
In an interview with ANC, she referred to the father of her child merely as a "sperm donor."
The last time Crystal saw her father was during her debut, then, "after nu'n, wala na uli."
And for 19 years now, she and her daughter have been discovering the beauty of the world together.
In one of her gigs as a stand-up comedienne, she was quoted as saying:
"We are beautiful in every single way... Ay kanta pala 'yun. Single moms are beautiful. The world needs our beautiful heart."
Janice de Belen 
ADVERTISEMENT - CONTINUE READING BELOW
Janice de Belen is a proud single mom of five—Iggy Boy, Ina, Moira, Kyla, and Yuan.
As a mother, her fear has always been: "Napapalaki ko kaya nang tama ang mga anak ko?"
But she considers the college diploma of her kids as her biggest achievement.
Her youngest Yuan was her "last high school graduate."
In an old interview, she described what it is like to be a mom and a dad to all her kids.
"It's not easy. There's really no formula. But giving up or being weak is not an option, especially if you have a lot of kids."
This story originally appeared on PEP.ph.
* Minor edits have been made by the Femalenetwork.com editors.
Load More Stories