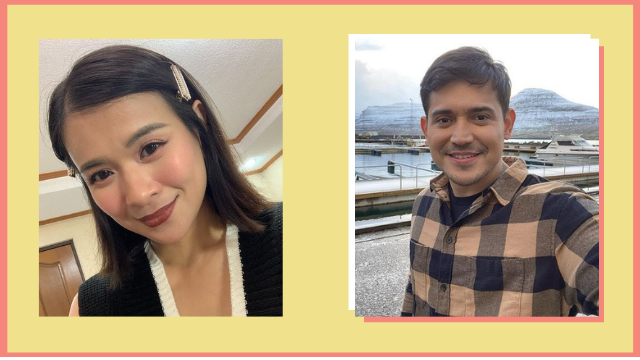 When the breakup of actors Paolo Contis and LJ Reyes broke out two weeks ago, Alyssa (not her real name) was, in her own words, "devastated".
As a 25-year-old single mother, their story—how Contis went beyond just being a lover when he became a father figure to Reyes' son from a previous relationship—gave her hope that one day, she would find herself a love like theirs, too.  
ADVERTISEMENT - CONTINUE READING BELOW
"I used to always tell myself how I will find a man like Paolo Contis. Their relationship on social media for me, as a single mom, is the dream," she said, her experience of relating to the couple mirrors what thousands of other Filipinos also glued to the issue feel, single-parent and not.
Since Reyes broke her silence on the breakup a week ago, her exclusive interview with host Boy Abunda generated 5 million views and counting. When Contis spoke up via Instagram on Wednesday, media outlets were quick to cover his statement. To think, it's not really as much a public concern as rising COVID cases, government corruption scandals, and quarantine rule flipflops.
Why this much attention over something so personal? "Generally, it's a form of diversion. Instead of facing pressing personal matters in their personal lives na dapat pinagtutuunan talaga ng pansin, they'd rather concern themselves with the lives of celebrities, which they somehow feel like they're entitled to have an opinion about," Joseph Marquez, a clinical psychologist told reportr.
Still deep into the COVID-19 pandemic a year and a half later, Filipinos are grappling with so much loss that a controversy-filled celebrity breakup does a lot as a distraction.
This is not your ordinary celebrity breakup
News of Reyes and Contis' breakup started when the actor unfollowed everyone on his Instagram account, including her then-partner whose photos he also removed. Speculations immediately began, and even as the actress came forward pleading for assumptions to stop for her children's sake, netizens were relentless in their sleuthing. 
"The relationship between Paolo and LJ is so relatable. A lot of people go through this kind of situation, hence their tendency to develop their own theories. The couple also grew up, kumbaga, sa mata ng mga tao," Marquez, the psychologist, explained. 
Long before the internet, the lives of celebrities have always been, to some extent, at the mercy of the public whose sustained attention keeps them relevant. Social media culture made it more complicated, he said.
ADVERTISEMENT - CONTINUE READING BELOW
"This isn't to blame them, but as public figures, the way they've been interacting with fans on social media-posting pictures, creating vlogs, and other content sharing their otherwise personal lives—they've become even more relatable for people," he said. 
There's a psychological phenomenon behind this. Fans tend to develop a so-called "parasocial relationship" with famous people, wherein media consumers would end up considering celebrities as if they're real-life friends, even though they don't have actual social interactions with them.
"If initially, we look up to them as higher form of beings, but once they started sharing things about their everyday lives na naglilinis sila ng bahay, naghuhugas ng pinggan.. nagiging illusion experience siya na, 'okay these artistas pala are actually humans, too," he said, explaining how people start feeling like they're entitled to the personal lives of celebrities.
Although their relationship is far from the mold of what society deems as an ideal Filipino family (both have children from previous relationships and are unwed), Reyes and Contis' love story reflected the reality faced by millions of Filipinos who bear children out of wedlock, or those in blended families. 
ADVERTISEMENT - CONTINUE READING BELOW
So when it failed, the thousands rooting for them felt like they failed too.
"We know them on a personal level. We know their back stories, lalo na ngayon na they vlog about everything. Kaya nagkakaroon ng parasocial relationship because of that repeated exposure," Marquez said, noting that this is a give-and-take relationship because everytime celebrities share something, they get "rewarded" by views, comments, and like from fans.
Celebrities are humans, too
Since the pandemic started, Filipinos on the internet have done all sorts of things to keep themselves busy in quarantine, take it from the rise of Facebook communities like Home Buddies.
There's one particular group dedicated to celebrity gossip called "Mga Chismosang Kapitbahay". In the 36,000-strong group, members would exchange scoops (largely unproven) about celebrities. Posters would cloak celebrity identities in name initials, which is the fun part for many, as more than the satisfication of solving a blind item, the guesswork keeps one occupied under quarantine.
ADVERTISEMENT - CONTINUE READING BELOW
"It's really a form of diversion from the heated political landscape we have right now. Instead of dealing with personally concerning things, people instead are using celebrity stories as an escape, to distract themselves from what is happening," Marquez said. 
For the longest time, news about public figures are known to be cash cows for media outlets that are always on the lookout for stories that get people clicking. This isn't to say that media is without fault. But so long as there's an audience hungry for it, the cycle will keep going. 
For celebrities, however, their struggles help maintain their clout, at the end of it all, they are humans and like regular beings, they suffer.
It's the ultimate curse to celebrity culture. Celebrities would share as much of their lives to remain popular, but once they hit a rough patch, needing as much space and quiet they can possibly afford, they still end up feeling beholden to the public's judgment.
ADVERTISEMENT - CONTINUE READING BELOW
So they explain themselves, even if it's at the cost of their personal dignity or their family's. Even when they don't have to at all in the first place. "Like regular, celebrities go through difficulties, and as viewers, the most we can do is to give them our empathy, so spare them the judgment they don't need," Marquez said. 
Ultimately, Marquez warns of engrossing one's self in celebrity gossip as a means of problem avoidance. "Instead of living our own lives, we're living theirs. These celebrities are going through a difficult time, but so are we. So instead of focusing on them, why not focus on ourselves?"
The clinical psychologist cited in this story, Joseph Marquez, RPsy, is based in Taytay, Rizal. His services can be accessed online. You may contact him through his page.
Load More Stories