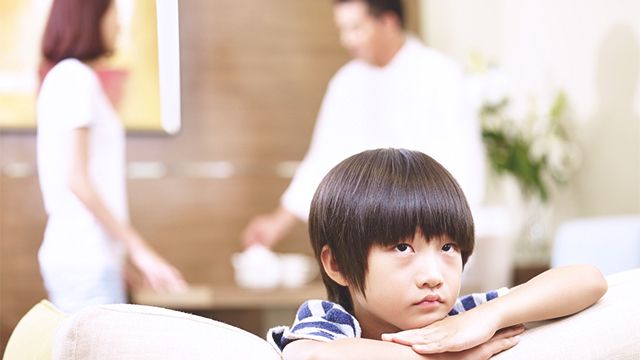 I'm a mom who yells...sometimes. I try not to, but sometimes stress gets to you. I feel guilty afterwards, of course, so I try to make it up to my son and try harder not to raise my voice the next time. 

In my experience (and probably yours as well), it's hard not to yell when I've just had a fight with my husband. It turns out there's a scientific term for it: "spillover conflict." A 2015 study defines it as "short-term affective changes in parents that affect their behavior with other family members."

ADVERTISEMENT - CONTINUE READING BELOW



In a new study, researchers found that parents are more likely to yell at their kids after a major fight with their spouse. It can also work vice-versa: Parents are more likely to argue with their spouse after a confrontation with their child. Spillover conflicts can happen even after an entire day has passed since the initial conflict.

Apart from spillover conflicts that may occur even 24 hours after the first spat, the study results also suggested that how people fight with one another predicts how you'll clash with your children.

Researchers identified two types of conflict: constructive and destructive conflict. The latter includes disparaging remarks and personal attacks that don't help solve the conflict. You just call the other person names, and say statements that further antagonize the other party than fix the problem. 

Constructive conflict, on the other hand, is one where two people discuss the disagreement until they arrive at a mutual resolution. You argue to reach a common ground or you reach a compromise after a respectful conversation, cooperation, and openness.

The not-so-good news? According to the study, even if your fight with your spouse was constructive, the spillover conflict you might have with your kids in the next 24 hours is more likely to be destructive.

The book Parental Conflict: Outcomes and Interventions for Children and Families for The Institute for Family Studies further describes the different aspects of parental conflict and its effects on kids. In a summary by Anna Sutherland, fighting with your spouse and partner is harmful to kids when: 
it happens frequently
the fight is heated and hostile, involving verbal insults and raised voices
parents become physically aggressive
parents withdraw from an argument or give each other the silent treatment
the conflict seems to threaten the intactness of the family
it's about the child
How do children suffer from their parents' conflicts? Sutherland writes: "From a very early age—as young as six months, some researchers say—children show distress when their parents fight. Their reactions can include fear, anger, anxiety, and sadness, and they are at higher risk of experiencing a variety of health problems, disturbed sleep, and difficulty in focusing and succeeding at school. They may 'externalize' their distress in the form of 'aggression, hostility, anti-social and non-compliant behavior, delinquency, and vandalism,' or 'internalize' it in the form of 'depression, anxiety, withdrawal, and dysphoria.'"
ADVERTISEMENT - CONTINUE READING BELOW
While not all kids whose parents fought exhibit such behaviors, who wants to take that chance? There are two ways to manage your spillover conflict:
Focus on your relationship. Make time to grow together as a couple. "Promoting relationship skills and realistic expectations, educating couples about parenting, and encouraging them to make their relationship a priority have had positive effects on relationship satisfaction and couple communication," Sutherland wrote. 
Know how to fight properly. There is a proper way to argue whether you and your spouse are with the kids or not. Sutherland shared in a follow-up article that parents who have been taught how "to handle conflict more constructively" resulted in "positive implications for their marital satisfaction and parenting." 
Arguments are a natural part of any relationship, and most kids witness their parents argue at least once or twice. When parents approach conflict calmly and positively and then solve the problem together, kids can learn how to navigate them through their parents' subsequent interactions.
ADVERTISEMENT - CONTINUE READING BELOW
This story originally appeared on Smartparenting.com.ph.
* Minor edits have been made by the Femalenetwork.com editors.
Load More Stories