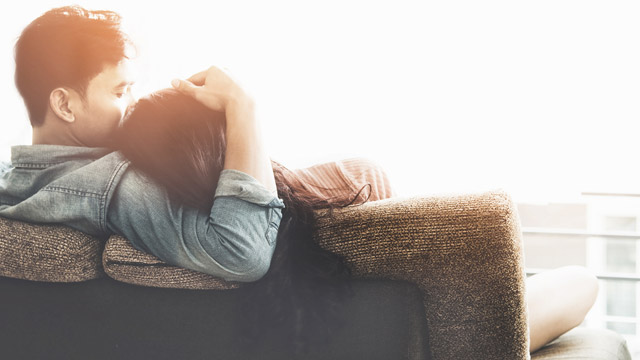 Your concept of love evolves as you grow older. You try, you fail, you get hurt, you stand up, and you learn along the way, and these experiences help mold a more mature and realistic version of this four-letter word.
You realize that there are many definions of love; it is, first and foremost, something that grows within you and for you. Once you've learned the true value of knowing and loving yourself through and through, you'll find that loving someone else feels lighter and easier, and that while keeping and maintaining a romantic relationship is most definitely hard work, you'll always fall back to the fact that you've made your choice, and it's one that you're standing by through thick or thin.
ADVERTISEMENT - CONTINUE READING BELOW
If you're in need of a bit of inspiration, we've collated several quotes on two different types of love—self-love and romantic love—from different authors and celebrities who understand both:
On Self-Love
Iza Calzado
"This is my life. These are the choices that I make. I make no apologies for them... you cannot live a life of regret."
Lucille Ball
"Love yourself first and everything falls into line."
Maya Angelou
"I don't trust people who don't love themselves and tell me, 'I love you.' ... There is an African saying which is: Be careful when a naked person offers you a shirt."
Jodi Sta. Maria
"Hindi naman tayo puwede magbigay ng mga bagay na wala sa atin [kaya] importante na alagaan natin 'yung mga sarili natin."
Bubbles Paraiso
"Ahimsa which is 'kindness and compassion to all living things'…It should start within yourself..."
ADVERTISEMENT - CONTINUE READING BELOW
Katy Perry
"First and foremost, self-love, and then give love away."
Alodia Gosingfiao
"You don't have to follow the norm, alam mo 'yon? You be you."
Angelica Panganiban
"Tapos na ako doon sa, 'Ay gusto niya 'to eh, gagawin ko 'to.' Mas inuuna ko na yung sarili ko. 'Yung tanong [ko] na, 'okay ba 'to sa 'yo? Kaya mo ba 'to? Ito ba 'yung gusto mong gawin? Ikasasaya mo ba to? May matututunan ka ba dito?'"
ADVERTISEMENT - CONTINUE READING BELOW
Emma Watson
"It sounds like a cliche but I also learnt that you're not going to fall for the right person until you really love yourself and feel good about how you are."
Karl Lagerfeld
"Don't sacrifice yourself too much, because if you sacrifice too much there's nothing else you can give and nobody will care for you."
Catriona Gray
"I feel like for every individual, it's so possible to pursue your dream and still have a personal life."
ADVERTISEMENT - CONTINUE READING BELOW
Ru Paul Charles
"If you can't love yourself, how in the hell are you gonna love somebody else?"
On Finding The One
Reese Witherspoon
"You always gain by giving love."
Marilyn Monroe
"I'm selfish, impatient and a little insecure. I make mistakes, I am out of control and at times hard to handle. But if you can't handle me at my worst, then you sure as hell don't deserve me at my best."
ADVERTISEMENT - CONTINUE READING BELOW
Bea Alonzo
"The moment you choose to fall in love, you choose to experience pain, and I think it all boils down to who you want to experience all of that for."
Maya Angelou
"Love recognizes no barriers. It jumps hurdles, leaps fences, penetrates walls to arrive at its destination full of hope."
Friedrich Nietzsche
"It is not a lack of love, but a lack of friendship that makes unhappy marriages."
Anne Curtis-Smith
"When you actually meet the one, you just know. When he's down on one knee, you just know."
ADVERTISEMENT - CONTINUE READING BELOW
Sarah Dessen, The Truth About Forever
"There is never a time or place for true love. It happens accidentally, in a heartbeat, in a single flashing, throbbing moment."
Elizabeth Gilbert, Eat, Pray, Love
"People think a soul mate is your perfect fit, and that's what everyone wants. But a true soul mate is a mirror, the person who shows you everything that is holding you back, the person who brings you to your own attention so you can change your life."
Jodi Picoult, My Sister's Keeper
"You don't love someone because they're perfect, you love them in spite of the fact that they're not."
Paulo Coelho, The Alchemist
"When we love, we always strive to become better than we are. When we strive to become better than we are, everything around us becomes better too."
Kim Jones
"I think everybody's free to carve the relationship that they want... And I think that women should be able to focus on their own individual dreams and their own trajectory regardless of who they're married to."
ADVERTISEMENT - CONTINUE READING BELOW
John Krasinski
"When you're lucky enough to meet your one person, then life takes a turn for the best. It can't get better than that."
Rica Peralejo
"There are many areas in life where we can settle; there are many areas in life that we can lower our standards—but not when it comes to love."
ADVERTISEMENT - CONTINUE READING BELOW
James A. Baldwin
"Love does not begin and end the way we seem to think it does. Love is a battle, love is a war; love is a growing up."
Amy Poehler
"Continue to share your heart with people even if it has been broken."
Ryan Agoncillo
"'Specially in love, it's ok to punch above your weight class, bud."
ADVERTISEMENT - CONTINUE READING BELOW
Bob Marley
"Only once in your life, I truly believe, you find someone who can completely turn your world around. You tell them things that you've never shared with another soul and they absorb everything you say and actually want to hear more. You share hopes for the future, dreams that will never come true, goals that were never achieved and the many disappointments life has thrown at you...You open your heart knowing that there's a chance it may be broken one day and in opening your heart, you experience a love and joy that you never dreamed possible. You find that being vulnerable is the only way to allow your heart to feel true pleasure that's so real it scares you. You find strength in knowing you have a true friend and possibly a soul mate who will remain loyal to the end. Life seems completely different, exciting and worthwhile. Your only hope and security is in knowing that they are a part of your life."
ADVERTISEMENT - CONTINUE READING BELOW
Solenn Heussaff
"When you find the right person, you go through it on your own pace. Even finding the right person takes time, and that's okay."
Sources: Goodreads,  Brainy Quote, Preview.ph (Judy Ann Santos and Angelica Panganiban on Their Journey to Self-Love, Kim Jones and Jericho Rosales on Marriage: "We're Stronger Together"), ABS-CBN.com, Sunstar.com.ph, Oprah Mag, Business Insider, Ryan Agoncillo on Instagram, Solenn.ph
ADVERTISEMENT - CONTINUE READING BELOW
Load More Stories