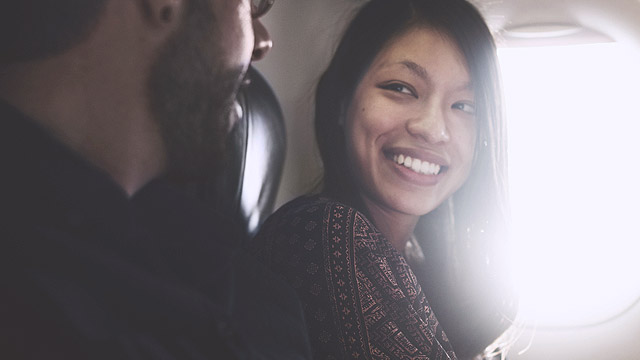 There are an infinite number of reasons why traveling is great, but just in case you need another one, a study has recently revealed that a lot of people are finding love at 33,000 feet above ground.
Banking company HSBC interviewed 2,150 people from 141 countries about their chances of being attracted to someone mid-flight, while around 6,000 were also asked about their flying habits. The results showed that over half of the respondents have actually made small-talk with their seatmates. (As that old song goes, 'it starts with one hello.')
ADVERTISEMENT - CONTINUE READING BELOW
Unsurprisingly, romantic relationships aren't the only ones that blossom while being stuck for hours in a plane. The study also found that one out of seven passengers have created long-lasting friendships.
If, out of the world's 107,000 daily scheduled flights, you're lucky enough to be seated beside someone you realize you're attracted to, here are tips that can hopefully help you make a connection:
Be a nice seatmate.
This simply equates to being a courteous passenger, especially if you're flying economy: don't hog the arm rests; don't put your feet up; don't remove your shoes and put your feet up; don't talk way too loud; don't be rude to the flight crew. Stay kind and decent, and you've already got bonus points.
Don't be afraid to strike up a conversation.
You can start by talking about your common destination, but really, even the simplest question—"Would you like to have my dessert? I'm not eating it"—can lead to a lot of fun storytelling. And if in the middle of it you find out that your seatmate isn't interested or already has someone, then at least you've made a friend.
CONTINUE READING BELOW
Recommended Videos
Know when to give space.
Watch out for body language. If your flight companion feels like cutting the conversation short or would simply want to relax or sleep, respect that decision. Take it as quiet time for yourself, too!
If you can, exchange contact details.
Maybe a long-haul flight is not enough to spark a real attraction, or maybe it is. Whatever your status is as your plane makes its final approach, don't be shy to ask for contact details especially if the both of you have enjoyed each other's company. (Just make sure not to send messages every 15 minutes!) Who knows? Maybe it's just the beginning of your interesting story.
Source: CNN
Load More Stories