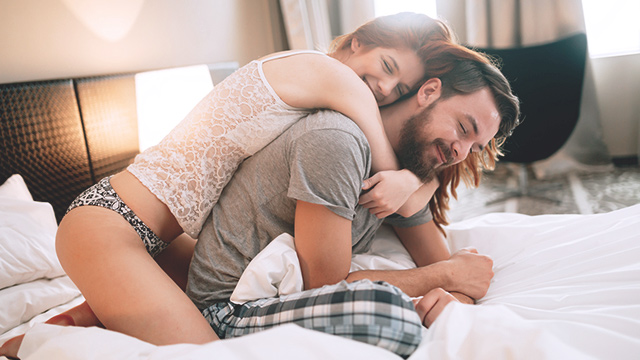 In an informal and anonymous survey conducted by SmartParenting.com.ph, we found that Filipino moms get to slip in some "sexy time" with their husbands at least twice a week. That's plenty enough considering experts say couples who have sex once a week are the happiest.

But respondents say that even if they can have sex twice a week, it's often rushed and not as fun as it used to be, more so when they start having kids. With children in the picture, couples have to deal with sneaking around and ensuring they don't get caught doing the act.

ADVERTISEMENT - CONTINUE READING BELOW



The survey also revealed other struggles Pinay moms face when it comes to having sex—like accidentally getting pregnant, being too tired and not being in the mood for making love. The bottom line: While couples consider sex as an integral part of a husband and wife's relationship, sometimes it becomes less of a priority than it should be. Or, when they do get the chance to make love, it isn't as good, or it doesn't happen the way they imagined.

With all these challenges, how can married sex be great again? Dr. Margarita Holmes, the country's most famous clinical psychologist, specializing in sex therapy, says it depends how important it is for both partners. In an interview with Smart Parenting at Pru Life's Relationship Index 2017 media launch, she explained that at some point, both of you would have to adjust your expectations when it comes to making love.

As you grow older, it's inevitable that your sex lives fizzle, especially for men whose sexual desires won't be as high anymore, says Dr. Holmes, who authored Down to One: Depression Stories and Life, Love, Lust. When that happens, moms can be the one to initiate and dial up the mood.

"Some men love it when the wives initiate the act because it means their wives really want them," Dr. Holmes says.



You can start by dropping subtle hints, which most Filipino men prefer, according to Dr. Holmes. Things like, "How about we have a night out or check in at a hotel, just the two of us?" or "Can we drop the kids at my parent's house tonight?" — your hubby will know what you're trying to say.

When you do get him alone, it's time to try and make the mood more intense. "Tell him you miss him, that you miss his body," Dr. Holmes suggests. Try to avoid asking if he's getting turned on, or if he thinks you're "sexually desirable," says Holmes. It only adds pressure and may even kill the mood. Stop overthinking it so much. 

And don't get anxious if you don't end up making love after all that hard work. Relax, let it go and try again next time. Remember that married sex becomes terrific when both of you are willing to please each other. As one of our survey respondents shares, "Sex is more creative because we have to do it while the kids are asleep, so we do it in all places in the house." She adds the challenge only makes doing the deed even hotter.

If you want to reignite your sex lives this year, don't think so much about the number of times you should have sex. Talk it out, express your desires, know what turns each other on, and value how much you enjoy each session instead.

ADVERTISEMENT - CONTINUE READING BELOW

Interview by Rachel Perez 

This story originally appeared on Smartparenting.com.ph.

* Minor edits have been made by the Femalenetwork.com editors.
Load More Stories