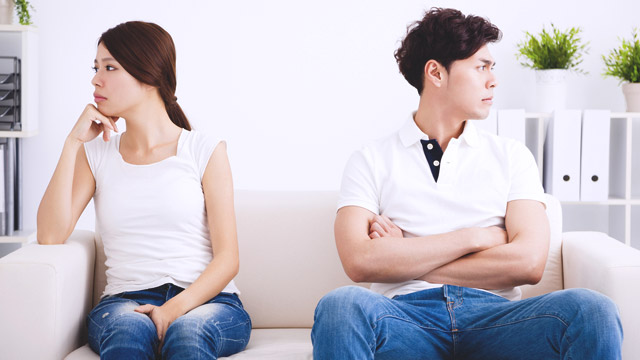 Arguments are part and parcel of any relationship. When you're building a life with the same person, you're sure to annoy each other along the way. You'll have disagreements about money, how to raise and discipline the kids, etc. There will be petty arguments (a lot) and major ones, so you can even say that it's one of the secrets of a healthy marriage—as long as you remember to fight fair.
ADVERTISEMENT - CONTINUE READING BELOW
Emotions run high in a heated argument, but according to a study published in the journal of Social Psychological and Personality Science, you should remember to take a pause and reflect on whether the cause of the disagreement is worth the fighting

It's amazing how easy it can be to hurl hurtful words at your spouse. The problem is not only is it hard to take back the words, it can cause serious damage to your relationship. When you're bickering with your partner, avoid saying the following because you will regret it:
"I should have married ________!"
Bringing up past relationships into a married couple's argument is never a good idea. It hits your partner's self-esteem—he starts to doubt whether you wanted the marriage in the first place. It can also breed jealousy and resentment, which can lead to bigger fights in the future. "Jealousy slides into insecurity, defensiveness, and mistrust. Calming down jealousy is difficult and the longer it lasts, the more it hurts the relationship," says Jenn Kennedy, a US-based marriage and family therapist in an interview with Redbook.
"I still remember…"
Holding on to grudges and past mistakes will only wear the two of you out. There's no need to bring it into a new argument if you've already resolved it. The best way to handle faults is to let it be a thing of the past, says Gary Chapman in his book The 5 Love Languages: The Secrets to Love that Lasts. "Yes, it happened. Certainly, it hurt. And it may still hurt, but he has acknowledged his failure and asked your forgiveness." So, learn to let bygones be bygones, for both your sakes.  
"You're just like your mother/father!"
This is disrespectful both to your spouse and in-laws—you're pointing out the bad qualities of your spouse's parents knowing that it will hurt him. It's what a passive-aggressive partner would say to bait the other into starting a fight they'd like to have, says Andrea Brandt, a marriage and family therapist from California, in Psychology Today.
ADVERTISEMENT - CONTINUE READING BELOW
"You've let yourself go."
Being shamed and belittled by others is hurtful, but it's a staggering blow when it comes from the partner who's supposed to support and understand you the most. "Rather than shaming them, take accountability and ownership for your part and your own feelings," says Shirani M. Pathak, Ph.D., a licensed psychotherapist, in an interview with Redbook. "When you approach it from this place, the relationship has a chance to grow and evolve, rather than deteriorate with resentments." 
"I never loved you."
It is probably the worst thing to say in an argument, and a simple apology will never suffice. Angry remarks like this will start to chip at the trust you've built around each other and cause irreparable damage to your relationship the long run. Disagreements and arguments happen to any couple, but it shouldn't destroy your marriage. Remember: healthy relationships understand the importance of apologizing—toxic relationships play the blame game. 
ADVERTISEMENT - CONTINUE READING BELOW

Click here to read the "five languages of apology" that may work for your partner.
This story originally appeared on Smartparenting.com.ph.
* Minor edits have been made by the Femalenetwork.com editors.
Load More Stories