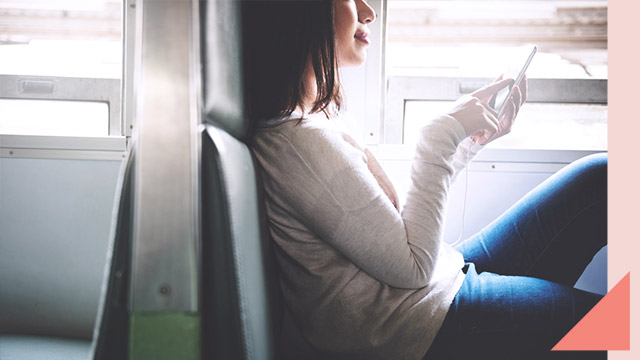 So you're finally ready to get back out there and start dating after X years... but where do you begin? Back in college, it was much easier to meet someone. All your prospects were within reach, and there were so many opportunities to get to know someone through your mutual interests. 
ADVERTISEMENT - CONTINUE READING BELOW
And while you could obviously still find groups with people who have similar interests, the easier first step is to download a dating app and swipe through all the potentials. 
CONTINUE READING BELOW
Recommended Videos
One excited swipe later, a match!
"Hi!"
"Hey"
Now what? 
Breathe. This is normal. Frustrating, but normal. In case you need a little help, here are a few tips to help you exercise those flirting muscles. 
1. Read through his/her dating bio carefully, and base your conversation starter on a specific thing. 
A guy I recently matched with said that he enjoys "really good memes." I ended up sending him a Ross Geller meme because I love FRIENDS (something I wrote on my profile). To me, this was a good (and successful) "in" because it shows that I read through his bio AND it was an accurate representation of one of my interests. 
2. Avoid yes/no questions. 
This is just a refresher of basic communication. Think about it: When you want someone to stop talking to you, you usually keep things curt: "Yup." "Nope." "Idk." Yes/no questions are instant conversation killers. If you're too busy to talk or flirt at the moment, put your phone down instead of sending a rushed question just to reply. Remember that they won't know if you're just nervous or preoccupied because they can't see you. They can't read your facial expressions. When you're flirting online, all you have are words. Use them. 
ADVERTISEMENT - CONTINUE READING BELOW
3. Ask questions about their interests (as long as they interest you, too). 
This goes back to looking through their bio. Even if they haven't written much, most people at least have their Instagram or Spotify accounts linked to their profiles. Do they like sports? Which teams do they root for? What kind of music do they like? What I like to do is check if they mention Netflix anywhere on their profile, and if they do, I simply ask what they're currently watching and who they'd recommend that show or movie to. It's not outright flirting, but you can learn so much about a person instantly. 
4. Send photos. 
No, we don't mean nudes. While there is nothing wrong with sending naked photos of yourself as long as it's your choice (and you trust the other person enough), there are also less direct ways of expressing your interest. For instance, if you and your match both love dogs, sending a quick snap of your pup in a funny sleeping position might be a good way to pick up where you left off. 
ADVERTISEMENT - CONTINUE READING BELOW
5. Do not overtext. 
People have lives they need to live outside of the internet. If the person you matched with suddenly stopped responding or didn't get back to you right away, give them the space to figure their lives out before reaching out again (this would be a good time to send a cute photo.) Do not hit them with a random "Hello" or "Kumain ka na ba?" every time you want to check if they're still interested. If they have basic human decency, they'll probably tell you if they aren't interested anymore. 
6. Be clear about what you want. 
If you swiped right on someone whose profile is as bare as your face in the morning, chances are you're only interested in the way he looks. And if you're going to initiate a conversation with this person, it's probably not because you think they're The One. Be clear about your intentions. Are you looking for something casual? Do you want to be in a serious relationship? Or maybe you really just don't know what you want right now—and that's okay, as long as there's transparency. This will make flirting much easier, too, because both of you will have the same expectations. 
ADVERTISEMENT - CONTINUE READING BELOW
Bonus:
Meet. 
Surprise, surprise! It's a thing. People want to meet up and date and hold hands and...you get it. Conversations are wonderful, but checking to see if your chemistry will survive offline is essential to finding a partner. So when you're ready to put your phone down, say something like, "Did you hear about this new restaurant in BGC? I've been dying to check it out. Wanna join me?"
Load More Stories