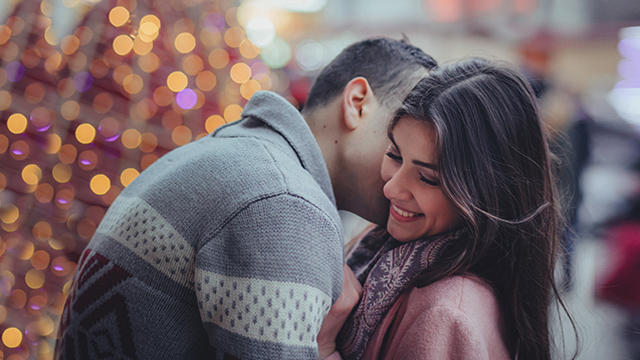 The last couple of weeks in the year are a magical time characterized by good cheer and good will, but they can also be frenetic and stressful (hello, Christmas carmageddon and last-minute gift-shopping). So it's definitely a good idea to put a little effort into making sure you and your significant other carve out some "couple time."
ADVERTISEMENT - CONTINUE READING BELOW
Now, with Christmas bonuses and 13th month pay, you might have a little extra cash for splurge dates or gifts, but there's absolutely no reason to break the bank when low-cost dates can sometimes be even more memorable than expensive ones. Check out the list below for a few ideas:
1. Christmas Movie Night, AKA Netflix and Cuddle?
Cost: P100-P500
What to buy: Netflix or iFlix subscription if you don't have one + popcorn and snacks??
Why deal with Christmas crowds on a date when you can stay in, and watch holiday classics on your favorite movie/video streaming site? There's sure to be a Christmas-themed movie or three available, no matter what your preferred genre as a couple. Rom-com lovers? Go for Love Actually. Comedy addicts? How about A Very Harold & Kumar Christmas? Horror fans? There's always Krampus! 
2. "Indoor Camping" Date
Cost: P200
What to buy: Chocolate bars, graham crackers, large marshmallows, barbecue sticks, unscented candle
Take your romance out of the bedroom for one night. Spread sleeping bags (or even an air mattress or a comforter) on the floor in front of your Christmas tree along with a pile of pillows and "camp in." You can even make homemade s'mores by roasting marshmallows over an unscented candle then squashing the gooey goodness in between some chocolate squares (Hershey's will do fine!) and graham crackers.
3. Pre-Christmas Couple's Noche Buena
Cost: P500-P1,000
What to buy: Ingredients for a dinner you can both prepare and enjoy, or if you're not of the culinary persuasion, go for food delivery!
Noche Buena is a time-honored Pinoy tradition, but it's probably going to be spent with either your family or his this year and every year, so plan a little couple's tradition that you can celebrate annually. A day or two before Christmas, perhaps after a long day of shopping and gift-wrapping, take some time out for a midnight date. Whether you prep the food yourselves (a cooking date is always fun) or just have pizza delivered and break out a bottle of wine, take some time out to celebrate togetherness over the holiday season. 
ADVERTISEMENT - CONTINUE READING BELOW
4. Relationship Scrapbooking Date ?
Cost: P200-P1,000
What to buy: Scrabooking materials: A scrapbook and glue or tape are the basics, but you can go crazy with decals, washi tape, and more
Make a scrapbook of your relationship that you can look back on over the years! Not only do you get a place to store your photos and mementos (e.g., ticket stubs to that musical he took you to, photos from your first out-of-country vacation together, etc.), but you also get to practice a little creativity by adding doodles and decorations to your scrapbook pages that let you show what you mean to each other in artistic format. You may even want to add little poems to each other, special song lyrics, or even a hand-drawn comic strip. Or do couple portraits—instead of drawing a self-portrait, draw the face of the person you love as he does the same for you!
ADVERTISEMENT - CONTINUE READING BELOW
5. Travel Goals Map Date
Cost: P300-P800
What to buy: A world map and/or a map of the Philippines (you can also just print one out on photo paper), a corkboard, and pushpins??
Are you a couple who loves to explore new places? Then plan your 2017 itinerary and make a date of it. Set up a corkboard map of the world (and you may want to include a separate map of the Philippines—after all, we have 7,107 islands to explore!) and work together to identify places you've visited in the past using pushpins in one color and places on your couples' bucket list in another. Then as you guys visit more and more places together, swap out the "travel goals" pins with your "been there, done that" pins!
Load More Stories