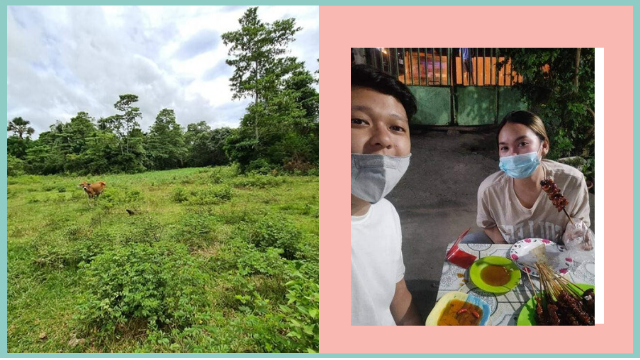 Danica Anna Misterio disapproved of a grand wedding his fiance Christopher Villanueva wanted. She even refused to have a fancy dinner to celebrate their eighth anniversary recently.
Undeterred, Christopher decided to buy a piece of property for Danica instead. He used the savings he was supposed to spend for their wedding to buy the 6,189-square-meter land. 
ADVERTISEMENT - CONTINUE READING BELOW
He wrote in his Facebook post this October 25, 2021 (published as is):
"SHE DECLINED A FANCY DINNER FOR OUR 8TH ANNIVERSARY DATE, SAID SHE JUST WANTED TO EAT SOMEHWERE WE USED TO GO.
"SHE DECLINED AND REFUSED A GRAND WEDDING I PLANNED FOR, SAID SHE JUST WANTED AN INTIMATE AND A VERY SIMPLE ONE. So I bought her a 6000+ sq.m lot under her name in Camotes Island near the upcoming airport. Used my personal savings I prepared supposedly for the wedding because I know she knew that this is a good investment.
"HAPPY 8TH ANNIVERSARY MY LOVE. I LOVE YOU!"
Some of the photos that accompanied his post show Christopher and Danica having a dinner date, beside a small table with barbecue and rice.
Proof of their simple celebration on their eighth anniversary. 
Other photos show a spacious vacant lot with grass and plants, Christopher's gift to his soon-to-be bride.
At press time, his post has generated more than 6,000 shares, more than 1,000 comments, and more than 7,000 reactions.
PEP.ph talked to Christopher over the phone this Wednesday, October 27, to know more about his viral post.
Preparing for the Upcoming Wedding, Future
Christopher, 29, and Danica, 26, are both from Cebu. 
ADVERTISEMENT - CONTINUE READING BELOW
They got engaged three years ago and are getting married this December.
Christopher told PEP.ph, "We decided to have a long-term engagement po kasi."
He confirmed buying for Danica the more than 6000-square-meter lot, which he described as a "million-worth" investment.
Asked about Danica's reaction, Christopher said: "She was really happy about it, and I think she was speechless."
He related Danica knew nothing about the land, "We never really talked about it. Her mother was really from Camotes. So her mother told me that there is a lot for sale in Camotes. So, I decided, 'Why not buy this lot and make it an investment instead?'"
Christopher added he and Danica have yet to discuss their plan for the purchased property.  
About their wedding and the land, Christopher said, "I asked her if she wants a grand wedding and then she refused. And then that's it. I thought a good investment would be to purchase a lot in Camotes Island.
ADVERTISEMENT - CONTINUE READING BELOW
"Only because I just learned that may itatayong airport yata, so the price in Camotes Island would surely surge."
So, what are their plans in their December 2021 wedding?
"Just a simple civil wedding lang po, yun lang. Not really an ideal wedding for most people, but for us, especially for her, she just wants a simple wedding lang po." 
He went to tell the story of how they both managed to save up not just for their wedding.
"Before, I was part of the BPO [industry], call-center agent for four or five years yata. And then we saved up for the future. And then we started our business as well, skin-care business here in Cebu, and then we planned everything for our future."
The skin-care business that he and Danica put up is Lumiere Skin Vitals Philippines.
"We started I think 2019 of May. We started with just facial sets and then [added] a few sets lang."
ADVERTISEMENT - CONTINUE READING BELOW
Much to their surprise, their business flourished despite the pandemic.
"We never really expected that the skincare would really boom at that stage, because it was pandemic. Now, we already generate millions of products."
As for his personal post that went viral, Christopher said that he just wants it to influence couples in a positive way, such as investing money the right way.
"It really was unexpected and at the same time happy, because we just wanted to inspire young couples out there. And then just break the normal of tradition of having a grand wedding. Because it's really a tradition here in the Philippines na dapat grand wedding talaga. So, I think I hope it inspired young couples out there. I felt happy that the post went viral."   
Load More Stories