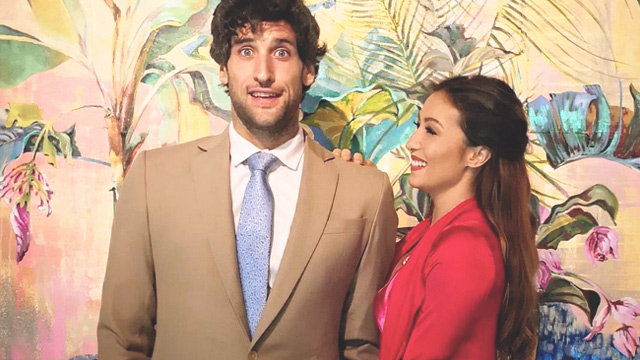 Solenn Heussaff and Nico Bolzico are the epitome of a modern power couple. They both have thriving careers, do what they want regardless of what other people think, and treat each other as equals in their relationship (despite what some followers of the #BulliedHusbandsClub might think).
The best part is that they're not afraid of sharing parts of their relationship with the world—reminding Pinays everywhere not to settle for a controlling partner who conforms to outdated beliefs.
ADVERTISEMENT - CONTINUE READING BELOW
But aside from being an inspiration to many couples, these two are also known for their crazy humor and well thought-out pranks, which always serve as good, thoughtful reminders that it's important to keep things light from time to time.
Here are some of the reasons why Solenn and Nico are serious relationship goals, especially if you're both busy career people in your 30s:
Solenn can dress however she want, and Nico definitely appeciates her daring side... 
when he's not busy making jokes about it.
They support each other's personal endeavors.
ADVERTISEMENT - CONTINUE READING BELOW
(No matter how ridiculous they get.)
They use exercise as a way to bond with each other, and their friends.
ADVERTISEMENT - CONTINUE READING BELOW
ADVERTISEMENT - CONTINUE READING BELOW
They keep doing new and exciting things together, like diving and traveling.
ADVERTISEMENT - CONTINUE READING BELOW
They celebrate their milestones, and aren't afraid to express their love for each other.
ADVERTISEMENT - CONTINUE READING BELOW
They prepare for the future, and always think of how it will affect the other.
In a previous interview with FemaleNetwork.com, Solenn talked about the importance of saving up for insurance. "You know when you're 30, as a woman, I'm not saying you're old but that's when they say... you know, you have to have a family na... you're getting up that ladder... it's a good way to know that you'll be healthy for yourself to be able to be healthy for someone else in the future and take care of that someone... it's [also] like mental insurance."
They give each other the freedom to be financially independent.
Solenn has also once revealed that she and Nico still keep separate bank accounts for personal expenses, allowing them to make their own decisions when needed.
ADVERTISEMENT - CONTINUE READING BELOW
So how do they find time for each other since they're both so busy? In an interview with FemaleNetwork.com at Poblacion, Nico tells us that, "For me, it's about priorities. So even if you are very busy during the day, if you prioritize your life and your wife or loved ones, you'll always find time. 
"If you work 16 hours in a day, I don't think that's very efficient.
"You should always prioritize time with your loved ones, because at the end of the day, that's what life is about. And that's what's gonna give you energy and positivity to keep [working] or running your company."
Load More Stories