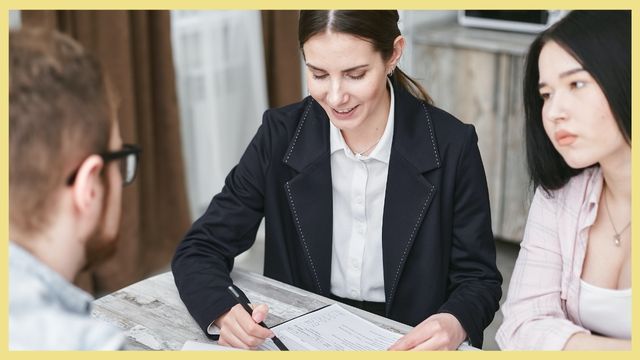 Hell hath no fury like a woman scorned, especially if that woman gets cheated on. Case in point: There's a certain Reddit user who recently went viral for settling the score with an ex-boyfriend who left her for another woman—albeit her revenge came in the most unexpected way.
ADVERTISEMENT - CONTINUE READING BELOW
She started by narrating her experience with her ex-boyfriend, whom she dated for five years. The two even got engaged and made each other their insurance policy beneficiaries. In a twisted turn of events though, she caught him cheating six months before the wedding.
"We were together for five years and just got engaged when we got life insurance policies kaya we were each other's beneficiaries. Then, six months before the wedding, he cheated on me. Pinatawad ko kase nanghihinayang ako sa five years and the fact that we were already engaged. Then two months before the wedding, he left me for the girl he cheated on me with," she wrote in the viral thread.
Yup, you read that right: She swallowed her pride and managed to forgive him. But two months after, he left her for good.
"Halos mabaliw ako. I begged him to come back, I begged the girl to let him go. She was in her early twenties and had her whole life ahead of her. I was in my thirties and felt that my ex was my last chance. Sabi lang ng ex ko tigilan ko na siya kase hindi na niya ako mahal."
After the breakup, she erased all her ex's involvement in her life, including removing him as her insurance beneficiary. But one year later, to her surprise, she received the news that her ex-beau had died. Moreover, unlike her, he hadn't modified his insurance beneficiary—leaving her with a million pesos in payout.
"I was shocked because it was so out of the blue. But then I was even more shocked when days later his sister called me and said that I am still the beneficiary of his insurance policy, thus I will get around a million pesos in payout," she shared.
She also revealed that the man's new girlfriend talked to her and demanded for her to give back the money. "His girlfriend, the same girl he cheated on me with, wants me to give her the money because she's pregnant with their child and is unemployed. Honestly? I don't care. I have a million pesos to my name care of my cheating boyfriend."
ADVERTISEMENT - CONTINUE READING BELOW
She added, "He and this girl destroyed my life and they didn't care about me back then. Why the hell should I care about them now? Buhayin mo anak mo. Hindi ko kasalanan na hindi ako pinalitan as beneficiary."
Needless to say, the said post garnered several reactions from other Reddit users. "Pa-iced coffee ka dito when you get the payout, sis!" one netizen joked. "Kidding aside, what does his family think of your decision?" To which, the OP (which stands for "original poster," a term for the person who originally posted the submission) had a response: "I don't know and I don't care about what his family thinks. As far as I'm concerned kinunsinti nila yung anak o kapatid nila because they accepted the girl sa bahay nila. Parang wala kaming pinagsamahan for five years."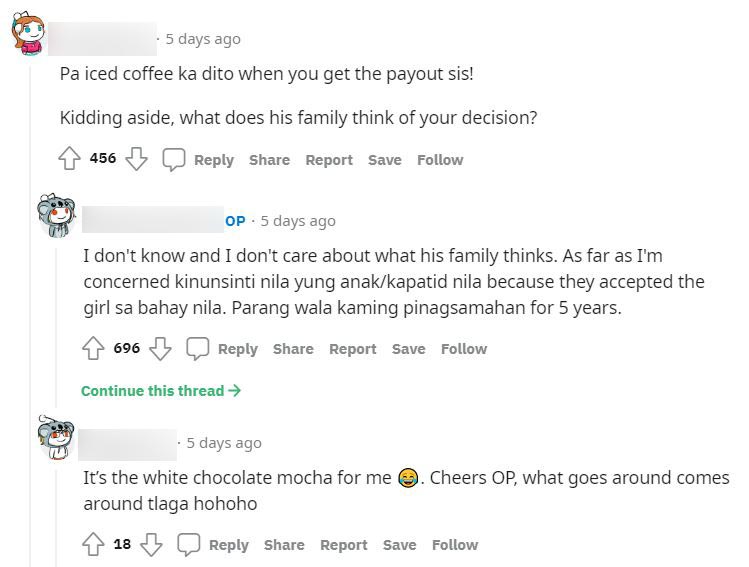 Reddit
ADVERTISEMENT - CONTINUE READING BELOW
Another one supported her and pointed out that the money is rightfully hers, given the fact that she obtained it *legally*. The OP then opened up that the girlfriend threatened to file a lawsuit against her, and she's already preparing to defend herself with a lawyer.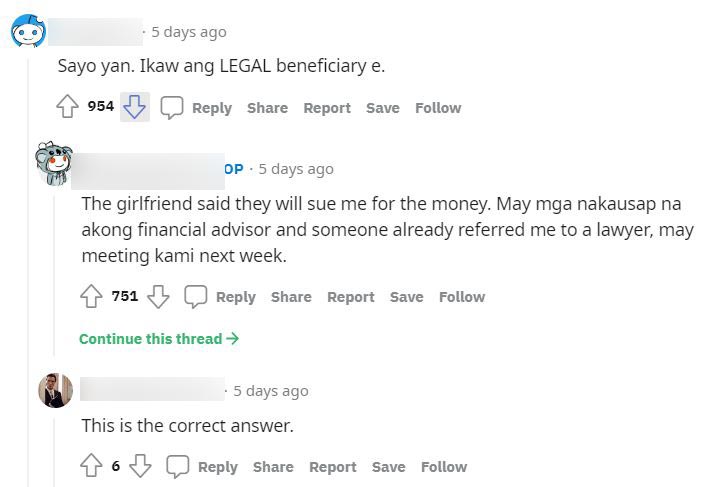 This story originally appeared on Cosmo.ph.
* Minor edits have been made by the Female Network editors.
ADVERTISEMENT - CONTINUE READING BELOW
Load More Stories