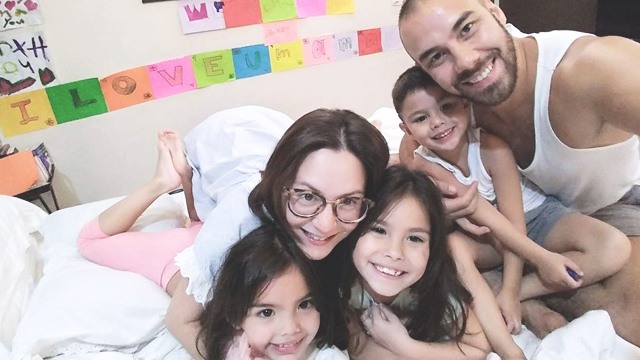 Moms (and dads!), put down the gadgets! Invest in some quality bonding time with your kiddos instead. We've got games and activities you'll both enjoy doing together. Ready to have a no-gadget day?
1. Indoor picnic
Half the fun is in prepping everything you'll need, so don't skip this important step. 
ADVERTISEMENT - CONTINUE READING BELOW
Together, make a list of the food you'll "bring" to your picnic and pack a sheet (to spread on the floor), paper plates, colorful napkins, and utensils, etc. into a basket or bag. You can head to the store in the morning and have the picnic in the afternoon so you and the kids can have something to look forward to. Pack card games and board games too!

Picnic food ideas: Frozen Choco Bananas and Mashed Potato Balls with Cheesy Centers


Find more finger-food recipes here and no-bake sweet treats recipes here. 
2. Wardrobe raid
Set aside the OC mom in you for an afternoon and let your preschooler raid your closet. Bring out your most colorful, fun and out-there clothes, bags, shoes, scarves, and accessories and let your child try them on. Watch her dress like mom—she might even try and copy some of your gestures! 

Make up scenarios and pretend you're both off to work or going to a fancy party. Let her pick your outfit and see what she comes up with. Take photos! 
3. Make DIY bubbles
Grown-ups can rely on bubbles as a no-fail activity that kids all love and adore. Making your own at home together turns this easy playtime idea into an opportunity for bonding and learning about resourcefulness. 

Make homemade bubble wires with wire and a pair of pliers. Shape into hearts, flowers, and stars for extra fun. Pipe cleaners work well, too. For the bubble solution (from Exploratorium.edu), here's what you'll need:

2/3 cup dishwashing liquid 
1 gallon water
2 to 3 tablespoons of glycerine

1. Gently stir ingredients together.
2. Leave in an open container overnight – the longer it sits, the better it gets! 

(Unfamiliar with glycerine? It's a common ingredient in soaps and shampoos. You'll be able to buy a small bottle of it in major drugstores for less than P50.)
ADVERTISEMENT - CONTINUE READING BELOW
4. Pinoy games
Teach your child the Pinoy games you loved when you were little! Remember langit-lupa and taguan? How about heading outside and playing piko, sipa, or tumbang preso? Have everyone in the family join in on the fun too so you can play patintero, luksong tinik and agawan base. If you've forgotten the rules, Rappler has a nifty how-to guide to help you out.
5. Music and dance party
You'll need music to dance to for your party, of course (check out BBC's Ultimate Kids' Party Playlist here for ideas). But to make things even more fun, take some wacky accessories and instruments to the party that you and your kiddo can shake to the beat. 
Small bells to attach to ribbons on your wrists create twinkling noises with every hand sway. Rice in empty toilet paper tubes (sealed with paper and a rubber band on both ends) make great maracas. Or, how about banging some spoons on plastic containers for drums? We're sure you can find more things around the house that can make music. 
ADVERTISEMENT - CONTINUE READING BELOW
6. Living room obstacle course
First, remove unsafe objects from the room, like breakables or tables with sharp corners. Then, gather pillows, cushions, sturdy chairs and cardboard boxes into the living room. Place them in different areas and figure out together what would be the most fun way to make it through your "obstacle course." 

Should the floor be lava and all the cushions are stepping stones? Or how about the cardboard box as a tunnel to go through? To get across the sofa, your child has to roll over it! Your kiddo can also be an explorer in the jungle and you can play the part of a lost survivor she has to save.
This story originally appeared on Smartparenting.com.ph.
* Minor edits have been made by the Femalenetwork.com editors.
Load More Stories