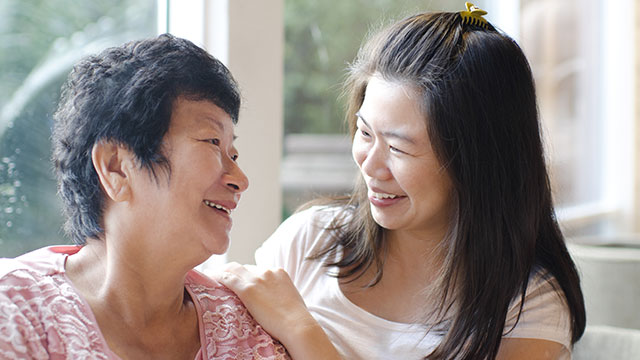 It's true: Our parents took care of us as we were growing up, and we do the same to them as they grow older. However, there are days when parents tend to dismiss help from their kids. They have their reasons like asserting their independence and not wanting to be a burden. While you have a genuine concern for them, your parents might still resist opening up and asking for help. You need to rethink how you communicate with them. Here are some tips:

1. Don't overwhelm them with things to do.
Instead of imposing what your parents need to do, start your conversation by checking on them. A simple "Kumusta ka?" will make them feel that you have time for them. Asking thoughtful questions can help earn their trust so they will feel comfortable sharing things with you. As you keep the conversation going, find the right timing to offer suggestions and make sure to get their feedback so they know they're being heard.
2. Be mindful of your words.
Your word choice matters so consider adjusting to your elderly parents' level of understanding. It's important not to sound intimidating and judgmental. For one, make it a point not to call out their weaknesses just to get them to accept help. You can say you would like to help them because you want them to live their lives to the fullest.
3. Talk with reassurance.
Be patient when talking to your elderly parents, even and especially at times when they can be too challenging to handle. You can give them space and still reassure them that you're available to listen to them when they're ready. Try to put yourself in their shoes, so you'll know and understand where they're coming from.
4. Don't pressure them about getting help.
We want what's best for our parents but we can't nag them all the time. You need to understand that elderly parents still value being in control of their lives. Even if you're just looking out for them, refrain from overstepping boundaries especially if your parents aren't asking you to do anything. When there's a serious issue or health concern, pick the right time and place to hold the conversation. It also helps to get insights from siblings and other people you and your parents trust so you'll find a better way to approach the situation.
Speaking of health concerns, one common concern among aging individuals is urinary incontinence or the accidental leaking of urine. If your elderly parents are experiencing this, let them know there's nothing to be ashamed of and you're here to help. You can assist them to see a doctor for proper diagnosis. Depending on the findings, your parents might be asked to get essentials like adult diapers. The topic can be uncomfortable for them but along with an expert's help, you can enlighten your elderly parents that they shouldn't feel embarrassed about wearing adult diapers. It will help them carry on with some of their activities and lessen their worries. Even you will get peace of mind, knowing that your elderly loved ones get the care they deserve.
You can check out Caress Adult Diaper that's made to keep elderly people comfortable even as they deal with urinary incontinence. This diaper absorbs liquid thanks to its Super Absorbent Core and Liquid Distribution Layer, which quickly draws liquid away from the skin for a dry and comfortable feeling. It also has leak guards to help prevent leakage.
Caress Adult Diaper also has antibiosis, which helps prevent the growth of bacteria-causing rashes, while its odor-neutralizing properties help your elderly loved ones avoid feeling self-conscious. This way, the elders would feel at ease whether they're wearing Caress Basic, Caress Day Use Diaper, or Caress Overnight Maxi Diaper depending on the level of incontinence.
Taking care of elderly parents can be a lot of work, but it's all worth it when you become closer to them. Do things one step at a time, keep your communication lines open, and be patient with them as they were patient with you.
Caress Adult Diapers are available in supermarkets as well as on Lazada and Shopee. To know more, visit caress.com.ph and follow its Facebook page.
This article was created by Summit Storylabs in partnership with CARESS.