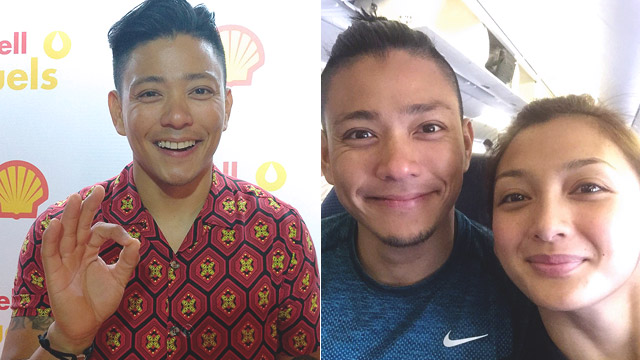 If you think about #CoupleGoals, two people that will immediately come to mind are Drew Arellano and Iya Villania. Their comfortable, relaxed bond just radiates from them that it's pretty easy to guess that they have a healthy and happy relationship that simply works.
ADVERTISEMENT - CONTINUE READING BELOW
"We just clicked," Drew said in an interview with Female Network during his launch as one of Shell's newest ambassadors. "I wasn't like looking for a girl like 'ito 'yong criteria'… We just hung out with each other, and then everything just progressed."
Known as pretty avid travelers—even their prenup video's theme was a fun road trip—driving or flying off to different destinations has been a huge part of their relationship. Drew recalled the first time he and Iya went abroad as a couple: "That was a risk. We were boyfriend and girlfriend, 'di ba. I think that [was] in Japan. It was like, five days, and of course hindi pa namin alam 'yong dynamics namin, kinakabahan ako na parang "Oh my god, paano kaya 'to?"
Drew noted that he didn't really need an itinerary when traveling, and was relieved when he found out that Iya was also pretty chill about it. "'Yon pala apparently, gano'n din siya!" He continued, "At the same time there's still structure. Like for example, 'Sige let's go to Tsukiji Market early in the morning, are you down for that?' 'Sige, after that, where do you wanna go?' 'Yong gan'on ba.
"I remember na parang we were using the public transportation—oh my god—parang 'yong sense of direction din niya, puwede," Drew said, flashing a thumbs-up sign.  "Wala kaming conflict at all when we travel. That was a great first step as a couple. Malaking bagay 'yan e. Eventually you'll be traveling… So sobrang okay."
ADVERTISEMENT - CONTINUE READING BELOW
He, however, highlighted the importance of having time to travel apart from one's S.O.
"Couples need time away from each other. It's very true! It's funny na when you leave, you're gonna miss them for sure."
A host to a popular travel show, Drew is often out of town. "When [I] travel… I miss my kids! I miss my wife! But then again, you need alone time, and Iya needs alone time as well. But after that, when you come home you're like 'Hello!' It's always a rekindling kind of relationship every single week."
When asked whether or not he believed that a couple's first trip away can make or break a relationship, he said, "It could be, [but] I guess when they believe in a relationship, even though [something] doesn't work, they're gonna make it work. They're gonna compromise."
ADVERTISEMENT - CONTINUE READING BELOW
And that was exactly what he and Iya did in their own relationship. "It wasn't perfect," he admitted, "but it just progressed along the way to the point that… I remember, fifth year, dapat wala na, nag-plateau… Pero something happened, which we realized nga na parang, 'Oh my god, we love each other pala.' And then after that, dere-derecho na."
"So I hope they find that partner that they can be patient [with] also," Drew said, addressing those wishing for 'The One.' "[Someone] na they believe they can progress with to something else… a deeper relationship.
"But I don't know," he smiled. "I was lucky, probably."
Load More Stories