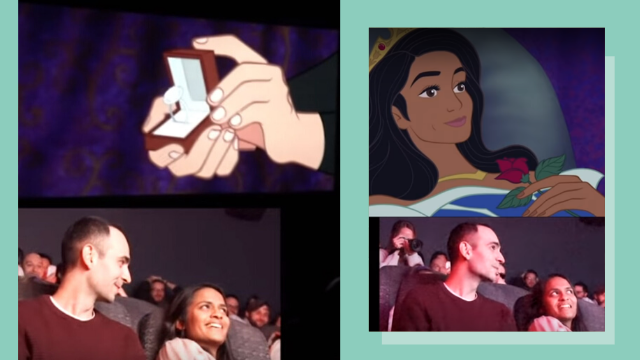 A video of filmmaker Lee Loechler's creative marriage proposal to his high school sweetheart, Sthuthi David, has been making its rounds online. For those who haven't seen it, Lee brought his girlfriend to a local theater to "rewatch" her favorite Disney film, Sleeping Beauty. Little did she know, this version of her favorite film had a different ending—Lee asked an illustrator to alter the iconic scene where Prince Charming wakes Sleeping Beauty with a kiss. 
ADVERTISEMENT - CONTINUE READING BELOW
"For the past six months, I've been working with an illustrator to animate my girlfriend and myself into her favorite movie, 'Sleeping Beauty,'" he wrote on Youtube. As soon as the characters kissed, they transformed into animated versions of Lee and Sthuthi. 
The biggest surprise, though, was when Prince Charming tossed a tiny box containing a ring towards the screen, which Lee had "caught" in real life. The audience started clapping, and even the animation can be seen watching Lee, while he finally gets down on one knee. 
"It's not every day you get to propose to your high school sweetheart. So I just want to take my time, savour this moment," he said. "Will you live happily ever after with me?"
She gladly said, "Yes"! 
The groom-to-be didn't need to apologize to the audience for disrupting the film-viewing because they all happen to be the couple's friends and family!
As of writing, the video has garnered over a million views on Youtube. 
Watch the magical proposal below: 
Load More Stories