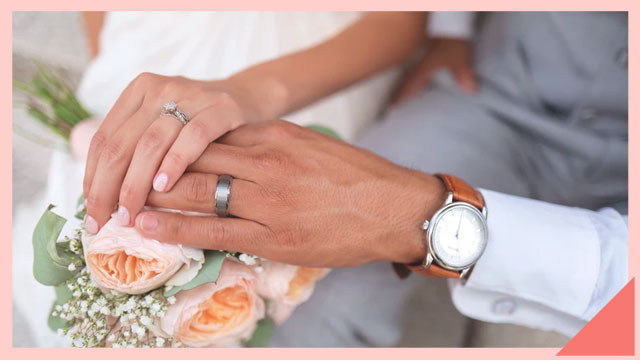 By the time you hit your 30s it seems everyone on your Facebook timeline is getting married—from that schoolmate of yours from elementary to that first friend you made in the office. Every weekend seems like a trip away from the city as yet another friend ties the knot with the love of their life. Couple that with the wedding videos and photos that go viral almost on a monthly basis, it's easy to think that many are indeed getting married. 
ADVERTISEMENT - CONTINUE READING BELOW
But start looking at official numbers and it may paint a different reality altogether. 
According to the latest report of the Philippine Statistics Authority (PSA), the number of marriages in the Philippines has dropped in the last decade. In 2018, the number of couples who were recorded to have exchanged lifetime vows were at 449,169, an 8.6 percent drop from the ones recorded in 2008.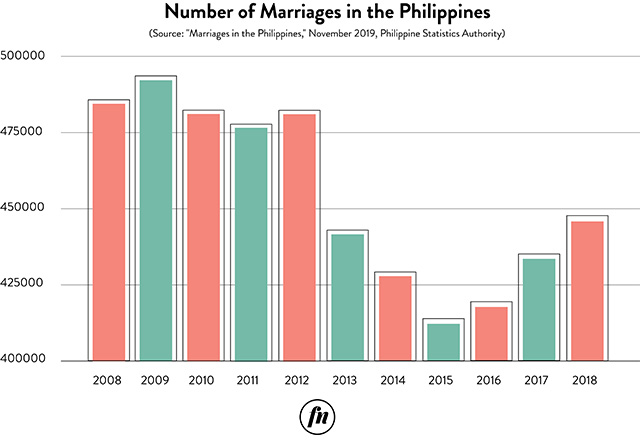 Still, seen at a shorter time frame, 2018 could still be considered a winning year for love, as it has also seen the highest number of marriages recorded by the PSA since 2013. It's also the third consecutive year since 2015 that the number of marriages tallied enjoyed an uptick. 
The data is based on "Marriage in the Philippines" report of the PSA released in November 2019, which showed vital statistics on different unions in the country of the previous year. According to the report, religious ceremonies, including through the Catholic Church, remain to be a top choice of most couples for their weddings, in spite of the rising popularity of civil rite unions.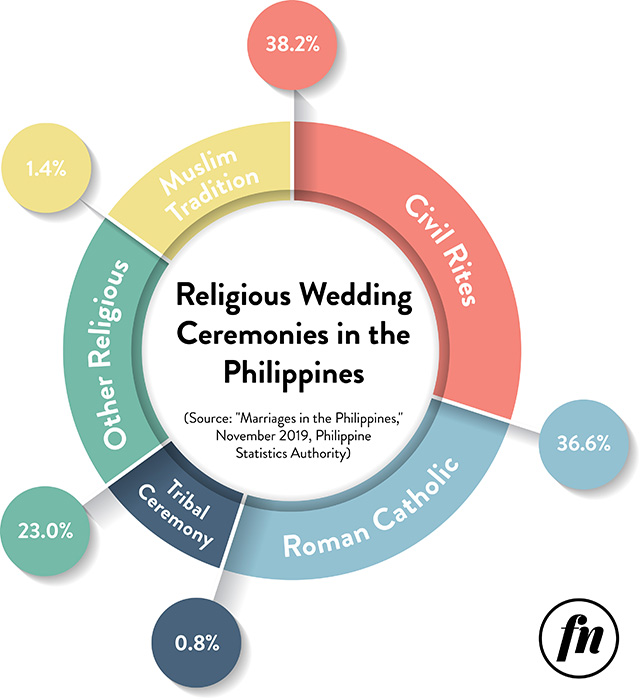 ADVERTISEMENT - CONTINUE READING BELOW
Based on the yearly reports of PSA, the marrying year of women has been increasing too. In 2011, the median age of brides was 25.3. By 2018, it has raised to 27. Meanwhile, median age of grooms remained stagnant at 29.
Load More Stories