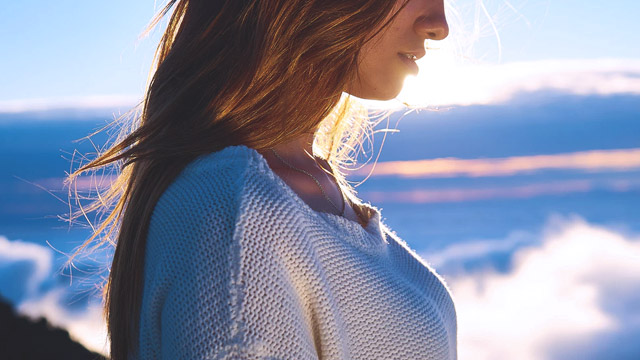 She's easily the most passionate woman you know. She's often the life of the party, her eyes as bright as the smile that dances on her lips as she tells you the funniest thing that happened on her way to your tête-à-tête.
ADVERTISEMENT - CONTINUE READING BELOW
She always walks with purpose and never breaks stride; when life feels too slow for her she doesn't sit in one corner to wait. In fact, she seems like someone who knows exactly what she wants and has probably gotten it twice in a row—she's just going through the motions because she likes the journey. Some call her a bouncing ray of sunshine and feel happiness at the sight of her apparent positivity, while others wish that they had her almost Instagrammable life full of beautifully curated memories.
Little do they know, that's exactly what she does once she comes home to an empty apartment: she curates what she wants the world to see of her, and it's not because she's pretentious. It's because she feels that the wounds that she bears and the burdens that she carries are far too ugly to be seen by others.
You see, she was broken before.
She once voicelessly watched her love from afar as he chose a woman that can never be her; let go of a dream for someone who never knew just how much she had given up; helped with another's baggage only to be left dragging hers on her own; buried a joy she truly felt she could never, in her life, deserve.
She's every woman who copes with bouts of fear at night yet manages to wake up the following day as if nothing happened. She hides her real thoughts behind a well constructed mask, but look at her closely and you'll see a small crack here, a trembling lip there. She tries, but she's not as opaque as she deems herself to be.
Be patient with her. Years of hurt have hardened the scars of her heart and caused her to build her walls high. It takes time to find and understand the truth she hides between the lines, but piece them together and you'll weave a story of pain, regret, and strength.
ADVERTISEMENT - CONTINUE READING BELOW
She's probably the strongest woman you'll ever know.
Once you break through her defenses and get to know who she truly is, she'll bloom like a flower; there is beauty in her wounds and how she carries them with unconscious pride. You know, then, that her well runs deep, and that when she loves, she loves with both passion and purity.
Be the one that listens to her silent nuances. Her broken pieces reflect the light of the sun, but don't be blinded by them; instead, watch her as she picks herself up and once again makes herself whole. See as she embraces every scar as part of the distinct pattern of her personality. Reach out for her when she allows you the honor of entering her world that not many are granted access to.
Date a woman who was once broken. Give your heart to one who can speak the language of pain and recovery. Love the soul who knows the grander meaning of love, because there's no one stronger than one who has been to hell and back—and one who will love you through it all.
ADVERTISEMENT - CONTINUE READING BELOW
Load More Stories