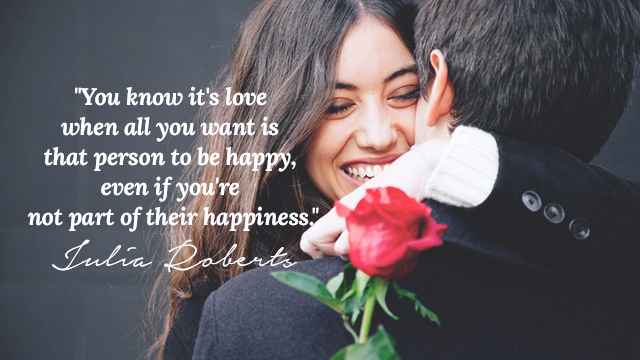 Feeling extra romantic or cheesy lately? Here's a collection of the best love quotes of all time for every kind of love—no matter what stage you're in!
For young love:
"A guy out there was meant to be the love of your life, your best friend, your soul mate, the one you can tell your dreams to. He'll brush the hair out of your eyes. Send you flowers when you least expect it. He'll stare at you during the movies, even though he paid $8 to see it. He'll call to say goodnight or just cause he's missing you. He'll look in your eyes and tell you, you're the most beautiful girl in the world, and for the first time in your life, you'll believe it." —Nicholas Sparks
"As he read, I fell in love the way you fall asleep: slowly, and then all at once." —Hazel Grace Lancaster, The Fault In Our Stars
ADVERTISEMENT - CONTINUE READING BELOW
For unrequited love:
"You know it's love when all you want is that person to be happy, even if you're not part of their happiness." —Julia Roberts
"Do you know what it's like to like someone so much you can't stand it and know that they'll never feel the same way?" —Jenny Han, To All the Boys I've Loved Before
"I know that's what people say—you'll get over it. I'd say it, too. But I know it's not true. Oh, you'll be happy again, never fear. But you won't forget. Every time you fall in love it will be because something in the man reminds you of him." —Betty Smith, A Tree Grows in Brooklyn
For love lost:
"'What was it like to lose him?'" Asked Sorrow. There was a long pause before I responded: 'It was like hearing every goodbye ever said to me—said all at once.'" —Lang Leav
"I believe that everything happens for a reason. People change so that you can learn to let go, things go wrong so that you appreciate them when they're right, you believe lies so you eventually learn to trust no one but yourself, and sometimes good things fall apart so better things can fall together." —Marilyn Monroe
"I feel like I'm in the wrong world. 'Cause I don't belong in a world where we don't end up together. I don't. There are parallel universes out there where this didn't happen. Where I was with you, and you were with me. And whatever universe that is, that's the one my heart lives in." —Dell, Comet
For taking a risk on love:
"Love meant jumping off a cliff and trusting that a certain person would be there to catch you at the bottom." —Jodi Picoult
"At some point, you have to make a decision. Boundaries don't keep other people out. They fence you in. Life is messy. That's how we're made. So, you can waste your lives drawing lines. Or you can live your life crossing them." —Grey's Anatomy
"Love recognizes no barriers. It jumps hurdles, leaps fences, penetrates walls to arrive at its destination full of hope." —Maya Angelou
For when you've met your soulmate:
"Soul mate: two little words, one big concept. A belief that someone, somewhere, is holding the key to your heart." —Carrie Bradshaw
"Only once in your life, I truly believe, you find someone who can completely turn your world around. You tell them things that you've never shared with another soul and they absorb everything you say and actually want to hear more. You share hopes for the future, dreams that will never come true, goals that were never achieved and the many disappointments life has thrown at you. When something wonderful happens, you can't wait to tell them about it, knowing they will share in your excitement. They are not embarrassed to cry with you when you are hurting or laugh with you when you make a fool of yourself. Never do they hurt your feelings or make you feel like you are not good enough, but rather they build you up and show you the things about yourself that make you special and even beautiful. There is never any pressure, jealousy or competition but only a quiet calmness when they are around. You can be yourself and not worry about what they will think of you because they love you for who you are. The things that seem insignificant to most people such as a note, song or walk become invaluable treasures kept safe in your heart to cherish forever. Memories of your childhood come back and are so clear and vivid it's like being young again. Colors seem brighter and more brilliant. Laughter seems part of daily life where before it was infrequent or didn't exist at all. A phone call or two during the day helps to get you through a long day's work and always brings a smile to your face. In their presence, there's no need for continuous conversation, but you find you're quite content in just having them nearby. Things that never interested you before become fascinating because you know they are important to this person who is so special to you. You think of this person on every occasion and in everything you do. Simple things bring them to mind like a pale blue sky, gentle wind or even a storm cloud on the horizon. You open your heart knowing that there's a chance it may be broken one day and in opening your heart, you experience a love and joy that you never dreamed possible. You find that being vulnerable is the only way to allow your heart to feel true pleasure that's so real it scares you. You find strength in knowing you have a true friend and possibly a soul mate who will remain loyal to the end. Life seems completely different, exciting and worthwhile. Your only hope and security is in knowing that they are a part of your life." —Bob Marley
ADVERTISEMENT - CONTINUE READING BELOW
"People think a soul mate is your perfect fit, and that's what everyone wants. But a true soulmate is a mirror, the person who shows you everything that is holding you back, the person who brings you to your own attention so you can change your life." —Elizabeth Gilbert
For long-lasting love:
"When you realize you want to spend the rest of your life with somebody, you want the rest of your life to start as soon as possible." —Harry Burns, When Harry Met Sally
"I love you without knowing how, or when, or from where. I love you simply, without problems or pride: I love you in this way because I do not know any other way of loving but this, in which there is no I or you, so intimate that your hand upon my chest is my hand, so intimate that when I fall asleep your eyes close." —Pablo Neruda
"Love is always patient and kind. It is never jealous. Love is never boastful or conceited. It is never rude or selfish. It does not take offense and is not resentful. Love takes no pleasure in other people's sins, but delights in the truth. It is always ready to excuse, to trust, to hope, and to endure whatever comes." —1 Corinthians 13:4-7
This story originally appeared on Cosmo.ph.
* Minor edits have been made by the Femalenetwork.com editors.
Load More Stories