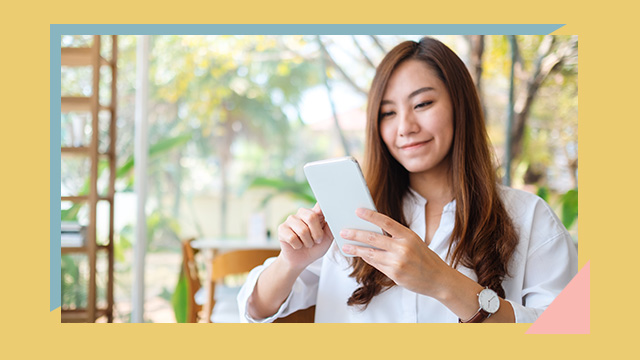 Making the first move can be nerve-wracking. Apart from the fear of rejection, you also might be scared that others will judge you for being assertive. After all, Filipino women are taught to wait for the guy to make the first move! We totally get why these thoughts are running through your head. Know that your anxieties and worries are valid.
But here's the thing: You're a woman, and you're free to pursue what—and who—you want, when you want it. Whether it's that job promotion you've been eyeing, that new car or condo you've been saving up for, and even that cute guy you saw on Bumble! Yup, you have the power to make decisions and create the life you want.

But nothing worth having comes easy, including love and relationships. You need to have the courage to take the first step and see where it goes. Just think about the time when you applied for your job. If you didn't do it, you wouldn't be the girl boss you are today. And if you didn't show up to your workout that first time, you wouldn't have smashed your fitness goals.
Likewise, if you don't make that first move, you might just miss out on the chance of meeting someone special; someone worthy of your time and energy, and would probably sweep you off your feet if given a chance.

Now, if you think and feel like you're ready to put yourself out there yet again amid these changing times, you might want to consider doing so on a dating app like Bumble.
When it comes to making real connections, Bumble hopes to serve as a safe space for women like you to find that healthy, equal relationship you've been looking for. Start by downloading the app and looking through profiles. If you see someone who looks interesting or who you want to get to know better, swipe right. Bumble will let you know if that person has swiped right on you, too, and if so, you can start chatting with them or keep looking for other matches.
What's great about the app is that ladies can make the first move in a breeze—sans the judgment—as that's the unique feature of Bumble. Your match can only reach out to you once you've sent them a message. So yes, the connection depends on you making the first move.
And with many of us still staying safe at home, you can still have fun and mingle with your matches through Bumble's virtual dating features. Bumble now allows you to voice call or video chat, and you can simply let your potential dates know you're down by simply adding your dating preferences to your profile.
Also, you don't need to worry about breaking the ice or awkward silences. The Question Game, which is a chat feature of the app, allows you to mutually answer questions and have a little bit of banter. You really won't run out of things to talk about!
With Bumble, there's a chance you can build safe and healthy relationships founded on trust and respect—as that's what the platform aims to do. It's a reminder that it only takes that first move to find the right match for you.
Start making real connections online, and eventually, offline, when you download Bumble on the App Store or Google Play Store, or register here using your desktop. For more information, follow Bumble on Facebook and Instagram.
This article was created by Summit Storylabs in partnership with BUMBLE DATING APP.