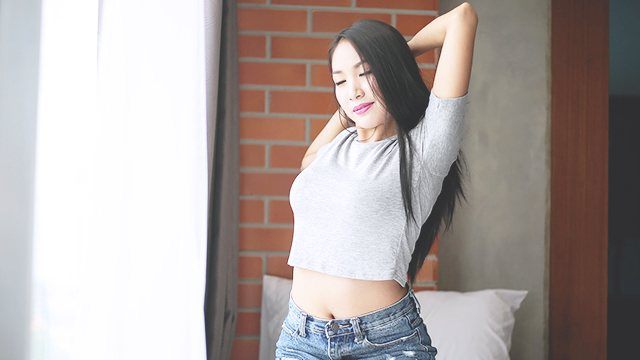 Have you ever wondered why you look slimmer and leaner in the morning? Or why you have a flatter tummy when you look in the mirror right after waking up? According to Andrea Cespedes, a certified personal trainer for the American Council on Exercise with more than 20 years of experience in the fitness industry, the reason is because you're coming off a multi-hour fast. 
ADVERTISEMENT - CONTINUE READING BELOW
"Most of your food has been digested, so it can't cause any bloat," Cespedes explains. "You've also lost water weight overnight, which contributes to a thinner appearance and a lower weight," she adds.
CONTINUE READING BELOW
Recommended Videos
When you're asleep, not only are you regenerating new cells, your body is also burning calories – without the workout! A study from the American Journal of Clinical Nutrition found that normal sleepers' resting energy expenditure – the amount of calories burned when you're not moving – was five percent higher than their tired counterparts.  
So if you're really serious about losing weight this year, don't take sleep for granted; get as much as you need. Determined to shed off the pounds? Here are some great stories to read:
Although sleep isn't enough to effectively lose weight, it is definitely a good start, as regular sleeping patterns have been known to affect metabolism, appetite, and hormonal balance.
ADVERTISEMENT - CONTINUE READING BELOW
Some people may be predisposed to obesity on account of their genes, but a study published in the journal Sleep says that getting enough shut-eye at night may help you win the battle of the bulge.
It's possible to give your fitness efforts a boost through natural means and one good example is olive oil, a mandatory ingredient in a proven-healthy Mediterranean diet, which is the regular meal fare of Greeks, Italians, and Moroccans.
Load More Stories