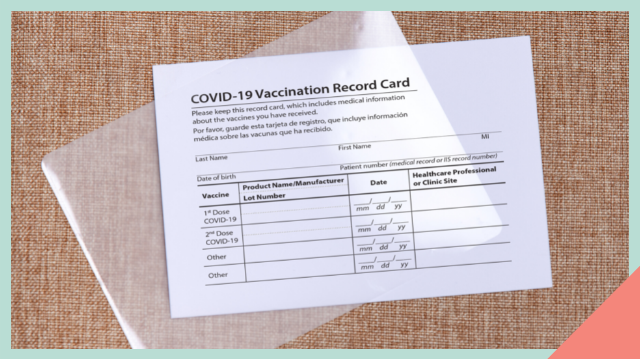 Local government units have been ramping up their vaccination programs in an effort to finally stop another surge of COVID-19 infections in the country. Most health workers and senior citizens have been inoculated; but for the rest of the population, getting a vaccination schedule is going to take some effort. So if you finally have your stamped vaccination card, you'll need to do your best to protect it, almost like it's the Holy Grail—in this global pandemic, it kind of is.
Take note of the things you should NOT do to your COVID vaccine card:
Post an unblurred version on social media.
Whether it's peer pressure or FOMO, people-especially our parents-seem to be more encouraged to get inoculated with the rise of "I got vaccinated" posts on social media. While that's all well and good, it's best to blur out your full name (especially your middle name), address, and birthday for security reasons.
ADVERTISEMENT - CONTINUE READING BELOW
Laminate it.
While you want to make sure that your vaccination card doesn't get folded or wet, laminating it might not be a good idea. At this point, doctors and scientists are still figuring out if inoculated people need another booster shoot in a year or so. So those cards may need to be written on again in the future, especially if there's more space aside from the usual two boxes for the vaccine stamps.
Leave it lying around.
Especially for senior citizens, vaccination cards must be with you at all times if you're going out. Some establishments like dine-in restaurants check the cards and others offer discounts for the fully vaccinated. Best to make a copy for keeping in your wallet, though, and keep the original safe at home.
Lose it.
Keep the original at home so you don't end up losing it. Local government units and vaccination sites are still scrambling to inoculate people, so you wouldn't want to have to deal with getting a replacement card and add to that chaos.
Not have a backup copy.
While a digital copy of your vaccination card may not be technically valid, you can take a photo of it and save a scanned copy on your phone or cloud. This way, you still have a backup if worse comes to worst and you actually lose your card.
Check out SPOT.ph on Viber to join their Community and subscribe to their Chatbot.
READ MORE:
How to Register for a COVID Vaccine in Metro Manila
What Happens if You Refuse a COVID-19 Vaccination?
The Best COVID-19 Vaccine You Can Get, According to an Expert
What It's Like to Get Vaccinated Against COVID-19, According to Pinoy Frontliners
Load More Stories