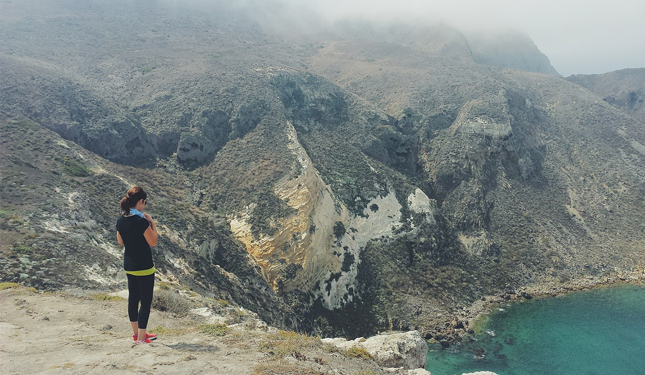 Mountain climbing is all the rage these days. After all, who could resist the allure of scenic trails, basking in the beauty of nature, and the chance to be on top of the world? It's an adventure worth embarking on at least once in your life. But before you sign up for your first-ever climb, you should at least know what you're getting into. Here are some tips to help you prepare:  

 1. Start small.
It might be tempting to aim for glorious peaks like Mt. Pulag on your very first climb—and it not impossible because total newbies have successfully reached the top—but it's always a good idea to start small and slowly build up your climbing repertoire to avoid overtaxing yourself and to prevent any injuries. Go for short and easy day hikes first to build confidence and to help you get used to the sport.
ADVERTISEMENT - CONTINUE READING BELOW
 2. Do your homework.  
Even if you have a well-planned itinerary and the most experienced guides in your party, this doesn't mean that your first climb will be an easy adventure. Spend some time getting acquainted with the mountain. A quick google search can lead you to basic info like how difficult the climb is, what the trail is like, what natural hazards to watch out for (cliffs, sharp rocks, or leeches for example), and how long the hike is going to be. Even better, you can read blog posts that detail other people's experiences with climbing your chosen mountain. Not only will you get valuable tips, but also have an idea of what to expect once you're there.
3. Prepare yourself physically.
Don't underestimate the level of fitness needed for mountain climbing. It is a strenuous physical activity and requires a huge amount of bodily effort. If you've been skipping your workouts or leading a semi-sedentary lifestyle before your climb, it's time to start on some serious conditioning. Jogging or brisk walking are great exercises to help increase your endurance and stamina for the long hike. Forego the elevators at work and take the stairs to build your leg strength. And don't forget to add some bodyweight exercises to your regimen, to ensure that you're strong enough to haul your entire body, plus your stuff, up that mountain.   
 4. Dress and pack right.  
Having the right gear ensures that you have a seamless and trouble-free climbing experience. Shop for some outdoor outfits if you don't have one already—a dri-fit shirt, trekking shorts, pants, or leggings, and a good pair of hiking shoes are the basics. You also need to be mindful when you pack your bag. You'll be lugging that thing throughout your hike so you want to keep it light. Bring only the essentials like water (about two to three liters is enough for a day hike), personal hygiene stash, first-aid kit and medicines, protective gear (cap, arm covers, plastic bags for waterproofing things), and a change of clothes. Don't forget your cameras so you can snap IG-worthy pics!
5. Be prepared for anything that could happen.  
During a climb, you're at the mercy of nature. You won't be able to tell if the weather is going to be perfect on the day of your ascent, or if you won't encounter anything dangerous on the trail. No one, not even veteran hikers, knows what could happen while you're on your way to the top. So it's best to just be ready. Observe all the safety precautions, err on the side of caution, always stick to your group, and listen to your guides. Most of all, do not panic! Emergencies rarely happen during a climb but the probability is not zero. Expect the worst but hope for the best.
ADVERTISEMENT - CONTINUE READING BELOW
 6. Know your limits.
While it's highly encouraged that you keep going despite the difficulties you encounter, it's also important to know and accept your limits. If the hike is starting to weigh you down or you start hurting anywhere, don't be afraid to stop and assess how your body is feeling. It's perfectly fine to turn back and attempt the peak at another time if you feel that you've pushed yourself too far. No mountain is worth risking your health and life for. 
 7. Have the right mindset and bring your heart.
Mountain climbing is not just a physical encounter; it can also be an emotionally-charged one. It won't just challenge your body but also your mental and emotional state. So it's important to bring your heart and to be open to the encounters and discoveries you'll have along the way.

Abbie, a hobbyist mountaineer who has conquered 11 peaks thus far, has this to say: "There's nothing more important than having the right attitude and mindset before even setting foot at the base of that mountain. You have to know and accept that it's not going to be easy; you're not here to relax. But it's going to be rewarding. It's going to be great—even amazing. So for your first climb—and even for the 10 more climbs after that—forget to bring anything else but your heart. It will take you places."
ADVERTISEMENT - CONTINUE READING BELOW
PHOTO: Pixabay
Load More Stories