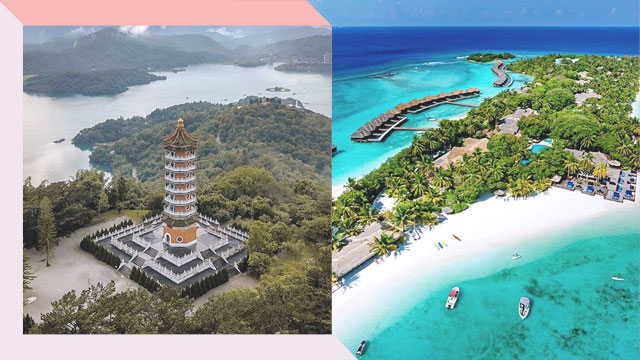 You've finally made it to your wedding day! Now, for the best part: the honeymoon phase where you and your spouse can finally escape all the wedding stress (not to mention those demanding aunts and uncles). What better way to indulge in your new lives than by quickly packing your bags and flying off to a destination trip that's stress- and visa-free?
ADVERTISEMENT - CONTINUE READING BELOW
Below, we round up five of the best visa-free countries in Asia where you can book a flight for your much-awaited honeymoon:
Maldives
When one thinks of Maldives, the images of intimate bungalows atop crystal clear blue waters come to mind. Built on a slew of water villa resorts and white sand beaches, this quaint island country is undoubtedly ideal for a romantic getaway for two. It's especially a treat for thrill-seekers who have a knack for diving, snorkeling, surfing, or swimming with whale sharks. Their luxury lodgings include the Cheval Blanc Randheli and the One and Only Reethi Rah, just to name a few.
Macau
Thinking of going wild and splurging for the first and last time as a married couple before, you know, parenthood eventually gets in the way? Fly no further than the golden land of Macau. Also known as the Las Vegas of Asia, Macau's particularly memorable for its grand strip of casinos and opulent hotel accommodations, like the widely popular The Venetian Resort Hotel. You'll especially want to take a leisurely walk around their mall designed like the streets of Venice with luxury brands to shop and canals that feature romantic Gondola rides.
ADVERTISEMENT - CONTINUE READING BELOW
ADVERTISEMENT - CONTINUE READING BELOW
Cambodia
Another choice for a tropical beach getaway with your spouse are the pristine islands of Cambodia. The best part? You won't have to hurt your bank account just to indulge in a luxe stay because the country boasts of affordable resorts and scenic spots. The most recommended of which includes visiting the virgin island province of Koh Kong known for its unspoiled forests and aromatic frangipani flowers, and experiencing a refreshing stay at the 4 Rivers Floating Lodge. Other more famous tourist destinations to travel to are the Silver Pagoda in Phnom Penh, the Bayon Temple, and the historic Ankor Wat.
ADVERTISEMENT - CONTINUE READING BELOW
Taiwan
If you guys are up for a little adventure, whether it's prowling through night markets or hiking up mountains, you can definitely get the best of both worlds in Taiwan. You might enjoy biking together while surrounded by the breathtaking views at the Sun Moon Lake in Nantou, snacking on local street delicacies at Shifen Old Street, or riding up the famous Taipei 101 for the best view of the city skyline at night. If you time your honeymoon right at around January to March, you can even catch Taiwan's marvelous cherry blossoms at certain locations like the Alishan National Scenic Area, the Wuling Farm, or at the Yangmingshan National Park.
ADVERTISEMENT - CONTINUE READING BELOW
ADVERTISEMENT - CONTINUE READING BELOW
Singapore
If you're looking to enjoy your romantic vacation amongst a lush city life experience, how about flying out to the lion state of Singapore? A favorite playground of the rich and famous, the island-city boasts of luxury hotels, high-end restaurants, and scenic gardens skilfully enmeshed with urban landscapes. A few locations not to miss out on include booking a room at The Ritz-Carlton for a deserving lavish stay, marveling at the towering greenery at Garden by the Bay, or strolling through Changi Point Coastal Walk for a romantic sunset view.
ADVERTISEMENT - CONTINUE READING BELOW
Load More Stories