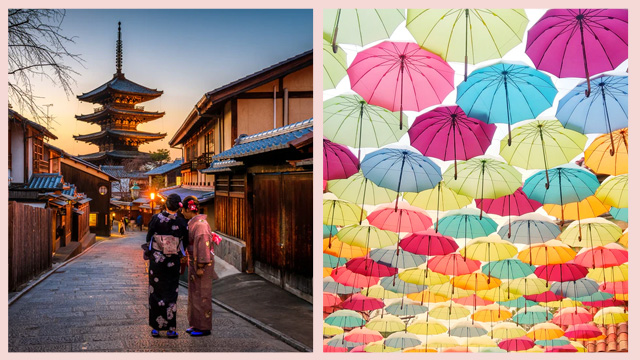 Asia has a lot of beautiful destinations to explore, and with ample savings and careful planning, you can add stamps to your passport this year.
We've listed visa fees for five countries to help you get started with your budgeting. Do note that it's always best to read travel advisories first before planning your trip, in case changes occur!
ADVERTISEMENT - CONTINUE READING BELOW
*Rates and requirements may change without prior notice.
Japan
The application fee for a single-entry visa will cost you around ¥3,000 or P1,380, while a double- or multiple-entry visa is at approximately ¥6,000 or P2,760. A transit visa, on the other hand, is at ¥700 or P322.
For more information, click here.
Republic of Korea (SoKor)
South Korea does not charge visa fees if you're staying in the country for less than 59 days; however, as the Korean Embassy has been coursing applications through accredited travel agencies and are not entertaining walk-in applicants in Metro Manila due to the large influx of tourists, it's best to prepare around P1,500 for processing fees. Do confirm with your accredited agency of choice as rates differ.
If you're planning to stay in South Korea for more than 60 days but less than 90 days, you have to shell out around P2,000 on top of your agency fees.
ADVERTISEMENT - CONTINUE READING BELOW
For more information, click here.
Bhutan
You'll need to save up before even planning a trip to Bhutan, as visiting this secluded kingdom can be expensive, but most definitely worth it. You'll have to spend around $200 (P10,113) to $250 (P12,645) for every day of your stay (depending on the season). The amount includes your accommodations, food, tours, as well as a $60 (P3,035) sustainability fee.
A Bhutanese visa will cost you $40 or P2,204. You need to get your visa through an accredited international travel agency (which will also help you plan your itinerary) as Bhutan has strict tourism rules and practices a "high value and low impact" policy which encourages only discerning and respectful travelers to enter the country. This way, the kingdom effectively protects its culture and natural resources.
Interested in adding Bhutan to your bucket list of destinations? Pick one of several agencies accredited by the Tourism Council of Bhutan to get you started.
ADVERTISEMENT - CONTINUE READING BELOW
For more information, click here.
Nepal
You can either apply for a visa at the Consulate of Nepal in Manila, or obtain it upon arrival. Do note, however, that you have to first confirm that you're eligible for the visa-upon-arrival option in order to avoid hassle, so going through the process prior to leaving is actually a better choice. Make sure that you either have a guarantee letter by a Nepalese sponsor-host or valid hotel accommodations.
ADVERTISEMENT - CONTINUE READING BELOW
A 15-day stay will cost you $30 or around P1,517, while a 30-day stay is at $50 or around P2,528.
For more information, click here.
India
You can apply online for your Indian tourist visa. According to BLS International, which is the accredited visa application center for the Indian Embassy in the Philippines, a tourist visa valid for six months will cost you P5,502, while a visa valid for five years is at P10,697.
ADVERTISEMENT - CONTINUE READING BELOW
Load More Stories