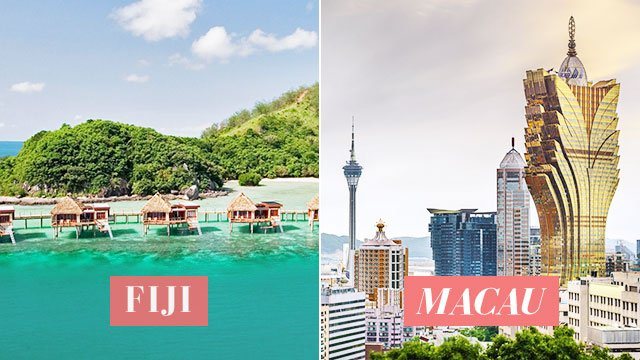 Traveling is a great way not only to unwind, but also to learn about life in such a way that staying in one city can't do, so don't scrimp on the experience! Head to these uncommon destinations and discover much more than what you've imagined.
ADVERTISEMENT - CONTINUE READING BELOW
Macau
CONTINUE READING BELOW
Recommended Videos
Macau is often visited as a side trip when you visit Hong Kong, but make no mistake as it has so much more to offer than just hotels and casinos.
While it has earned its rep as the "Vegas of China," Macau also has its own historical charm. Being a colony of Portugal for over 300 years, its skyline is a blend of Asian and European influences, and the food—oh, don't even get us started with that, because Macau has one of the most diverse and delectable cuisines in Asia brought about by its mixed heritage.
ADVERTISEMENT - CONTINUE READING BELOW
TRY: Join Mastercard's Cross-Border Raffle Promo. Make a purchase abroad until July 16, and every $50 single receipt purchase will earn you one raffle entry for the chance to win 1 million Mabuhay Miles from Philippine Airlines, which is more than enough to bring you back to Macau!
Fiji
ADVERTISEMENT - CONTINUE READING BELOW
Fiji is at the heart of the South Pacific, nestled near Australia and New Zealand. With over 300 islands, it's a haven for any adventurer with its rugged landscapes, clear lagoons, and fabulous beaches. If you're looking for some peace and quiet, visit Taveuni Island and enjoy the beauty of the country's flora and fauna; or if you're looking for something indulgent, enjoy a spa session at Pure Fiji Spas.
Remember that Fiji tends to be cheaper if you travel with a group, so best bring your family or your BFFs along!
ADVERTISEMENT - CONTINUE READING BELOW
TRY: Book a trip to Fiji via Fiji Airways. For more information, visit FijiAirways.com.
Adadis Ababa
Adadis Ababa, the capital of Ethiopia, is one of the fastest growing cities in Africa. But more than the commerce and urbanization, Ethiopia retains the rough beauty of the savannah that's rich with tradition and wildlife.
ADVERTISEMENT - CONTINUE READING BELOW
Untouched by European colonialism, Ethiopia is the Holy Grail for anyone looking to dive deep into African culture and world history, as this country is home to Lucy, the fossilized bones of a hominid, and possibly one of our first ancestors.
TRY: Watch Asian Air Safari on ABS-CBN News Channel and see the beautiful sights of Ethiopia every Sunday, 8:30pm.
ADVERTISEMENT - CONTINUE READING BELOW
Frankfurt
Heading to Frankfurt, Germany during fall and winter may seem counter-intuitive, but a different sort of beauty descends upon the city when the climes are cooler. The calming browns, grays, and whites, combined with beautiful architecture, makes it look like something out of a fairytale. That's probably what makes Frankfurt special—the interesting mix of old and new, intricately-designed apartments, towering skyscrapers, as well as sprawling exhibit halls such as the Messe Frankfurt.
ADVERTISEMENT - CONTINUE READING BELOW
If you have time, and make it a point to visit the Museum Giersch in the afternoon and walk along the Main River at night for a quiet, introspective experience.
TRY: Until June 30, 2017, use your Mastercard to book a flight a Thai Airways flight to Frankfurt, Germany, to get rates for as low as US$444 for Economy Class and US$1197 for Business Class. Travel period is until September 30, 2017
ADVERTISEMENT - CONTINUE READING BELOW
Comments
Load More Stories