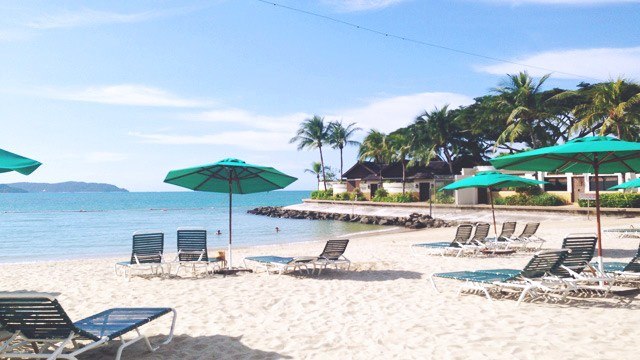 As much as our time and budget permits, my husband and I make it a point to travel with our three-year-old. And it's not about bragging rights. Travellng with a toddler is far more stressful than just staying at home and couch potato-ing. But the memories we create as a family, the way Tino relates with other people and learns about cultures, the mere stimulation that I can see sparks his imagination, is enough for me to be on the look out for the latest seat sales.

I'm lucky I share the same passion for travel as my two girl friends with same-aged toddlers, and finally after months of planning we and our hubbies found the best schedule to bring our usual weekend playdate out of the country. Off to Kota Kinabalu we went for four days and three nights! Here's a travel guide on a fairly light budget based on what we did there.


ADVERTISEMENT - CONTINUE READING BELOW
Where to stay: Hotel No. 5
Price per night: Around P1,800 with breakfast for 2

I cannot stress enough how much I love Hotel No. 5 from the minute they received us the night we arrived. We initially booked a condo unit via Airbnb and communicated with the owner about our arrival time on a Friday, which the airline changed to 8pm from the original arrival of 3pm. Tired from the trip, we arrive at the condo with no security guards or admin people in sight. The owner wasn't picking up. An hour after sitting on a park bench with sweaty, hungry, and tired toddlers, we gave up on trying to reach the guy and drove to the nearest hotel we found online: Hotel No. 5.


The simple hospitality of opening the kitchen for us to have a decent dinner, making sure we got rooms with king sized beds (they were fully booked and opted to combine their twin beds just for us), and accommodating our last minute requests felt like they've done above and beyond their responsibilities, all for just PHP1,800 per night! The hotel is only 15 minutes from the airport and is in the center of everything. It's a business hotel so don't expect extra amenities like a pool or gym. They do have shuttle service, though, so it's convenient to get around the malls nearby.
How to get around: Uber or Grab
I know you'll think twice about turning on your data just so you could book an Uber or Grab. But after a few not-so-pleasant experiences with taxi drivers in Kota Kinabalu, we've decided to chip in and assign one phone for data (which we used as a hotspot) when WiFi wasn't available. Thankfully our hotel's WiFi service was superb! And unlike the Airbnb culture in Kota Kinabalu (the first condo we booked months ahead cancelled our reservation a week before the trip. The next condo we booked is the no-show owner), Uber and Grab are very efficient. 
Where To Go:
With two whole days and most of Monday to go around, here are the places we visited:

1. Manukan Island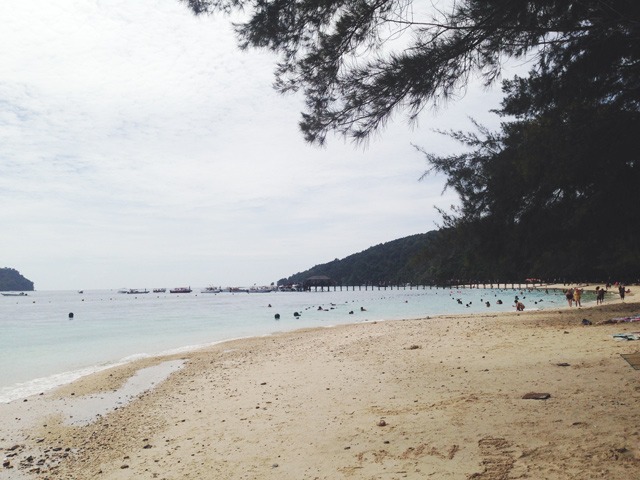 Ferry fee: P250 per head

Conservation fee: P35 per head

There are several islands to visit from Kota Kinabalu that boast of beautiful beaches, and famous among the top four is Manukan Island. From Jesselton Point Ferry Terminal, boats that accommodate about 12 people leave regularly starting at 7:30am. Ticket counters from around 10 operators compete but the base prices are the same starting at RM 24 (P250). You can choose to hop and go to two to four islands for a discounted price. The last boat transfer is at 4pm.

Manukan Island was quite packed when we got there. But despite the crowd at the beach, it's clean and you can clearly see fishes of all shapes and colors from the dock! It's a great place to snorkel. Like a mini Boracay, the crowd lessens and the establishments get more expensive as you walk the length of the shore. We stayed at a restaurant at the end of the walkway. They allowed us to leave our stuff as we swam after we had lunch. If you wish to stay longer there are several hotels in the island, and a cove for a private resort that we thought was pretty nice.
2. Welcome Seafood Restaurant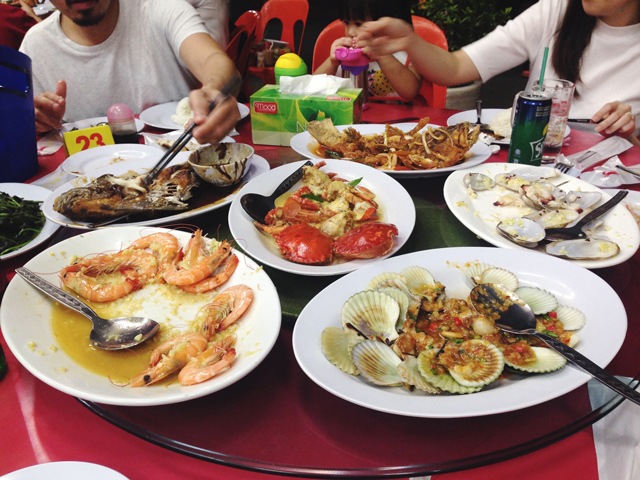 Average Price per Head: P250 TO P500, depending on how hungry you are!

You can't miss having the freshest seafood cooked the way you want 'em at Welcome Seafood Restaurant. There are two branches in the city, both of good reputation. We tried the one in Penampang. The affordable dampa style eatery with al fresco seating offers a wide array of live seafood to choose from, some you may haven't seen in your life like flower crabs, mantis prawns, lotoria, and more! Lunch and dinner can get crowded so go before the rush.



3. Shangri-La's Tanjung Aru Resort & Spa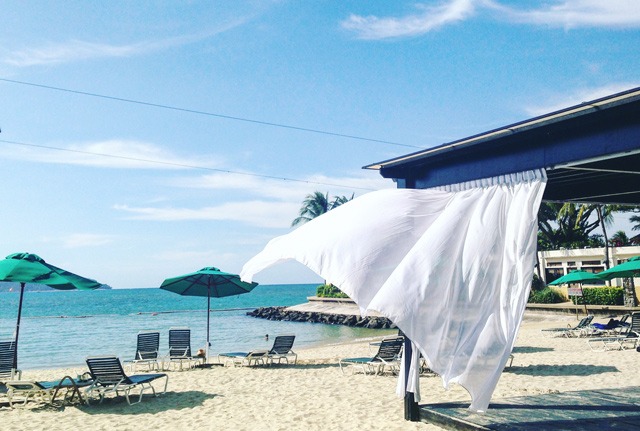 Day Trip: P2,500 per head
Just 15 minutes away from Hotel No. 5, Tanjung Aru's beach is nice enough for a quick getaway. Shangri-La offers free beach access if you dine in their poolside restaurants, so we opted to go there instead of the public beach. They also provide a day trip fee of RM200 per head (a little less than P2,500) where you can access Shangri-La's facilities like the pools and daycare center. The kids particularly liked the kiddie pool complete with fountains and slides! And it's great to feel like a guest, even for just a day, of the 5-star resort without having to pay for an expensive room.



4. Sunset Cruise By Sutera Harbour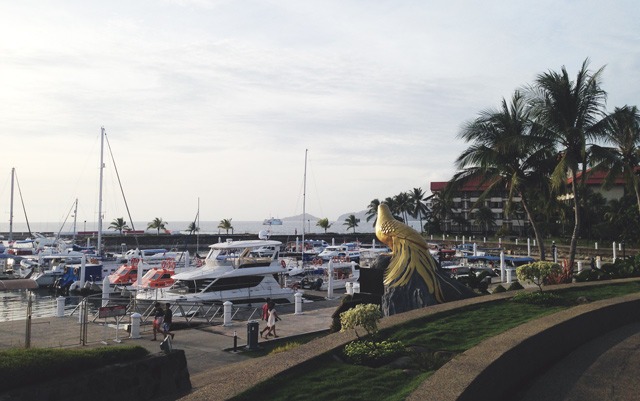 Price her head: P1,500
The Huffington Post named Kota Kinabalu as one of the eight places in the world to watch the sunset, and the best way to see it is in a cruise. I initially thought about the Manila Bay sunset cruises, how people are ushered in a big boat and served with cocktails and drinks while the cruise took its time in the waters. I was all for that. But Sutera Harbour's cruise was far more awesome and
sulit
for the fee! First, you have the beautiful marina and golf destination as the boarding venue. Second, you get your very own (PRIVATE!!) large speed boat to bring you around the ocean for a relaxing one hour trip complete with snacks and drinks. You'll see the famous islands of Sabah and have enough time to take unobstructed pictures of the famed sunset. Make sure you include this in your itinerary when you visit!
Have more places in Kota Kinabalu that you want to share? Tell us in the comments below or visit Girltalk for more tips from fellow women!
Load More Stories