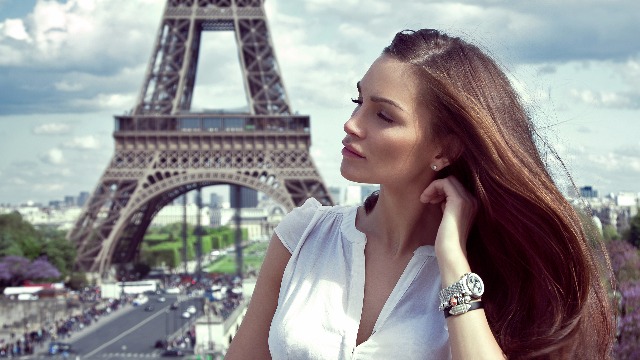 French women are famed for their style, figure, and je ne sais quoi (translation: something unexplainable, but in a good way) attitude. When you think of elegance personified, more often than not, you probably have a Parisian woman in mind. But what is it about most Parisian women that has the world captivated?

You can channel your inner Parisienne by practicing these quintessential habits:

1. When it comes to food, it's always quality over quantity.
Most Parisian women know that the key to good food is using only the best ingredients. They visit their local farmers' market to buy fresh produce, and when they do eat out, they're picky about what they put into their bodies. If something is too sweet or salty, they don't feel the need to polish their plate clean because to them, food is more than just sustenance—it's an art form.

2. Forgo trendy fashion for staples and neutrals.
Paris Fashion Week may be the biggest event of the year, but a lot of French women are actually all about simple elegance. They prefer items they can mix and match over loud, trendy clothes that will look dated next season. When you shop—and you have to shop—go for a versatile piece like an LBD or camel trenchcoat, and add a pop of color with a brightly patterned scarf or a bold lip.

3. Adopt a simple beauty routine.
The beauty routines of most Parisiennes can be best described as "unfussy." They don't spend hours contouring their faces or concealing their blemishes. If you want that classic French look, splash water on your face, apply moisturizer, dab on a lip and cheek tint, and swipe on some mascara. At night, upgrade your look with a lippie in your perfect shade of red.

4. Indulge every once in a while.
Every corner in Paris has a café or patisserie—and they're there for a reason. French women don't usually mull over every calorie they consume. They're not ridden with guilt every time they choose to indulge in a croissant or a dark chocolate ganache. The trick is to savor each and every bite.

5. Walk as much as possible.
While not all French women are gym rats, they do know the benefits of exercise, which is why they walk around so much. While you're there, instead of taking the bus or hailing a cab, stroll through the streets of Paris and take in the views. Make sure to end your day at the Eiffel Tower—it's especially gorgeous at night!

If you want the authentic Parisian experience, then book a trip to France so you can create memories to last a lifetime.

With a BDO Installment Card, you'll have access to cash for your every need—including your great French adventure! Apply now, and if you get approved on or before November 30, 2017, you can get cash for as low as 0.75 percent interest rate per month. You'll also get a one month billing holiday, so you'll have more time to save up for your first installment payment.

To know more about BDO Installment Card's Cash Now, Pay Later offer, click here.
This article was created by Summit Storylabs in partnership with BDO.