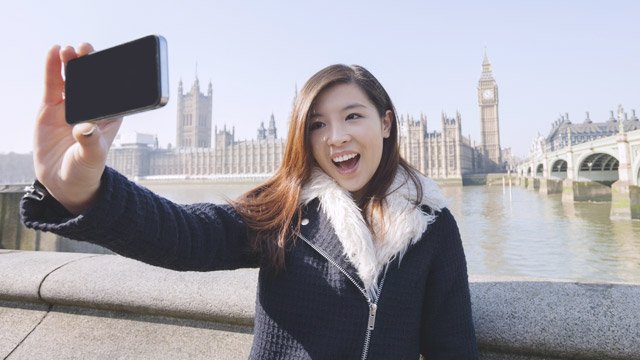 Traveling alone can be a liberating and exciting experience. One major downside is: Who takes photos of you? Unless you're the shy type who prefers being behind the lens, it sucks to not have epic photos of yourself standing in front of those breathtaking views. Not everyone can afford an Instagram butler or has a blogger boyfriend. Want to up your Instagram game when traveling solo? Here are tried-and-tested tips.
ADVERTISEMENT - CONTINUE READING BELOW
Embrace the shameless selfie.
Level: Beginner
CONTINUE READING BELOW
Recommended Videos
It's time to let go of your inhibitions of taking selfies. Everyone's doing it. There are actually less annoying ways to get that selfie done right. It's not always about the duck face. Practice at home in your bedroom or garden to see what your best facial angles are, what camera height and distance best captures the backdrop without blurring your face, and what phone camera settings work well. Once you've mastered the art of taking selfies, you'll do it faster and more inconspicuously when you travel.
ADVERTISEMENT - CONTINUE READING BELOW
Try selfie sticks.
Level: Beginner
If you're tired of seeing your wide arm part of every travel selfie you've taken, it's time to move up to selfie sticks. It can be tricky and clunky to use at first, but all you need is practice. Master the technical aspects like properly securing your phone or digital camera, propping up the stick, and taking photos from different heights and angles. Yes, the stick will inevitably be part of all your photos, but it's still better than a close-up of your arm and nostrils.
ADVERTISEMENT - CONTINUE READING BELOW
Ask the right person.
Level: Beginner
It's okay to ask strangers to take your photo for you, especially when you're at popular tourist spots. But remember: Not everyone can take clear and well-composed photos. Some locals don't want to be pestered, while local thieves take advantage of gullible tourists by running away with their camera. The best and safest people to approach are: tour groups and families who might also want you to take their photos (guaranteed to be friendly), fellow solo travelers (you might even end up hanging out), someone carrying a DSLR camera (guaranteed to take good photos), and employees of that tourist spot (as long as they aren't already hounded by other tourists).
ADVERTISEMENT - CONTINUE READING BELOW
Compose it for them.
Level: Intermediate
Have an angle and composition in mind before even asking a stranger to take your photo. It's okay to tell them, "Here, take it like this," while showing the exact position of the camera. Then run into place and pose. In case you don't like how they took the photo, it's best not to have them redo it because that usually dampens the mood. Just say thank you politely, wait for them to be out of earshot, and then approach a new person to take your photo.
ADVERTISEMENT - CONTINUE READING BELOW
Let professionals serve as your inspiration.
Level: Intermediate
Follow other travel photographers, bloggers, and celebrities on Instagram for inspiration. You'd be surprised to see that there are many creative ways to take photos of yourself. One common hack: taking a pic of yourself on reflective surfaces like mirrors, windows, and the water.
ADVERTISEMENT - CONTINUE READING BELOW
Photograph other body parts.
Level: Advanced
It doesn't always have to be your face that's in your travel photos. How about taking a photo of your feet on a colorful pavement, one hand part of a flatlay, or other body parts subtly included in the composition?
Upgrade your gear.
Level: Advanced
ADVERTISEMENT - CONTINUE READING BELOW
If you're ready to invest in better equipment, go for a tripod, high-end DSLR, waterproof camera case, remote, GoPro, and/or drone. A tripod and your basic camera give you 10 seconds to run into place before the shutter clicks. A camera remote takes allows you more time and distance, while a GoPro is best for taking endless videos. Tip: Some travel bloggers just screencap their videos so that they don't have to keep stopping for photos. As for the drone, it gives you those amazing aerial shots. A word of caution: Before propping your expensive gear in public, make sure it's a safe spot where bystanders won't easily knock it down, or worse, run away with your life savings.
ADVERTISEMENT - CONTINUE READING BELOW
This story originally appeared on Cosmo.ph
*Minor edits have been made by FemaleNetwork.com editors.
Comments
Load More Stories