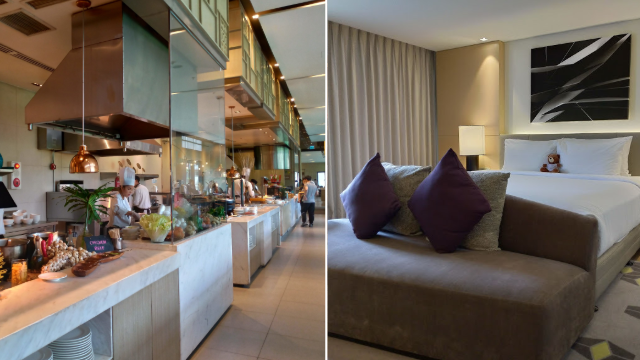 When you think about enjoying a staycation in one of the many hotels in Metro Manila, you'll probably think about those in BGC, the City of Manila, or in Makati. Quezon City won't probably be your top-of-mind, because while it's home to townships such as Eastwood, there aren't a lot of hotels to choose from.
ADVERTISEMENT - CONTINUE READING BELOW
If you've been to the northern end of EDSA recently, though, you may find a growing development just before Trinoma. Vertis North, which already has an upscale Ayala Mall, also has the five-star Seda Hotel that boasts of 438 rooms and world-class facilities with a clean, minimalist touch.
CONTINUE READING BELOW
Recommended Videos
Ready to take that break that you so deserve? Try this overnight itinerary that will leave you well-rested:
ADVERTISEMENT - CONTINUE READING BELOW
Day 1
Noon: Lunch at Misto
The first thing you'll notice about Misto is its simple buffet layout—it's just one straight line of different dishes (save for the hub of drinks at the center of the floor). It's actually quite refreshing, as you don't have to go around so many different stations only to miss a couple once you're full. The vibe isn't at all intimidating and is almost homey; and you'll often find a long table (or two) of parties celebrating birthdays and reunions.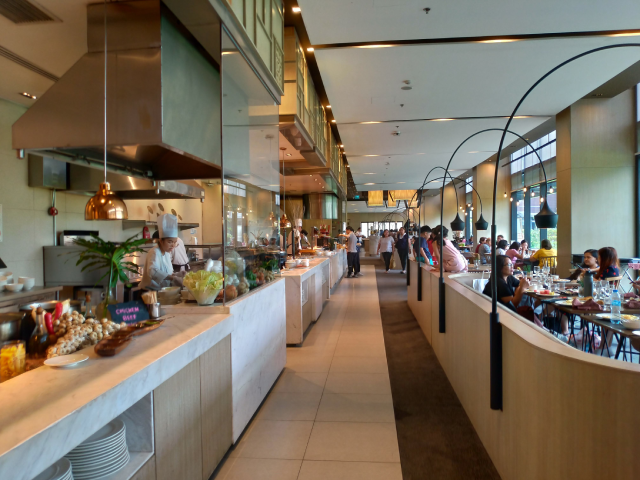 ADVERTISEMENT - CONTINUE READING BELOW
From one end to the other you'll get to enjoy different cuisines, including Filipino, Thai, and Italian, among others, before ending up at the dessert station.
FN Tip: The choices in Misto aren't as prolific as other hotels, but the dishes have been picked with care. If you love Filipino food, then you'll enjoy their inihaw station as well as side dishes of ginadgad na labanos and okra with bagoong. For dessert, you'll want to try their bread pudding paired with hot chocolate.
ADVERTISEMENT - CONTINUE READING BELOW
2:00 p.m.: Check in
Drop off your things in your room and give yourself a few minutes of rest. If you've booked their Club Room then you get 32 square meters of coziness all to yourself, plus an array of special priviledges and services, including:
Access to the Club Lounge, which provides all-day non-alcoholic refreshments;
Breakfast buffet at 6:00 a.m.: while it's not as extensive as Misto's you'll get to eat your breakfast in peace and quiet;
Afternoon tea from 2:00 p.m. to 4:00 p.m.;
Evening cocktails from 5:00 p.m. to 7:00 p.m.;
Free shoe shine service for one pair per stay; and
Late check out at 4:00 p.m.
ADVERTISEMENT - CONTINUE READING BELOW
If, for some reason you really need to work on your break (we hope you don't), you can also take advantage of their other ammenities, including:
Use of iMac stations at the lobby
Use of the Club Lounge Boardroom up to 10 guests (additional guests will be charged P2,500 per head per hour; and
Complimentary printing of 10 black and white pages per stay, should you need hard copies of your documents.
4:00 p.m.: Massage at Seda Spa
Seda Spa has some of the best but most wallet-friendly spa services for a hotel in Metro Manila. You'll only have to spend between P1,000 to P3,300 for treatments, and trust us when we say that's definitely worth booking in advance for.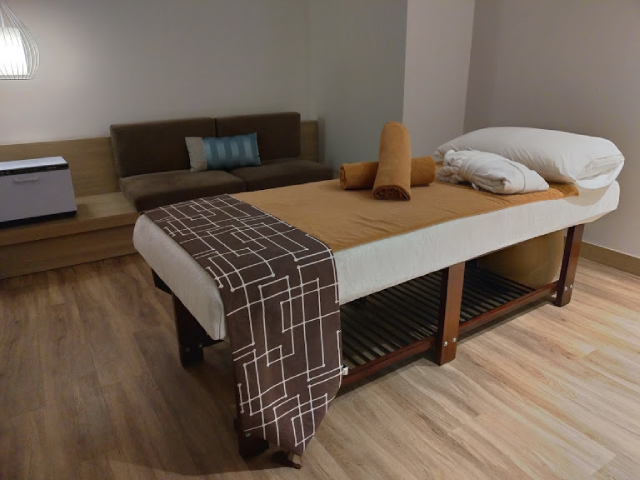 ADVERTISEMENT - CONTINUE READING BELOW
Body massages usually start with a quick cleansing of the feet in warm, aromatic water with petals, which is definitely a nice touch that helps set that chill mood. Just remember to set aside an hour or two for the ultimate pampering.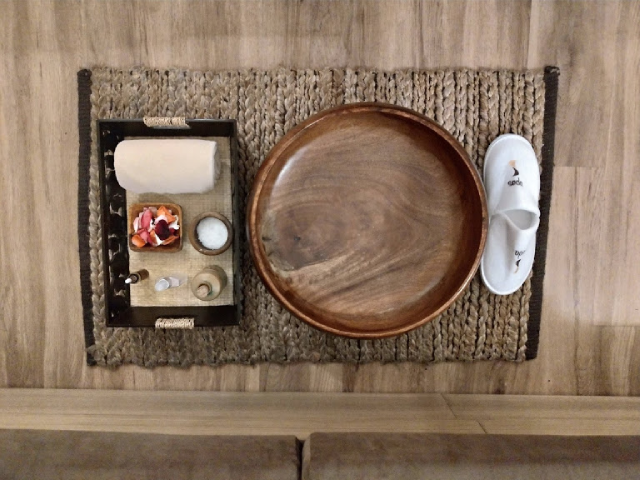 ADVERTISEMENT - CONTINUE READING BELOW
FN Tip: Try their Swedish Style Massage (P1,700 for 1 hour and 30 minutes at the Spa Center) if you're having trouble sleeping as it will help relax your tense muscles. 
6:00 p.m.: Dinner at Ayala Malls Vertis North
You can have dinner at Misto, or you can opt to eat at one of the many restaurants in the nearby Ayala Malls Vertis North, which is only a quick walk from Seda. Here are a few restaurants you may want to check out:
1. Katherine's Cafe
They've got great main meals, and awesome desserts, too!
ADVERTISEMENT - CONTINUE READING BELOW
2. Asakusa Home of Tempura
If you're craving for seafood, then go for tempura!
3. Scout's Honor
You can find all kinds of cookies here! 
ADVERTISEMENT - CONTINUE READING BELOW
FN Tip: Try their Horlick's Milk!
Later in 2019, however, Seda will open its very own Chinese restaurant with a robust menu courtesy of Executive Chinese Chef Hann Furn Chen, so you may want to look forward to that. 
10:00 p.m.: Night cap at Straight Up
Straight Up is probably one of the chillest and most underrated bars in the Metro. Located at the top floor of the Seda Hotel, you can enjoy your drinks al fresco on a clear night, or just hang out by the bar and enjoy some of their signature shots when it's rainy. You'll find an interesting crowd in Straight Up: from businessmen winding down to families enjoying a quick midnight snack. Suffice to say, it's a pretty wholesome place with great drinks and good service.
ADVERTISEMENT - CONTINUE READING BELOW
Day 2
8:00 a.m.: Breakfast at Misto or the Club Lounge
If you booked a regular room, you can enjoy a good breakfast at Misto, but if you booked a Club Room, you can opt to eat at Misto or the Club Lounge, whichever you prefer. Either way, the hotel serves pretty good coffee, so take advantage of that. 
10:00 a.m., Option A: Chill and relax
You can visit Ayala Malls Vertis North for a quick movie peek before checking out, or you can simply laze in bed, because Seda Hotels' mattresses have the right balance of soft and sturdy. You're on staycation, after all, why not make the most out of it?
10:00 a.m., Option B: Visit the Tiangge in QC Circle
If you're willing to brave the traffic of North Avenue, you can take a Grab to QC circle and visit the many interesting shops in the vicinity. From wooden trinkets to potted plants, it's pretty easy to get lost in all the knick-knacks that you'll find. If you've booked a Club Room, then you have enough time prior to checking out to have lunch at The New Kamameshi House for a bit of '90s nostalgia.
ADVERTISEMENT - CONTINUE READING BELOW
12:00 noon (regular room)/ 4:00 p.m. (Club Room): Check-out
Seda Hotel Vertis North has that modern feel that's quite approachable, and while it's more often than not bustling with activity, its layout doesn't make it feel crowded, only busy. This hotel is also slowing becoming a favorite for weddings, debuts, and other events, what with its reasonable prices and a pillarless ballroom that is the dream of many events planners, videographers and photographers.
But for you, the staycation-nista, Seda Hotel Vertis North is an easy escape from the hustle and bustle of the city—heck, if you get stuck in horrible EDSA traffic somewhere in the north, you can opt to walk and book a stay here. The point is that your well-deserved rest need not be far or too expensive: the best R&R may be more accessible than you think.
Comments
Load More Stories