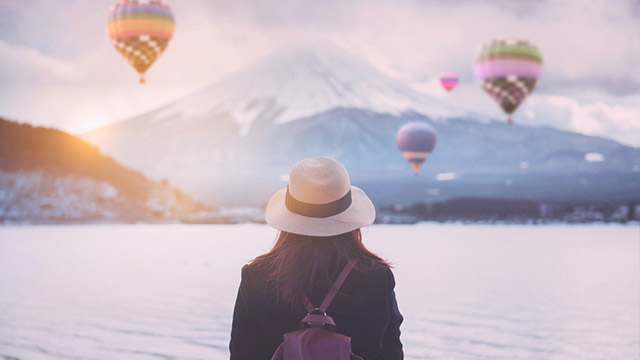 Traveling alone is a chance to reconnect with yourself. It is when you aren't relying on anybody's itinerary that you get to trust yourself, appreciate your own company, and fully listen to your own thoughts, which is why it's considered one of the most enlightening things anyone can do for themselves—at least once in your life. So if you've had it on your bucket list for a long time now and have often wondered what it's like to explore an unfamiliar place alone, these travel quotes below might just inspire you to finally book that plane ticket (or even that bus ride to a quick getaway). 
ADVERTISEMENT - CONTINUE READING BELOW
1. "There's only one place I want to go and it's to all the places I've never been." - Nikki Rowe
2. "A person does not grow from the ground like a vine or a tree, one is not part of a plot of land. Mankind has legs so it can wander." - Roman Payne
3. "A girl who travels has relationships that are based not on security, but on sincerity." - Lauren Klarfeld
4. "Becoming free is learning about yourself; the scared and the insecure, the brilliant and the bold. Embrace both and the journey is yours and yours alone. No longer are you following another's directions and your path and purpose will present themselves. Only then might you find another wandering soul doing the same thing, who can walk with you but on their own journey. All of a sudden you might find a shared passion and a wrinkled map on the trail that makes sense." - Riitta Klint
5. "Some journeys in life can only be traveled alone." - Ken Poirot
6. "Wherever you go, go with all your heart." - Confucius 
7. "To travel is to take a journey into yourself." - Danny Kaye
8. "A mind that is stretched by new experience can never go back to its old dimensions." - Oliver Wendell Holmes, Jr. 
ADVERTISEMENT - CONTINUE READING BELOW
9. "And if travel is like love, it is, in the end, mostly because it's a heightened state of awareness, in which we are mindful, receptive, in dimmed by familiarity and ready to be transformed. That is why the best trips, like the best love affairs, never really end." - Pico Iyer
10. "One day you will wake up & there won't be any more time to do the things you've always wanted. Do it now." - Paulo Coelho
11. "To move, to breathe, to fly, to float,
To gain all while you give,
To roam the roads of lands remote,
To travel is to live." - Hans Christian Andersen
12. "We travel, initially, to lose ourselves; and we travel, next to find ourselves. We travel to open our hearts and eyes and learn more about the world than our newspapers will accommodate. We travel to bring what little we can, in our ignorance and knowledge, to those parts of the globe whose riches are differently dispersed. And we travel, in essence, to become young fools again- to slow time down and get taken in, and fall in love once more." - Pico Iyer
ADVERTISEMENT - CONTINUE READING BELOW
13. "Once a year go some place you've never been before." - Dalai Lama
14. "The woman who follows the crowd will usually go no further than the crowd. The woman who walks alone is likely to find herself in places no one has ever been before." - Albert Einstein
15. "Sometimes, time spent away from the road you've been used to running every single day is exactly what you need to get back on track." - Solenn Heussaff 
16. "Women need real moments of solitude and self-reflection to balance out how much of ourselves we give away." - Barbara DeAngelis
17. 'When you're traveling with someone else, you share each discovery, but when you are alone, you have to carry each experience with you like a secret, something you have to write on your heart, because there's no other way to preserve it." - Shauna Niequist
ADVERTISEMENT - CONTINUE READING BELOW
18. "If you don't get out of the box you've been raised in, you won't understand how much bigger the world is." - Angelina Jolie
19. "Because in the end, you won't remember the time you spent working in the office or mowing your lawn. Climb that goddamn mountain." - Jack Kerouac
20. "Having an Eat, Pray, Love moment because #ihavelearnedthat in solitude, we surprise, delight, and nourish our souls." - Jodi Sta. Maria
ADVERTISEMENT - CONTINUE READING BELOW
21. "The world is a book, and those who do not travel read only one page." - Saint Augustine
22. "Knowing that I get to do things on my own completely gives me a certain kind of rush. I wanted to see how capable I was of being independent and free," - Lovi Poe
23. "Always go with the choice that scares you the most, because that's the one that is going to require the most from you." - Caroline Myss
24. "Without new experiences, something inside of us sleeps. The sleeper must awaken." - Frank Herbert
25. "To travel is to live." - Hans Christian Andersen

26. "The wish to travel seems to me characteristically human: the desire to move, to satisfy your curiosity or ease your fears, to change the circumstances of your life, to be a stranger, to make a friend, to experience an exotic landscape, to risk the unknown." - Paul Theroux

ADVERTISEMENT - CONTINUE READING BELOW
27. "Wherever you go becomes a part of you somehow." - Anita Desai

28. "One's destination is never a place, but a new way of seeing things." - Henry Miller
29. "Not until we are lost do we begin to find ourselves." - Henry David Thoreau
30. "There are seven days in a week, and "someday" is not one of them." - Benny Lewis
31. "Jobs fill your pocket. Adventures fill your soul." - Jaime Lyn Beatty
32. "Half the fun of the travel is the esthetic of lostness." - Ray Bradbury

33. "Why do you go away? So that you can come back. So that you can see the place you came from with new eyes and extra colours. And the people there see you differently, too. Coming back to where you started is not the same as never leaving." - Terry Pratchett
Sources: Good Reads, Solenn, Cosmo, Medium, and Brainy Quote
ADVERTISEMENT - CONTINUE READING BELOW
Load More Stories