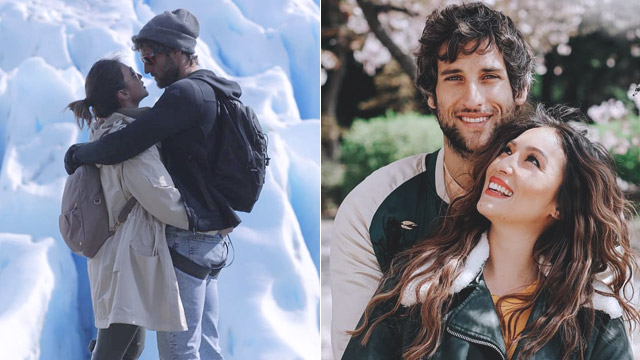 For Solenn Heussaff, husband Nico Bolzico is not only an amazingly hilarious husband, he makes the perfect travel buddy, too. "Nico's like me—he's very easy[-going]," the actress shared in an interview with Female Network at Vitress' product launch. "We're not in a schedule na parang, okay at 7 a.m., we have to do this. Then at 8 a.m., we need to go to this one...  [We're] very much chill."
ADVERTISEMENT - CONTINUE READING BELOW
While most couples who travel together would normally encounter a few fights here and there as they tend to mesh the things they want to do and see into a single, well-coordinated itinerary, Solenn shared that isn't the case for them, as herself and Nico would also squeeze in some "me time" whenever they travel. "We normally don't fight when we travel [because] we give each other some time alone. Ako, I like galleries. Nico isn't into arts. So I go alone… and he can do football and running," the actress shared. 
In their more than 10-year relationship, the couple has traveled to several parts of the world, from tourist-y spots in places like Greece, Japan, and France to quieter, laid-back places in Argentina and Portugal. 
ADVERTISEMENT - CONTINUE READING BELOW
Most recently, the two also went on a camping trip with Anne Curtis and Erwan Heussaff in California. Camping and road trips, according to Solenn, are "a fun way of knowing someone better. Or testing your relationship. It will teach you how to cope with different things together, and since you're like on each other's face 24/7, you'll get to catch up on each other's lives also," she once shared in one of her previous blog entries.
ADVERTISEMENT - CONTINUE READING BELOW
If you've been meaning to go on a relaxing trip with your S.O. but don't where to start, here are some of the best travel destinations to visit, according to Solenn herself:
1. Argentina
For nature, outdoor-loving couples, Solenn highly recommends adding Argentina (Nico's home country) to your bucket list. "It's one of my favorite places to go to. I visited Argentina for more than seven times now, [and] I never really thought that I would go [there] because it's like the farthest country from the Philippines!" In case you're wondering, it takes around 35 hours to fly off from Manila to Buenos Aires, Argentina, as Solenn further detailed on her blog. 
ADVERTISEMENT - CONTINUE READING BELOW
ADVERTISEMENT - CONTINUE READING BELOW
"What I love about it is that it's a mix of everything," the actress added. "If you want snow, there's snow. If you want outdoor activities, there's hiking. There are lots of mountains! The horseback riding there is super amazing, too. I'm scared of horses because I had bad experiences with them before—I almost fell off a horse several times—but in their country, since it's like their national animal, the horses there are trained so even if you're [feeling] scared, they won't [run off.]"

ADVERTISEMENT - CONTINUE READING BELOW
ADVERTISEMENT - CONTINUE READING BELOW
Lucky for us, Solenn documented her most recent 10-day trip to Argentina with Nico, where they went on hikes and had chill lunches by the farm together—and it honestly does seem like one of the most peaceful yet equally thrilling place to visit. Watch her two-part vlog below: 
2. Portugal 
"Portugal is like the 'Filipino Europe,' for me, because I think the people there are like very much similar to Pinoys. I also love the fact that it has a laid-back vibe cause I mean, I have a lot of friends who would travel and puro OOTDs yung mga interest nila. [Pero] ako, when I travel, I don't want to think about what I'm wearing cause I don't give a damn. I don't know anyone there so I just want to experience the food. I want to experience the city."
ADVERTISEMENT - CONTINUE READING BELOW
"People there are very laid-back. They're not ma-fasyon fasyon, and I like that. I like chill places." 
3. Thailand
Meanwhile, for couples who don't want to travel too far (especially if you've got limited VLs), "I would say visit Thailand. I love Thailand. Number one, I love the food and I like that it's very safe to go around the streets. I love using their tricycle. Then, they have a lot of cool spots like Michelin-starred street food vendors..." (Michelin stars are awarded to the best chefs and restaurants in the world.) 
ADVERTISEMENT - CONTINUE READING BELOW
"For the type of person who likes to party, the night life is amazing, too. And then if you want a quieter place, you can go to like Chiang Mai where you can learn how to cook Thai food. You can even swim with elephants, so I think Thailand is a nice place to travel to," shared Solenn. "You'd still feel at home." 
4. Samar 
Locally, couples who want to avoid crowded beaches should consider visiting Samar, the third largest island in the Philippines, says Solenn. "You don't really hear much about it. When people travel within the Philippines, usually, [they would go to] Palawan or Boracay. Sa Samar naman, there are beaches din. There are good surfing spots na walang tao. Then, there's Biri island, which is a really beautiful parang rock sculpture-looking island surrounded by nice turquoise bays. [The island] is very untouched yet."
"There's so much activites you can do in Samar; you can visit more of the Leyte part of Samar for the bridges. Puwede rin kayo mag mountain climbing. I like that it offers so much and I love that there's not many people because I don't like going to crowded areas." 
ADVERTISEMENT - CONTINUE READING BELOW
ADVERTISEMENT - CONTINUE READING BELOW
ADVERTISEMENT - CONTINUE READING BELOW
If you need a little more convincing, Solenn also documented her trip to the island, where she toured around a couple of the must-visit spots in Samar: the San Juan Floating Restaurant and Boardwalk, Sohoton Cove (a cove surrounded with white beaches and lush valleys!), Sohoton Natural Bridge Natural Park and Ulot River Boat Adventure in Paranas. Watch her vlog below (and you just might book a flight to Samar soon): 
Load More Stories