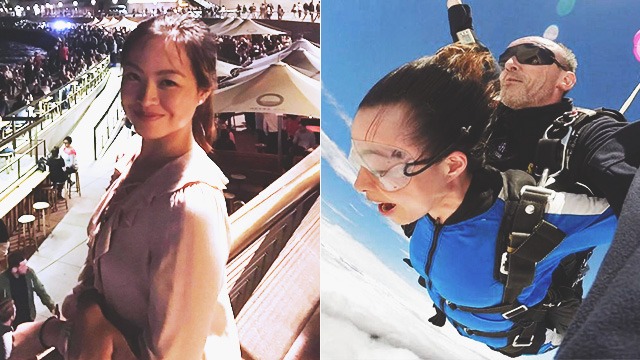 Everyone who has ever went skydiving comes out exhilirated and ready to do it again. Below, Pinays who have braved the extreme sport share what was going through their minds moments before jumping out of the plane:
1. Carlyn Gabon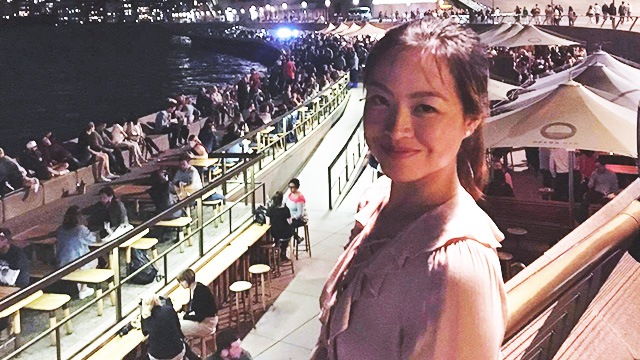 ADVERTISEMENT - CONTINUE READING BELOW
CONTINUE READING BELOW
Recommended Videos
Age: 28
Where: Sydney Skydivers, Australia
"Ok, many random things. During check-in, there was an option to get insurance (standard insurances exclude extreme activities), and normally I'd immediately skip it. But since I just turned 28, I thought I should be more mature and get the effing insurance. Though I also thought, if something bad happens, at least my last memory would be me ticking something off my bucket list.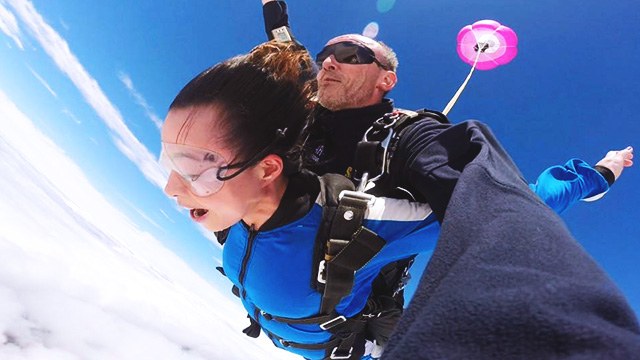 ADVERTISEMENT - CONTINUE READING BELOW
"Right before the actual jump, I triple checked if my shoes were tied [because] I was worried it might fall off, and I would have to go home without a shoe. (It happened to a tourmate of mine when we did paragliding in 2012). Tapos I asked the instructor if he's sure that I am completely buckled and strapped to him...
"And I was hoping my cheeks won't look funny in the video."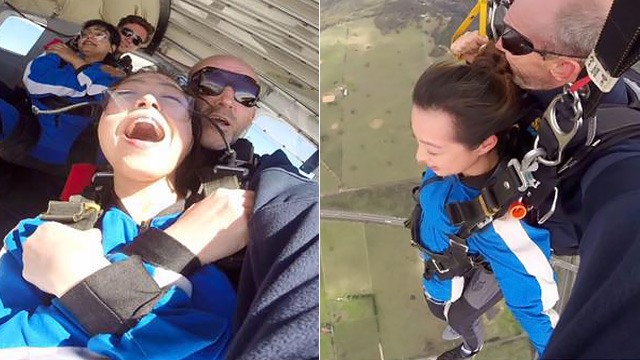 ADVERTISEMENT - CONTINUE READING BELOW
2. Raisa Isabelle Co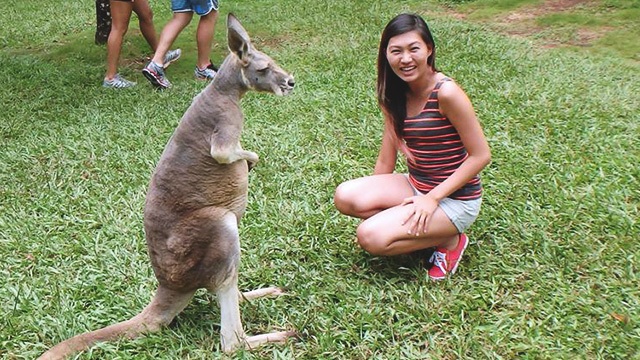 Age: 27
Where: Jump the Beach, Australia
Her sister shares that Raisa really has a fear of heights, but her entire year backpacking was really about conquering her fears.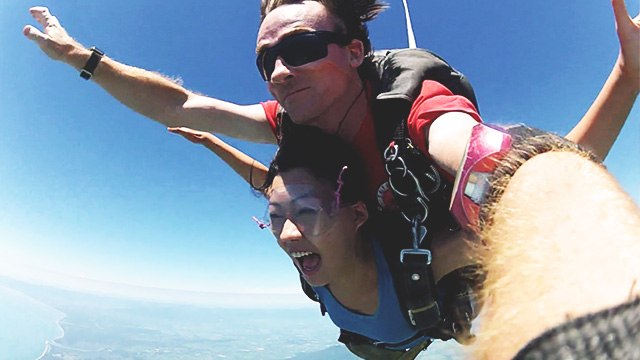 ADVERTISEMENT - CONTINUE READING BELOW
"I was so scared, [and] I stopped responding, that the skydiving instructor had to practically carry me towards the door. There was no turning back. I closed my eyes and screamed at the top of my lungs as he pushed us both out of the plane. I thought, this is my chance to conquer my fear, and this is what I came here for. That's exactly what I'll do and I'm going to enjoy every single bit of it." I opened my eyes to an unobstructed view of the bluest sky and the biggest span of water I have ever seen."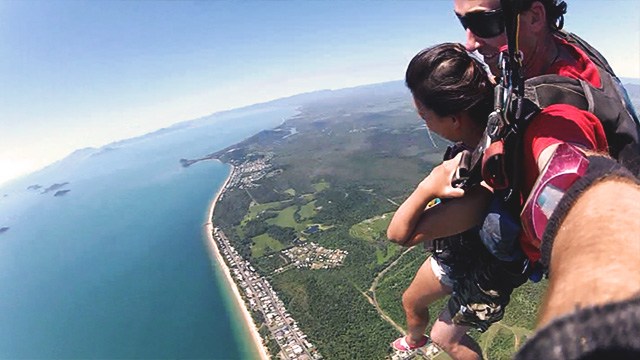 ADVERTISEMENT - CONTINUE READING BELOW
3. Jenny Cosejo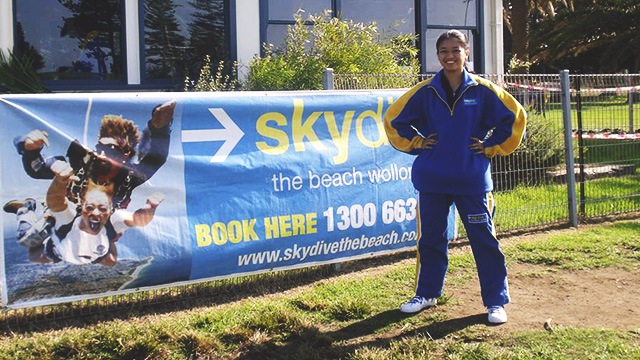 Where: Skydive Sydney-Wollongong, Australia and Skydive Franz, New Zealand  
"I did my first skydive in Wollongong, Sydney, Australia back in 2009. I was working as a pastry chef in Darling harbour and went for a 3-week holiday. It was my first time to go out of the country and live by myself, so I decided to explore a little bit of Australia during that time. One of the things I wanted to do was to skydive. I got curious about how would it feel up in the sky and jumping out of a plane. The view of Wollongong was [beautiful] beyond words, and the guy I jumped with told me [that] we [we're going to] land by the seashore, [which] got me more excited. But when I was up in the sky and was about to jump there were five more people in front of me, and I was the last one in line—that made my excitement shift to a lot of nervousness and got me so terrified since I heard five different screams before me. But in my mind, I was thinking 'If they can, then I can do it as well.' So I jumped 14,000 feet above and had the best experience of my life. I was really happy especially when the parachute came out. You get to control the parachute for a while with the view of the coastline of Wollongong before landing. It was the best."
ADVERTISEMENT - CONTINUE READING BELOW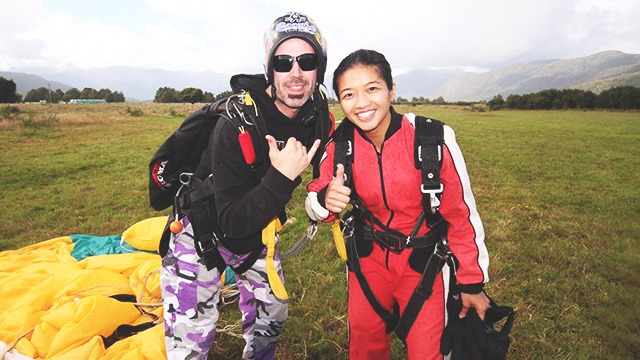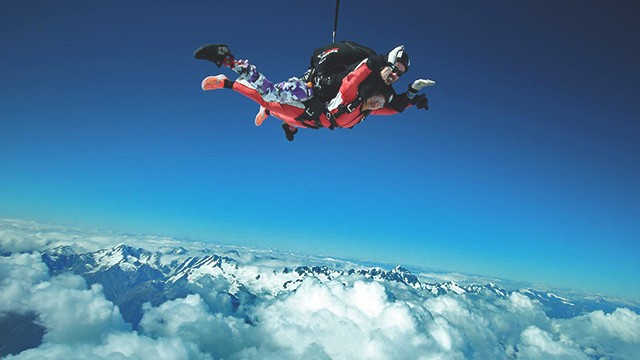 ADVERTISEMENT - CONTINUE READING BELOW
"The second time was in 2015 in Franz Josef, South Island New Zealand. Franz Josef is a very small town in the Westcoast of South Island New Zealand. I was working as a chef there. I spent most of my time at work and traveling. We had the glacier where most tourists visit every year. I just decided to skydive one day to do something different. The only thing on my mind before I jumped was "I did it before, I can do it again." So I jumped 18,000 feet. I did not feel scared that time anymore and just enjoyed the moment. The best part was when I saw a full round rainbow; it was raining a little bit. I got excited while falling since there was a separate camera man and he was [gesturing for me] to come closer and hold hands. I was like 'How?'"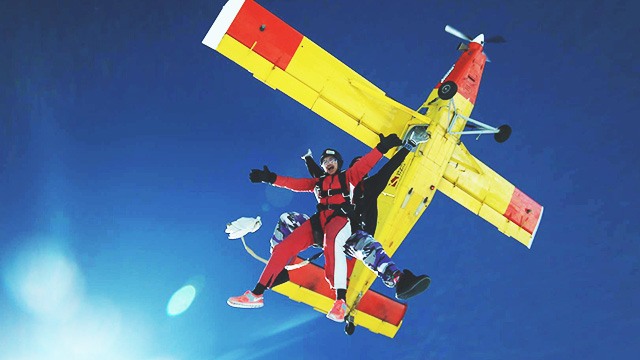 ADVERTISEMENT - CONTINUE READING BELOW
In a few seconds we were holding hands and I think we went around a little bit before the parachute came out.
It was amazing."  
4. Teri Marcelo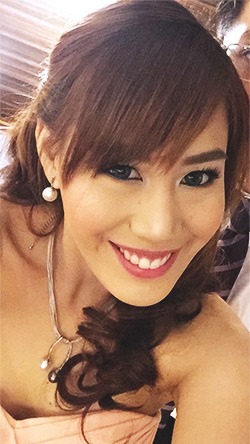 Age: 26
Where: Pacific International Skydiving Center, North Shore of Oahu, Hawaii
"Honestly, my skydiving experience was really random. I was in Hawaii for a vacation with my dad and his law firm, when some of the associates asked me if I wanted to join their skydiving activity. I immediately said yes because skydiving had always been on my bucket list. Right before the jump, I kept telling myself, "This is it! You're finally going to do it!" I was elated. I wasn't scared at all because my state of mind then was whatever happens, happens. 
ADVERTISEMENT - CONTINUE READING BELOW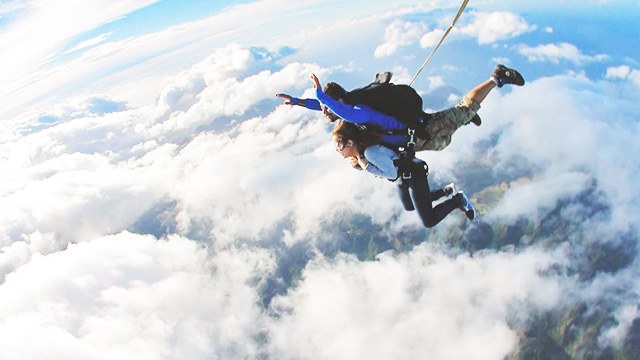 "My dive didn't go exactly as planned because the wind was too strong so my instructor had to do an emergency landing on the beach shore. Nevertheless, it was an unforgettable experience. I felt like I was flying as I was suspended in the clouds. I was already planning my next skydiving trip right after I landed."
ADVERTISEMENT - CONTINUE READING BELOW
Load More Stories