There are several hot air balloon destinations around the world, like New Zealand, Tanzania, New Mexico, Namibia, and our own annual Philippine International Hot Air Balloon Fiesta in Pampanga. But one of the most popular destinations is Cappadocia, Turkey.
More than the sight of these colorful hot air balloons, it's the backdrop of Cappadocia's fairy chimneys and landscapes filled with pigeon houses, orchards, and vineyards that make the experience breathtaking. Whether you're watching it from below, from a hotel balcony, or you're in the actual balloon basket 3,200 feet up in the air, this experience is one for the books.
We spoke to five Pinays who've traveled to Central Turkey's Cappadocia region to experience this adventure. Here, they share how they planned for the trip, how much they spent, and how you, too, can tick this off your bucket list. Make sure you have your passports ready!
ADVERTISEMENT - CONTINUE READING BELOW
Rosy Pacheco, 32, Singapore-based preschool teacher
When did you go? July 2018
What made you want to experience this adventure? For my colleague's birthday, I suggested to go to Turkey to strike [going on a] hot air balloon ride off our bucket list. Why not, right? I like doing something extreme or just going out of my comfort zone and try something new.
Who did you travel with? With my colleague for her annual birthday trip
How did you plan for it? It was DIY at the start. I searched for a flight that matched our leave dates, and then researched about places to go and things to do in Turkey. We chose Istanbul and Cappadocia. Once we settled the flights, we searched for a good hot air balloon company to liaise with. The company had other people join us because the balloon can hold 16-24 people. There are choices on how many people you want to be with in the balloon. The fewer people, the higher you pay.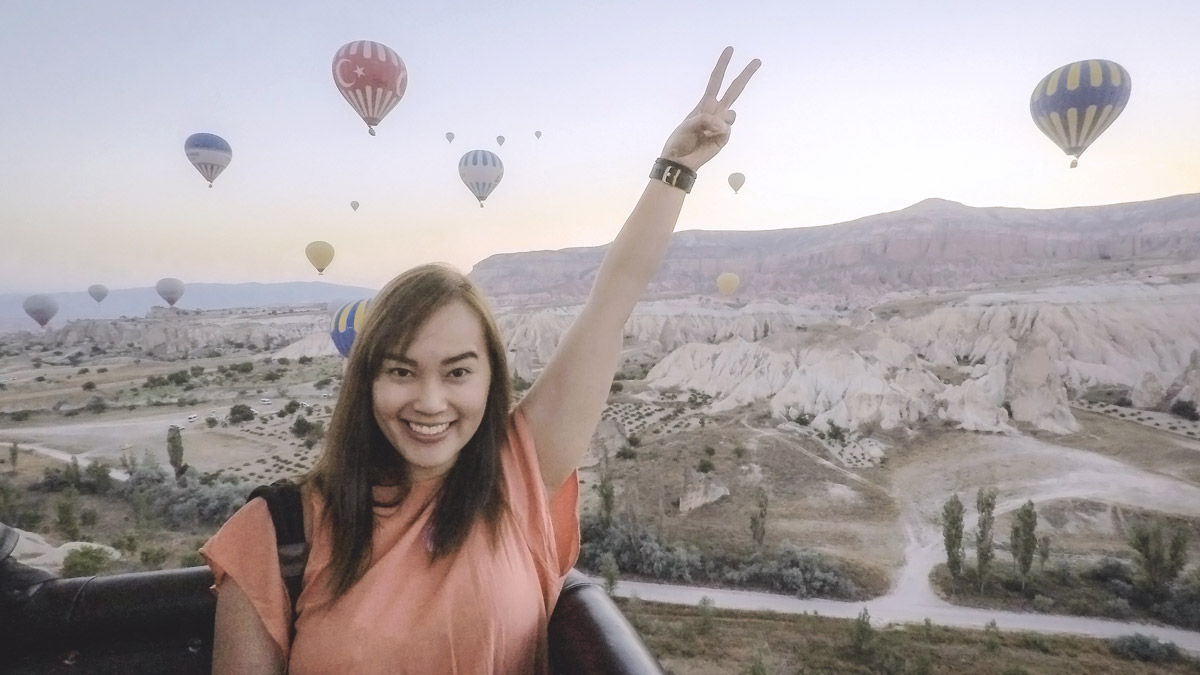 Rosy highlights the importance of picking the right balloon company for the best rates and experience.
PHOTO: Courtesy of Rosy Pacheco
How much did you spend? The total cost of the flights (SG-Istanbul-Cappadocia-Istanbul-SG) and our Cappadocia tour was around P54,300 for one. For flights and hot air balloon tour only, it cost roughly around P49,000 per person via Wecappadocia.com. The Cappadocia tour included a jeep safari, green tour (South Cappadocia), red tour (North Cappadocia), balloon tour, and airport transfers. 
What was the experience like? It was breathtaking! I was just in awe of the sight. I used to only see these things on computer wallpapers or screensavers, but I was finally seeing it up close. I think that after skydiving, riding a hot air balloon is just smooth sailing. I wish we could have extended the flight longer (but will be more expensive) and have fewer people in the basket (again it will require a bigger budget). We only had one hour of flight time. I could have taken more photos and videos. After the ride, I just felt extraordinarily happy—finally, I did it!
ADVERTISEMENT - CONTINUE READING BELOW
Tips for fellow Pinays:
Search thoroughly for a good balloon company because they all have different rates. Don't forget to read reviews about the company.
Give extra days after your planned date for the hot air balloon flight. They cancel balloon flights on days that the winds are strong. We were lucky because the day after our hot air balloon experience, balloon flights were canceled due to strong winds.
Bring all your gadgets to take videos and photos.
Wear comfortable clothes—any OOTD, but just don't wear heels.
Cha Malana, 25, flight attendant
When did you go? June 17-19, 2018
What made you want to experience this adventure? We were inspired by colleagues and friends who traveled there and we always wanted to experience a hot air balloon flight.
Who did you travel with? My close friend, Sim
How did you plan for it? We started planning everything two weeks prior to the trip. We checked on the flights available, booked a hotel, and inquired about the tour packages.
ADVERTISEMENT - CONTINUE READING BELOW
How much did you spend? Doha to Ankara/ Istanbul to Doha airfare was P5,800. Cappadocia to Istanbul airfare was P3,050. Hotel for two nights was P3,400 per person. The tour package, which we availed from the hotel was P13,200, and it included the hot air balloon flight, Cappadocia tour, ATV, and one-way shuttle to airport. Miscellaneous expenses like food, bus transfers, and souvenirs were around P9,000. [The] total was approximately P35,000 per person.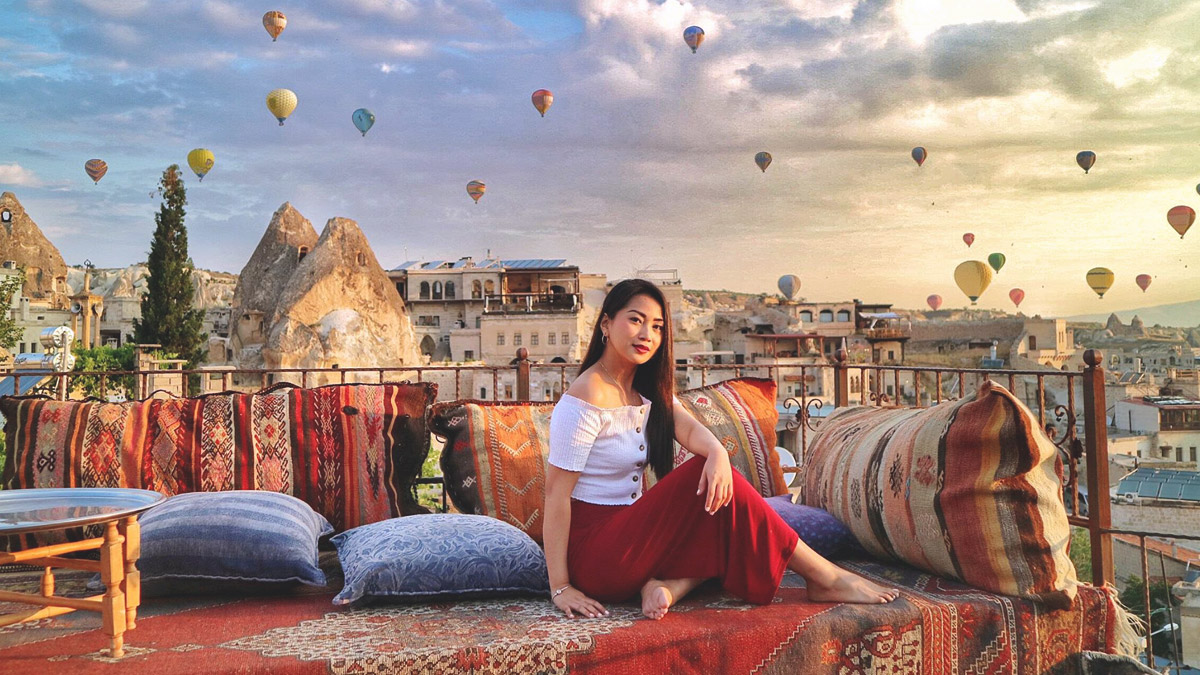 Booking in a strategically positioned hotel is important if you want the best view, says Cha
PHOTO: Courtesy of Cha Malana
Please share your itinerary:
Day 1: Took a flight from Doha to Ankara, Turkey. Arrived in Ankara, took a night bus to Cappadocia for 4.5 hours.
Day 2: Arrived in Cappadocia and checked in at the hotel. ATV tours in the afternoon through the Sword, Red, and Rose Valleys.
Day 3: Hot air balloon flight. We were picked up at the hotel at 4 a.m. as hot air balloons take off at sunrise. Each balloon has a commander and 20 persons in a basket. It was a very magical experience. I felt like I was in a fairytale story. The feeling was so surreal and a mix of fantasy and reality. Flight time was about one to 1.5 hours and we had a post-flight champagne toast and flight certificates. We took the Cappadocia tour on the same day, visiting the monastery and the underground city.
Day 4: Our last day. We got up early to watch the sunrise and hot air balloons from the upper deck of our hotel.
ADVERTISEMENT - CONTINUE READING BELOW
Tips for fellow Pinays:
Read blogs about Cappadocia.
Best time to go is during summer, May to July.
You have to check on the weather as hot air balloon flights are sensitive and can be canceled.
Book a hotel with an awesome view for outstanding pictures.
Kamille Carlos, 30, entrepreneur
When did you go? November 2015
What made you want to experience this adventure? The first time I saw a photo of the hot air balloon experience in Cappadocia, I already knew it was where I'd want to try (and risk) it. The fairy chimneys of Cappadocia make the perfect backdrop for that magical and out-of-this-world experience.
Who did you travel with? Friends
How did you plan for it? It was a mix of DIY planning and package tour for us. We went around Istanbul on our own, and contacted a local tour company, yukitour.com, for a 10-day Turkey tour, including Istanbul, Cappadocia, Pamukkale, and Ephesus. For the hot air balloon ride, we contacted Assianaballoons.com.
ADVERTISEMENT - CONTINUE READING BELOW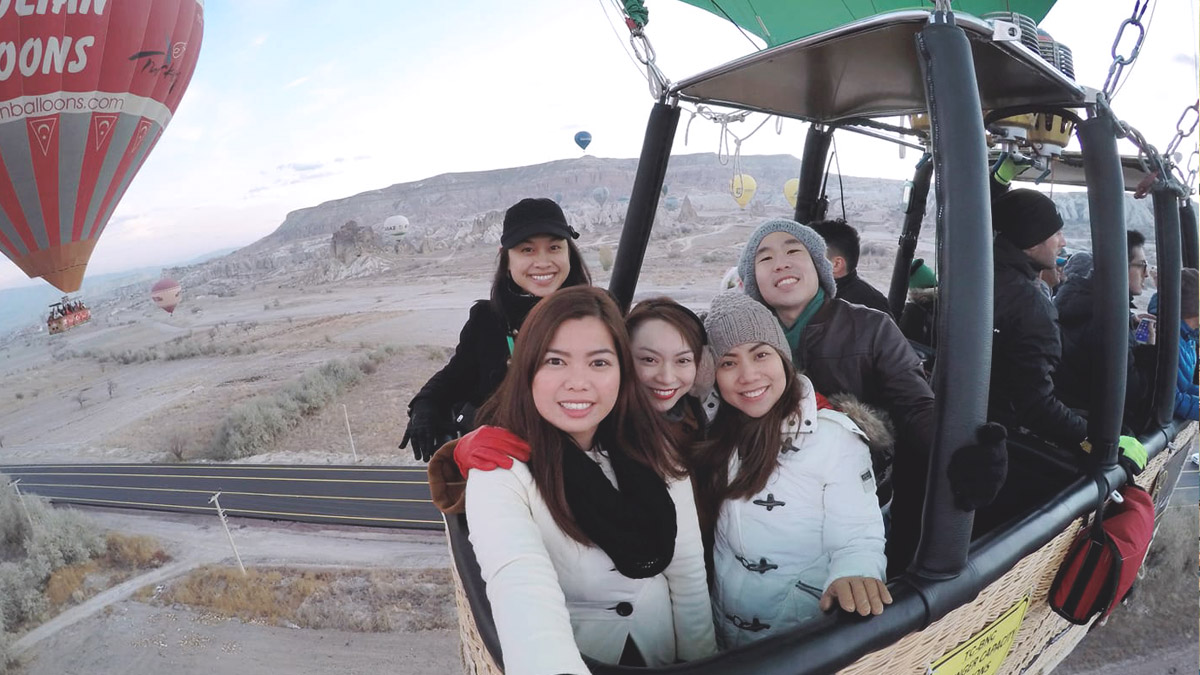 Kamille talks about the experience: "It's what childhood dreams are made of."
PHOTO: Courtesy of Kamille Carlos
How much did you spend? The hot air balloon ride cost €150 [approx. P9,380 per Google exchange - Ed.] per person, including the pick-up from the hotel, breakfast, and some celebratory drinks after. 
What was the experience like? From the moment the balloon was being prepared for take-off, up until we were slowly being lifted up in the air, it's what childhood dreams are made of. It felt so unreal. Once you're a thousand feet above ground, flying with a hundred other balloons with a panoramic view of Cappadocia, you'd want to freeze time and capture that moment forever. 
Tips for fellow Pinays: Weather is crucial! We went in November, and there was a good chance that our flight would be canceled because of the rain. We got lucky and managed to push through on the only day our itinerary would permit it. I would definitely recommend this experience! If you have to do it once in your life, do it in Cappadocia.
ADVERTISEMENT - CONTINUE READING BELOW
Iea Gutierrez-Nepomuceno, 36, special projects director
When did you go? It was on June 6, 2017 and part of our 11-day trip to Turkey.
What made you want to experience this adventure? I had always wondered what it felt like to ride a hot air balloon. It's something I had wanted to experience from the first time I watched The Wizard of Oz as a kid. Plus, as a photography enthusiast, seeing pictures of hot air balloons over Cappadocia really made me want to capture ones of my own.
Who did you travel with? My husband, Manny, wanted to take me to Istanbul because he really enjoyed his previous trip there. When we finally got around to setting the date for this trip, I told him I had two non-negotiables: Crossing from Europe to Asia in Istanbul, and a hot air balloon ride in Cappadocia.
How did you plan for it? It was a bit difficult trying to fit Cappadocia within an 11-day itinerary–9 days actually, since there were flights to consider—because there were so many things we wanted to see in Istanbul. As travelers, Manny and I would normally avoid doing tour packages because we like taking in the places we visit at our own pace. For our trip to Turkey, Istanbul was pretty much just us DIY-ing and since there was so little time for Cappadocia, we decided on taking an overnight tour.
ADVERTISEMENT - CONTINUE READING BELOW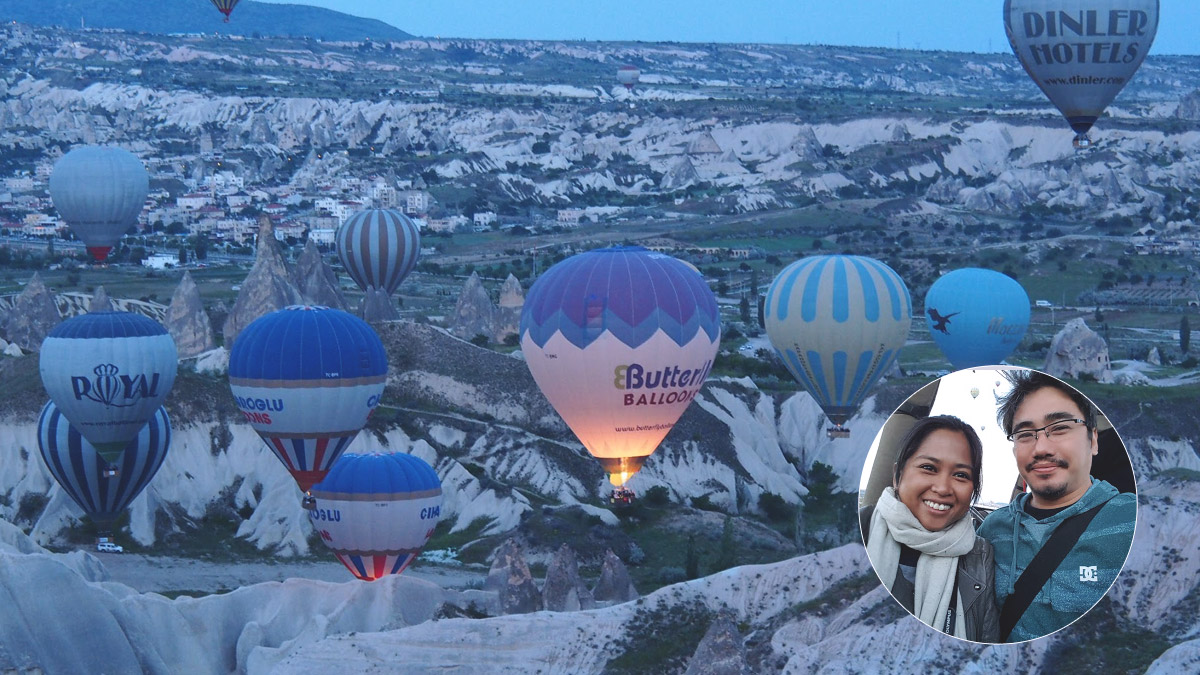 You can enjoy your trip in Turkey without booking tour packages, but never miss out on the Hot Air Balloon experience as Iea stresses!
PHOTO: Courtesy of Iea Gutierrez-Nepomuceno
How much did you spend? We booked via Hotairballooncappadocia.com. We spent €758 or roughly P47,000 for two people. If you want just the hot air balloon flight, rates are at €220 or P13,700 per person. The two-days, one-night package ended up being a good decision because they took care of everything. The package included the following:
Hotel pick up to and from the airport in Istanbul
Roundtrip flight from Istanbul to Nevsehir
Accommodations with breakfast at a nicely appointed cave hotel (our rooms were literally carved in caves)
Lunch and snacks for two days
Tours of North and South Cappadocia, which included Göreme, Esentepe, and Pa?aba? areas; Dervent, Rose, and Pigeon valleys; Avanos and one of its historic pottery shops; and an underground city
One-and-a-half hot air balloon ride with champagne at the end of the flight
What was the experience like? I was so excited about the thought of riding a hot air balloon that I actually forgot it meant going really high up in the air. We shot up 1,000 feet in the air in what felt like just 10 minutes and proceeded to go up about 8,000 feet just so our pilot can show us how high up we can go. Both Manny and I are not big fans of heights. Suffice to say, the ride up was enough to turn my legs to Jell-O. We eventually settled at about around 3,000 feet so we can enjoy the sunrise over the landscape, pass through mountains, hills, and valleys, and watch other balloons. By this point, we eventually got past how high we were because everything was just so beautiful.
ADVERTISEMENT - CONTINUE READING BELOW
Tips for fellow Pinays:
Do not skip the hot air balloon ride!
I had always thought that it was just one big basket. I was glad to find out it wasn't. From our tour group alone, I think there were about four to six groups that morning. Each hot air balloon was cut up into five sections with four people in each section on the sides and our pilot in his own section in the middle.
Sleep early before your hot air balloon flight.
Wear a jacket and bring a scarf. It can get really cold in the morning.
Make sure your camera and phone are securely strapped in. I was too afraid to take my phone out for fear of dropping it.
You have the option of buying pictures/videos of your experience from the tour group, but it can get expensive. They have go-pros attached to the balloon. If you're traveling with a group, you probably can just share the cost.
Enjoy Turkish breakfast at a leisurely pace. The spread they normally provide is very extensive.
Take the tour but try to extend a day or two to explore sans the tour group. Cappadocia is as pretty on the ground as it is high up.
ADVERTISEMENT - CONTINUE READING BELOW
Kim Laurente, 27, law student
When did you go? June 9, 2018
What made you want to experience this adventure? Riding the hot air balloon in Cappadocia was part of my ultimate travel bucket list. I would go to Turkey by visiting and doing that alone if I'd chosen only one destination.
Who did you travel with? With my boyfriend, Jayvee
How did you plan for it? We planned it for seven months beginning November 2017, so we had plenty of time to research and assess the pros and cons. We also referred to social media platforms, especially Instagram. The entire trip was DIY.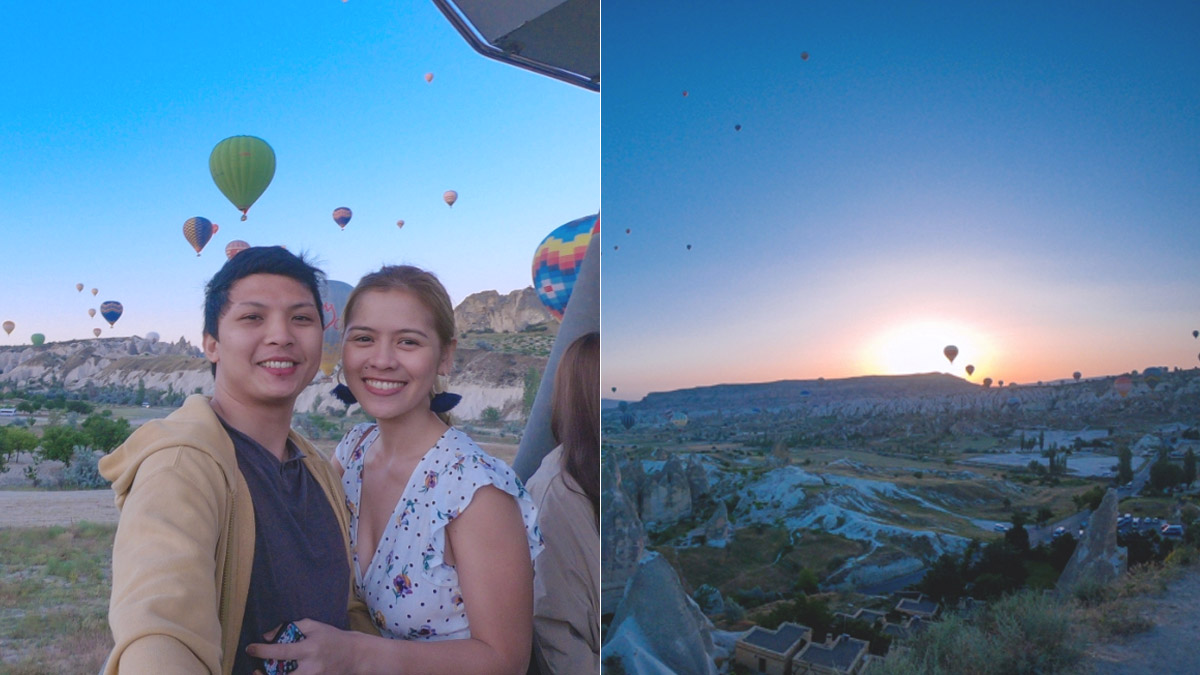 Kim cautions that it's important to keep tabs on the weather, as any change can cause the hot air balloon flight to be canceled!
PHOTO: Courtesy of Kim Laurente
How much did you spend? Total cost of our 12-day, Turkey-Georgia-Armenia-Dubai trip was P74,150 per person. I blogged about the breakdown of our expenses here. You may also check out my blog about our Turkey trip here and our hot air balloon experience here.
What was the experience like? It felt so surreal. I was so awestruck with God's wonders beneath and above me—the view of the cave towns, the sunrise, and the scenic landscape. We were picked up by the shuttle from our hotel at 4:30 a.m. In few minutes we were already at the departure area where they pumped the balloons. It was still dark and cold, but the balloon fires illuminated the field. I was surprised to see a number of hot air balloons being pumped side by side. One by one, each started to fly. While prepping for the balloon, the crew served breakfast consisting of biscuits, breads, coffee, and tea. In no time, we hopped into the basket and flew right away. We drifted through the valleys of Göreme, passed by Uchisar castle, and roamed around Cappadocia. We landed on another field, quite far from where we departed. After the ride, they prepared a champagne party for us on the same field.
ADVERTISEMENT - CONTINUE READING BELOW
Tips for fellow Pinays:
Take note of the weather. Bad weather means no hot air balloon flights.
Watch your personal possessions. My watch fell from the balloon because I was too preoccupied with the view. I didn't notice it was scratching the surface of the basket's walls.
Most hot air balloon packages include a champagne celebration upon landing. But for me, this is a tourist trap! After the "party," the crew will ask for tips, so don't forget to bring cash.
It's a little more expensive online. We opted to buy tickets to the hot air balloon ride in Cappadocia upon arrival as there are tons of travel agencies in there to compare and choose from.
*All rates are subject to change without prior notice.