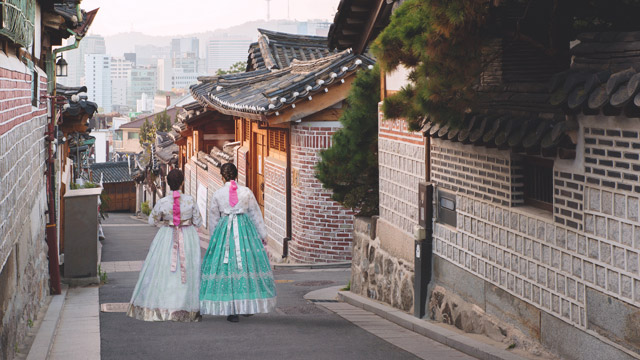 At the start of this decade, Seoul was called the little brother of Tokyo: a mini version of the vibrant, bustling capital of Japan. Over the past few years, however, the Korean city has made a name for itself. Aside from being the birthplace of K-pop, South Korea is currently one of the most competitive and innovative hubs for skincare and makeup, spurring a revolution for the cosmetics industry in Asia. Traditional food, Nami Island's treescape, and ski spots from Yongpyong Resort to Phoenix Park have taken over Instagram feeds. Travel goals never looked more delicious and fun, and these Korea-loving travelers can tell you all about how to afford your next vacation.
ADVERTISEMENT - CONTINUE READING BELOW
7 Days in Myeongdong and Hongdae: approx. P60,000/ person
Diane, 26, has taken multiple trips to Korea and considers it her second home at this point. "I would say a comfortable budget for a one-week trip is around P50,000 as I would usually spend around that much, excluding airfare," she shares. Usually booking a month or two before the trip, Diane always keeps her Skyscanner app busy looking for airfare deals. Once she nails down a date, she gets on Klook or KK Day to book tours and other activities. "You can rent wifi or buy transportation passes on Klook," she advises, "It's also cheaper."
CONTINUE READING BELOW
Recommended Videos
The rest of Diane's budget goes to shopping. "Skincare and beauty brands in Myeongdong always have the best deals," she shares, adding, "I think I spend around P20,000 to P30,000 on Korean products alone for the whole trip. HAHAHA." Lastly, she also recommends looking for accommodations in the Hongdae or Sinchon areas: "Best to stay near universities as there are a lot of cheap restaurants near schools."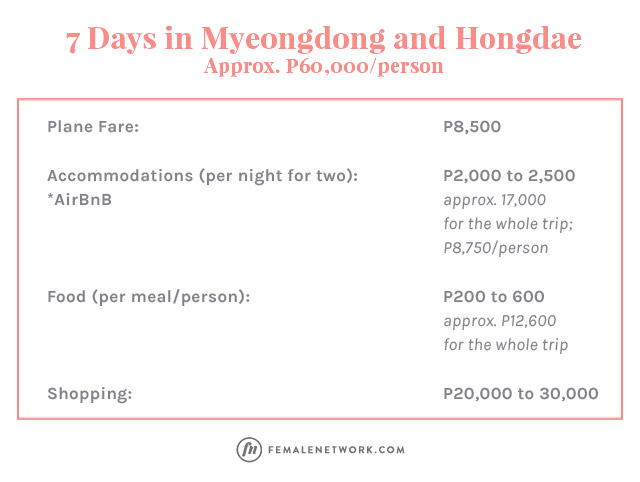 ADVERTISEMENT - CONTINUE READING BELOW
5 Days in Seoul and Gyeongju: P21,000/person
Mitch, 32, is especially proud of scoring a major deal on her trip to Korea. She and her husband spent only P4,000 on airfare thanks to a seat sale! She had booked six months before the trip itself but didn't even set a strict budget after that since they had gotten such a bargain on the flights. "Korea has a lot of nice attractions that aren't popular with tourists." The couple visited the busy capital of Seoul then went to a southern city, Gyeongju. Mitch goes on to share, "You'd want to go to those because they're much nicer, have fewer people, and have cheap entrance fees!"
ADVERTISEMENT - CONTINUE READING BELOW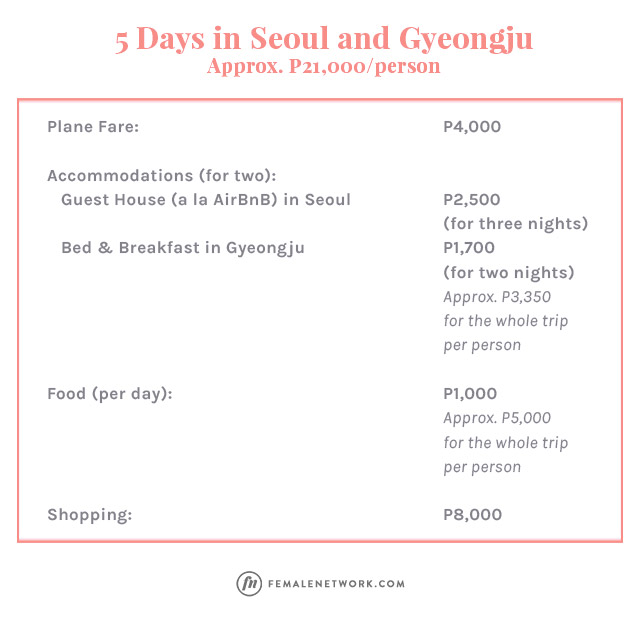 4 Days in PyeongChang: P85,000/ person
ADVERTISEMENT - CONTINUE READING BELOW
Tricia, 27, recently made a quick trip to PyeongChang, the site of the upcoming Winter Olympics. The sole purpose of the trip was to go skiing at the Yongpyong Resort. "It was a surprise from my parents for me and sister," she said, detailing that the short holiday became an unexpectedly wonderful bonding experience for the siblings. The plane tickets were bought during a seat sale, so most of the expenses were made up of the accommodations and activities.
"We availed of the full package for skiing lessons (about 4 hours in total with an English speaking instructor), gear rental, and lift for about P14,000 each," she shared. The slopes are some of the widest in Korea, allowing them to ski without instructors during the next couple of days. In total, the ski resort experience, including accommodations, cost an approximate P65,000 for the sisters.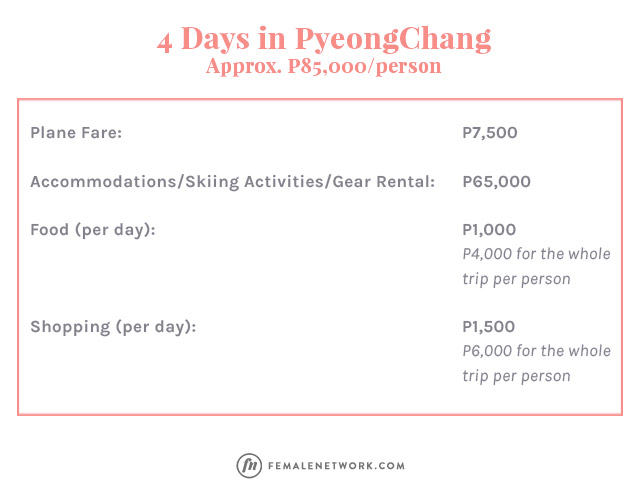 ADVERTISEMENT - CONTINUE READING BELOW
Load More Stories