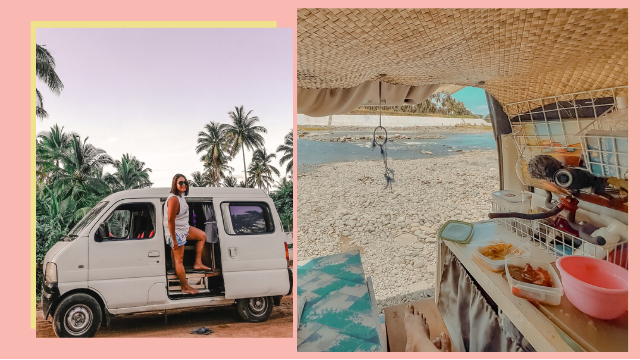 Traveling every weekend sounds like a dream, but of course, masakit siya sa bulsa. A Pinay named Katrina Quisil, however, found a way to go on regular trips without spending a lot! 
ADVERTISEMENT - CONTINUE READING BELOW
READ MORE ABOUT TRAVELING 
The single mom converted her van—a Suzuki DA62 Big Eye—into a tiny home, where she currently lives.
"I love how the van gives me a comfortable space to rest whenever I want to," she shares in a video interview with Summit Media. "I stay in the city on weekdays and travel on weekends."
Currently, Katrina is juggling two jobs—she works at a pharmacy during the day and at a BPO company at night. According to the Pinay, living in a van helps her better manage her two jobs. "My week is [usually jam-packed]. I need a breather so van life travel on weekends gives me a break from the day-to-day stress. It's like a recharge button for me after a busy week." 
Since she travels with her tiny home, Katrina doesn't need to spend on hotel accommodations. 
"Traveling on a usual basis without breaking the bank inspires me to continue this lifestyle," she adds. "The past 10 years, I say I've never lived my life like the way I should have lived it. Van life travel for me is so liberating."
READ MORE ABOUT TRAVELING 
ADVERTISEMENT - CONTINUE READING BELOW
Watch the video below to see Katrina's full story! 
Load More Stories