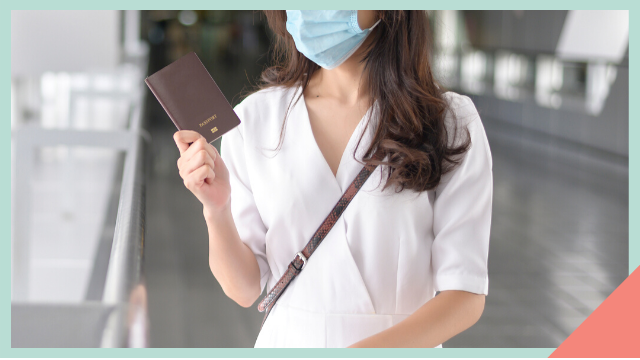 Because of the COVID-19 pandemic, for the longest time, travel for leisure had to be put on hold. But since the quarantine guidelines have been eased, people are now allowed to go on trips again. While traveling in the new normal still poses a few risks, the reality is that it can be done. Obviously, following safety protocols is a must!
ADVERTISEMENT - CONTINUE READING BELOW
Like us, you probably already have a long list of destinations in mind. But before you go and start ticking these places off your bucket list, you gotta make sure you're prepared with the necessary travel documents. And if you're considering a trip abroad, of course, one of the things you'll definitely need is a valid passport. So whether you're leaving the country or you just gotta get a government ID, keep reading to know more about how you can go online and renew your passport by scheduling an appointment with the Department of Foreign Affairs (DFA).
Here's a guide on how to book an appointment with the DFA and apply for a passport online renewal.
DFA Scheduling
1. The first step is to visit https://www.passport.gov.ph/ (aka DFA's Passport Appointment System). On the home page, you'll see three different options: Schedule an appointment, Manage exisiting appointment, and Consular advisory. Click on "Schedule an appointment."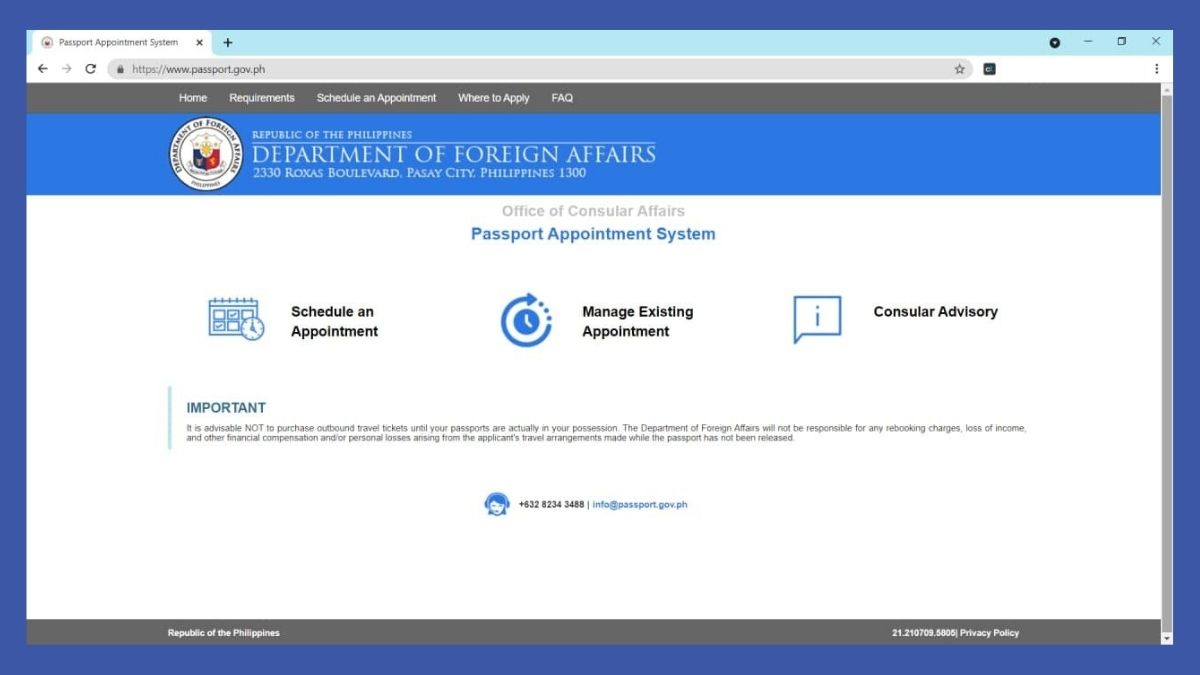 2. You'll then be directed to a page with reminders, terms, and conditions. Once you've read and understood this part, you can agree and click on either "Start individual appointment" or "Start group appointment." For group appointments, a max of up to five people can be accommodated.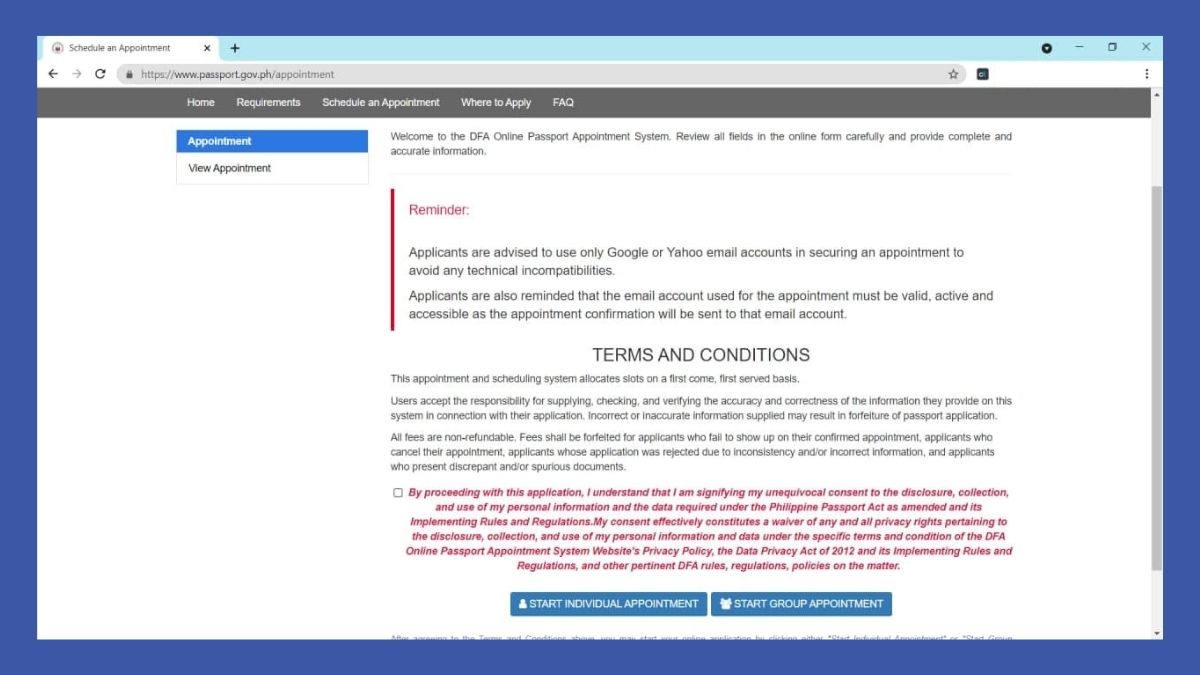 ADVERTISEMENT - CONTINUE READING BELOW
3. The next step is choosing which DFA consular office your appointment will be held. As of writing, the website shows 43 site locations. In case you missed it, the DFA recently opened five new sites for passport renewal, and they're all located in malls around Metro Manila. Once you've selected a site, make sure to go through all reminders and office details before you click "Next."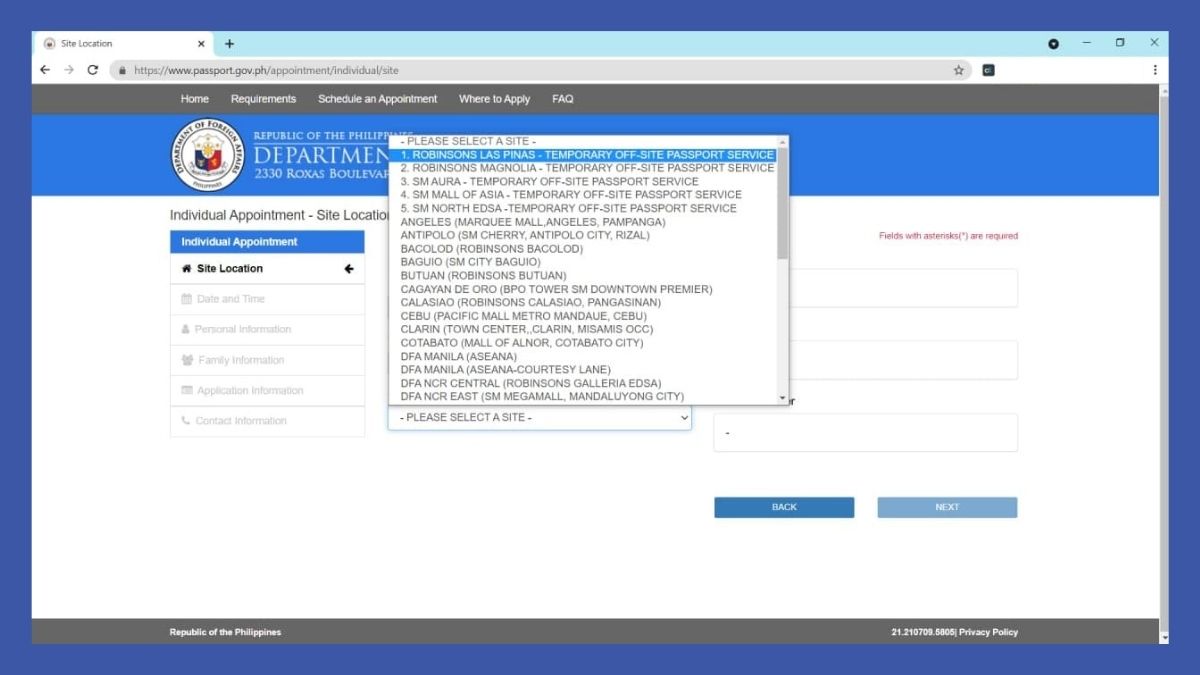 ADVERTISEMENT - CONTINUE READING BELOW
4. Now here's where it gets a bit difficult: choosing the date and time. You see, slots get fully booked fast—especially in Metro Manila sites. According to the DFA, "To the event possible, additional slots are made regularly." It really is a waiting game, so be sure to check every couple of days just to see if some slots are made available. (Fingers crossed!)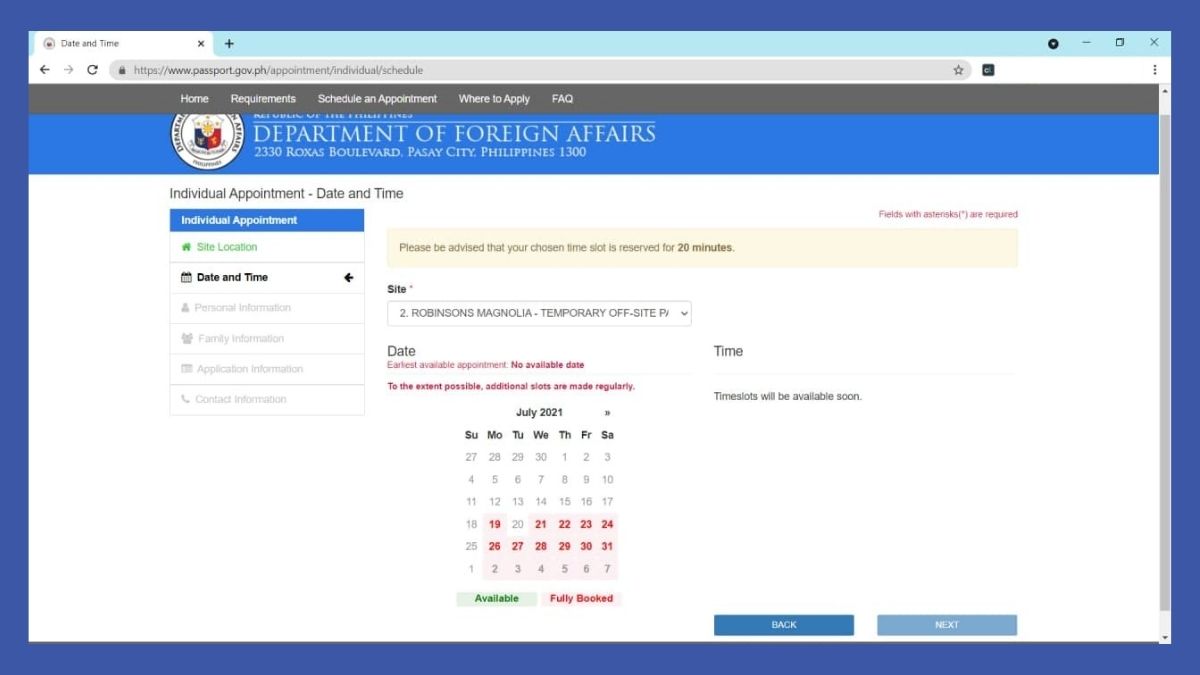 ADVERTISEMENT - CONTINUE READING BELOW
5. In the event that you do get your preferred schedule, you'll have to fill out some forms about your personal and family information.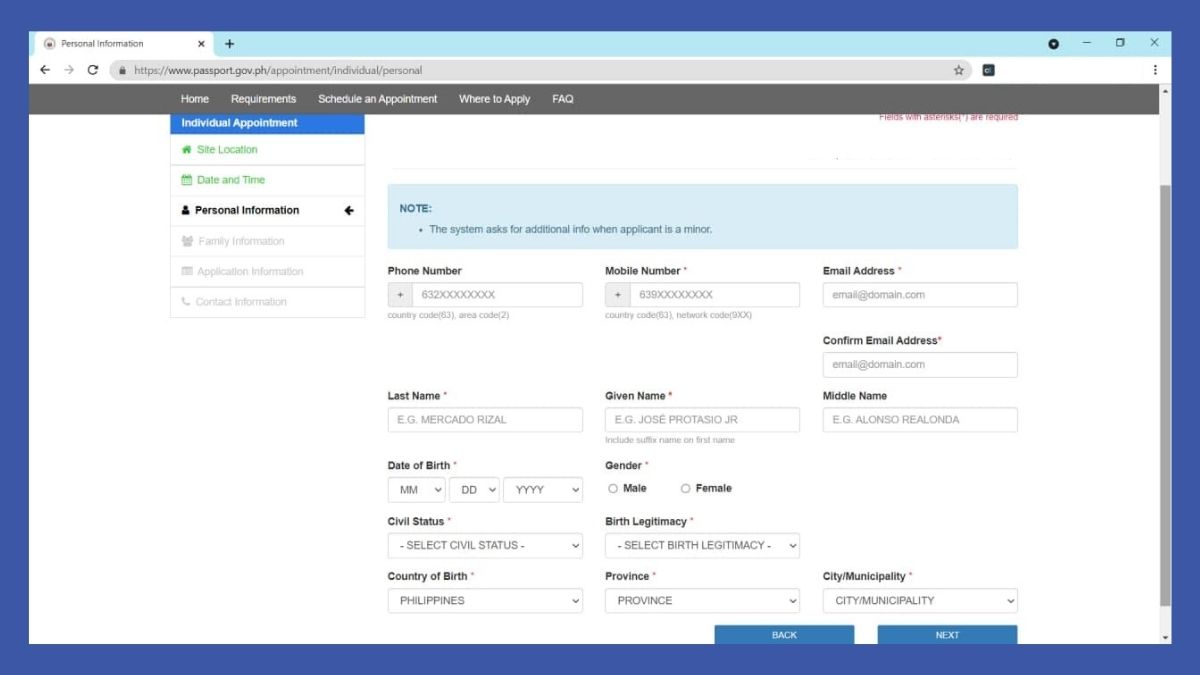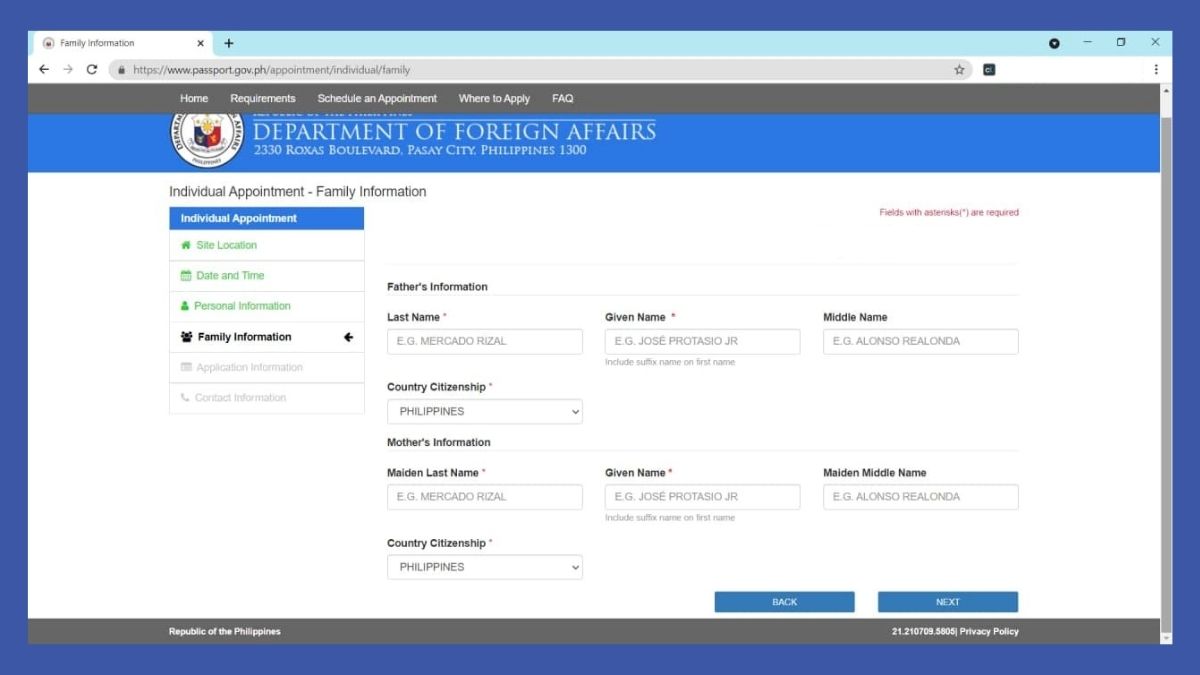 ADVERTISEMENT - CONTINUE READING BELOW
6. From there, you'll be asked to choose your passport application type: new, renewal, or lost. In this case, you should select "Renewal."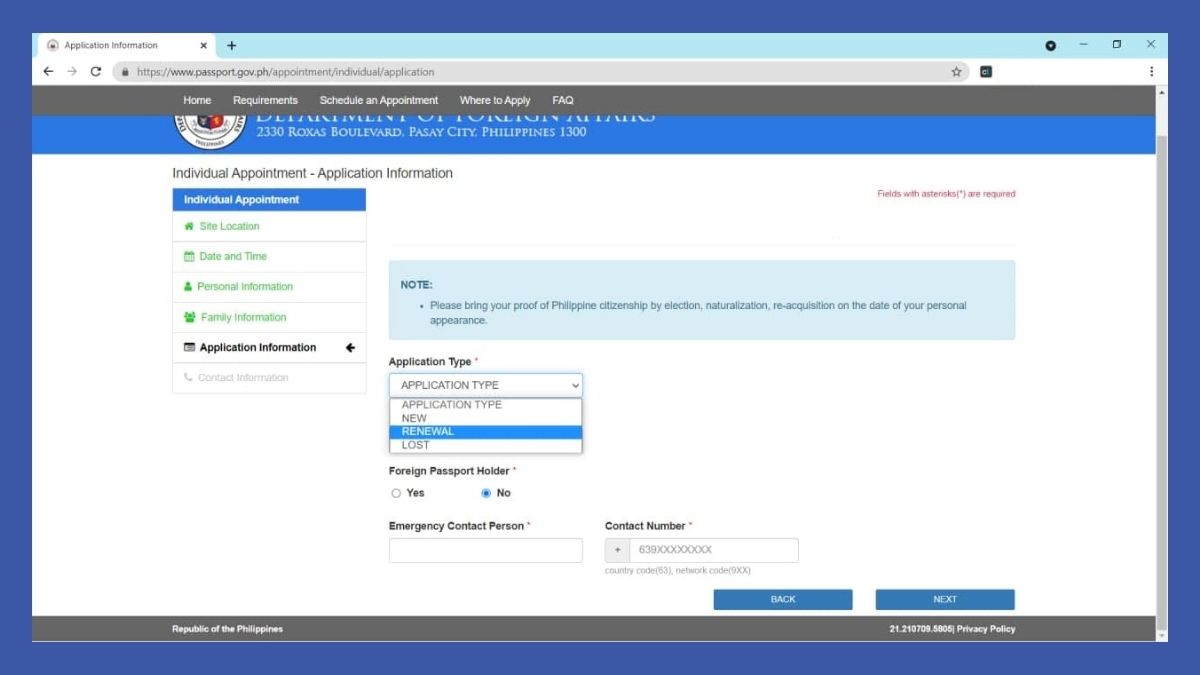 Note: Make sure you have your old passport with you while filling out this part of the application because some info will be required from it.
ADVERTISEMENT - CONTINUE READING BELOW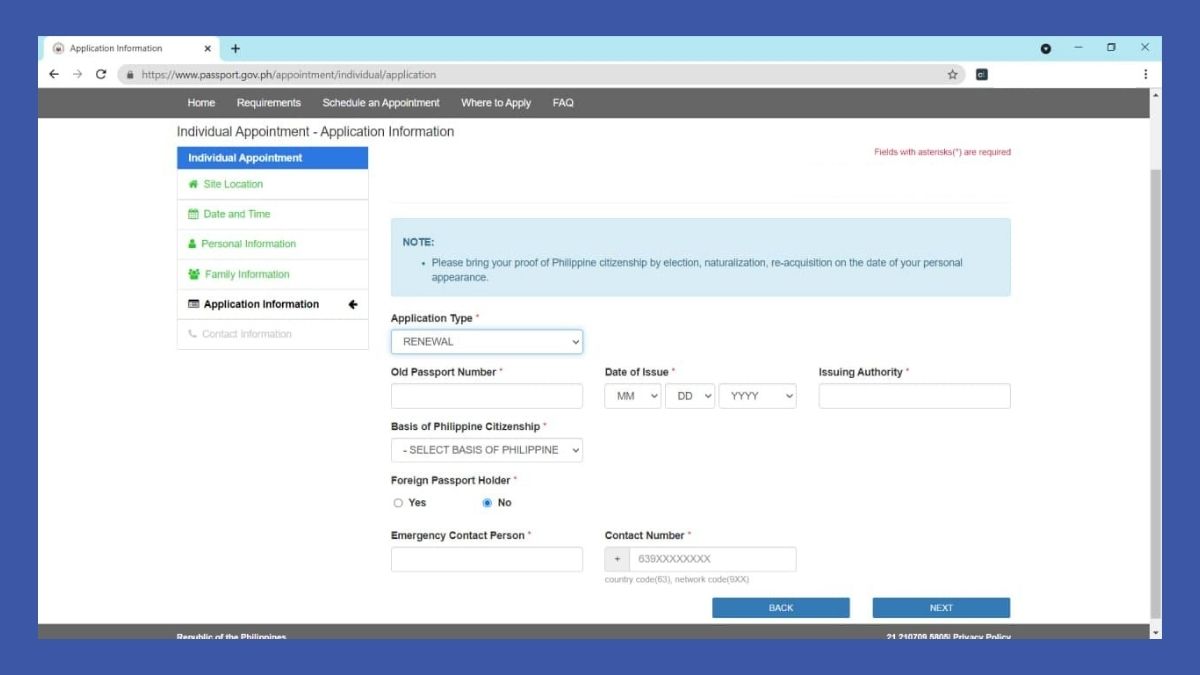 7. Lastly, fill out the contact information by including your complete address, occupation, office number, and office address.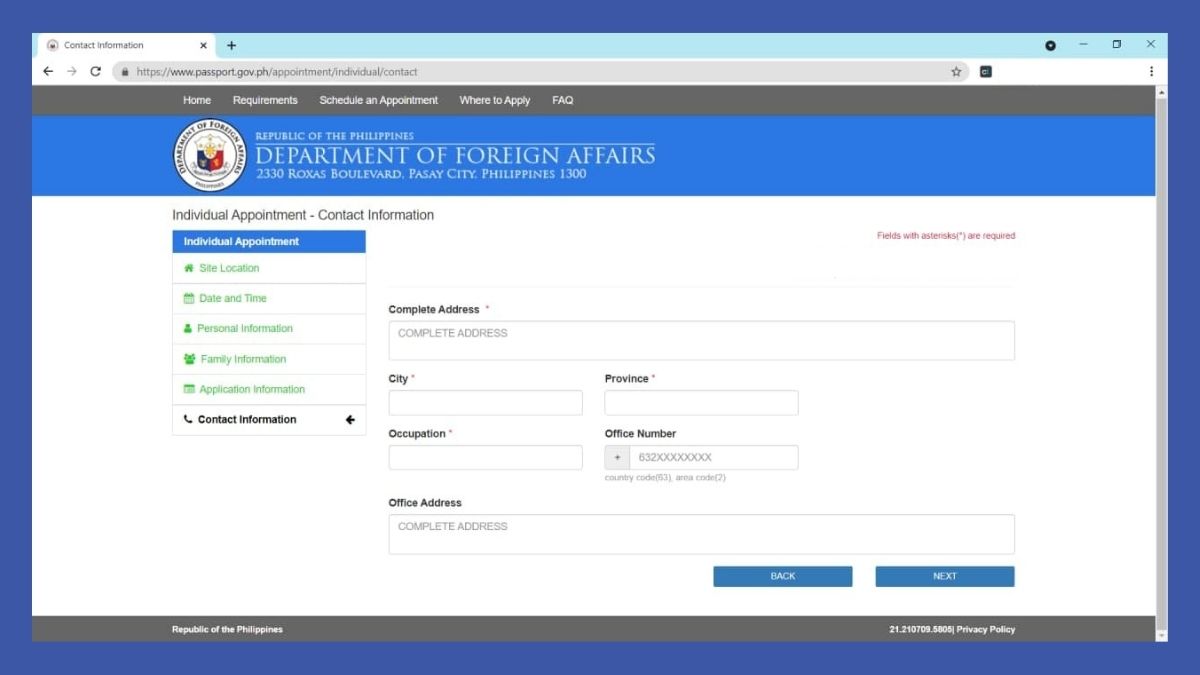 ADVERTISEMENT - CONTINUE READING BELOW
A summary of your application will be shown at the end so that you can review and confirm that the information you've provided is correct. Payment details for the processing fee will also be provided after this step. 
You must settle the passport processing fee first before you can receive the official confirmation email from the DFA regarding your appointment. 
Payment for the passport processing fee
The amount to be paid depends on the location of the office and the preferred type of processing. For regular processing (around 12 business days) in consular offices within and outside Metro Manila, it will cost P950. For expedited processing (six business days within Metro Manila and seven business days outside), it will cost P1,200. As for foreign service posts, processing will take around 28 to 60 days and cost $60 (approximately P3,032.43).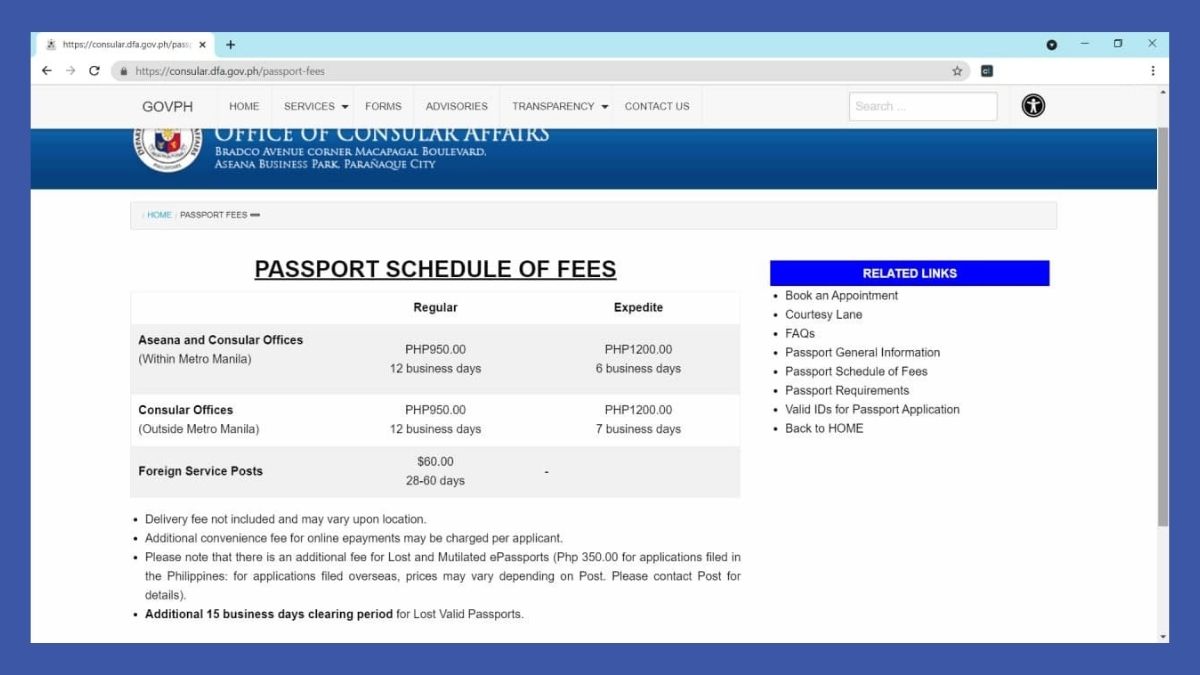 ADVERTISEMENT - CONTINUE READING BELOW
You may settle the passport processing fee through any of DFA's authorized payment centers. These include Walter Mart, Bayad Center, 7 Eleven, Robinsons Department Store, and more. Heads up: In addition to the processing fees mentioned earlier, the authorized payment centers will also charge a convenience fee of P50.
ADVERTISEMENT - CONTINUE READING BELOW
Once you've paid, you'll receive a "confirmed appointment packet" via email from the DFA which contains the necessary instructions for your physical appointment at the consular office. This is very important so make sure you read and understand everything! 
Requirements for passport renewal
If you're an adult and you're renewing a NON-ePassport (meaning you hold a brown, green, maroon, or any older Philippine passport), below are the major requirements:
Confirmed online appointment (This refers to the printed copy of your confirmed appointment packet.)
Accomplished application form
Personal appearance at the DFA consular office
Current passport with photocopy of data page
A valid ID with one photocopy (Here's a list of the acceptable IDs for passport processing.) 
For the full list of requirements and supporting documents needed for passport renewal, click here. 
READ MORE: 
Beach Resorts Near Manila for Your Next Quick Weekend Trip
Here are The Most Powerful Passports For 2021
ADVERTISEMENT - CONTINUE READING BELOW
This Surf Resort in Zambales Is Now Open to Guests From NCR
Places I'd Love to Visit Again When I Go Back to South Korea
***
Cosmopolitan Philippines is now on Quento! Click here to download the app and enjoy more articles and videos from Cosmo and your favorite websites!
Load More Stories