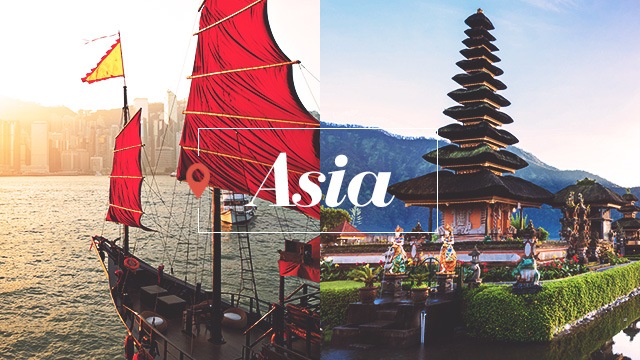 With summer here and another long holiday coming up soon, you're probably already planning a trip to your favorite Asian country. Here are some adventurous things you can try while you're on your family (or solo) vacay:
Hong Kong
Aside from shopping, Hong Kong is great for night hikes and junk boat parties. It's surely an adventurous way to mingle with the locals and other tourists while you experience the city. Plus, you can go on a tram tour and catch a breathtaking view of HK from above. Trams cost about $2.30 per adult and $1.20 per child, making it perfect for families who want to see HK from a different perspective. Check out their routes here.
ADVERTISEMENT - CONTINUE READING BELOW
FN Challenge: Do you have a fear of heights? Go on the 3.5 mile-long Npong Ping Cable Car that suspends you high above the ground. It has glass floors so you can definitely see everything below.
Thailand
If you're a foodie at heart, you'll love Thailand's delicacies! You can even try their four-hour Chiang Mai food adventure by bike where you can taste traditional northern Thai food—definitely the best way to try their cuisine. You can choose a half or full day tour where prices may vary depending on your age and frequency; if you're up for it, you can even dine with the locals, by request that is.
FN Challenge: Try eating at a restaurant with an exotic menu. Silk worms, anyone?   
South Korea
While most tourists would probably visit Namsan Tower to see numerous love padlocks or stroll thru Myeongdong for some shopping, why not release your inner child and visit Lotte World? It's fun and you won't have to worry about the rain since it's indoors. If you have kids with you (and enough cash), you can check in their hotel which offers modern and cozy rooms your whole family can enjoy. 
FN Challenge: South Korea is fond of minimalist tattoos, so for a more...permanent reminder of your trip, maybe you can finally get inked! 
Macau
If you're feeling a little adventurous, visit the Macau tower and try to bungee jump from 338 meters up; but if that's too much for you, try the aerial walk activity on the glass floor of their rooftop instead. It's time to conquer your fear of heights, girl!
FN Challenge: Take a selfie while doing the aerial walk.   
Japan
Tired of the crowded streets of Tokyo? Head down to Nara Park where herds of deer roam freely. It's the perfect way to unwind and be one with nature and the friendly creatures. If you want to fully indulge in their culture, you could also watch a legit sumo wrestling match (know how to book your tickets here) and tour the city at night.
ADVERTISEMENT - CONTINUE READING BELOW
FN Challenge: Visit the Alcatraz ER themed restaurant where you can have a one-of-a-kind dining experience. How does a plate of beef shaped like a brain in a jail cell sound like? Yum. 
Singapore
There are a lot of attractions to see in Singapore and other than the famous Merlion statue in the heart of the city, you should also visit Universal Studios for a fun afternoon and head to the Garden by the Bay at night for a relaxing dinner with a spectacular view. If you're on a budget, you could still enjoy the Lion City, proper diskarte is all you need.
FN Challenge: Try driving on the F1 track - just take your pick: a McLaren 12C, Ferrari F430 F1 Spider or Lamborghini Gallardo?  
Vietnam
Test your courage when you visit Vietnam's Cu Chi Tunnels. It's a network of underground passageways that run to more than 120 miles (or about 200 kilometers) in total length! It'll be best to experience this with a friend or two. LOL. 
ADVERTISEMENT - CONTINUE READING BELOW
FN Challenge: Take a two-hour flight, get on a boat and swim off of it in Halong Bay (in your swimsuit, of course!). Just make sure you stay safe and that you can handle the water temperature!
Indonesia
Just like the Philippines, Indonesia is composed of many islands making it the ideal place for anyone wanting to find solace in silence.
FN Challenge: If you're up for it, you can go scuba diving or take up surf lessons in in Bali. There are numerous diving schools you can attend, there's one in Padangbai, Tulamben, and Nusa Lembongan. Remember, it's never too late to learn!
Load More Stories