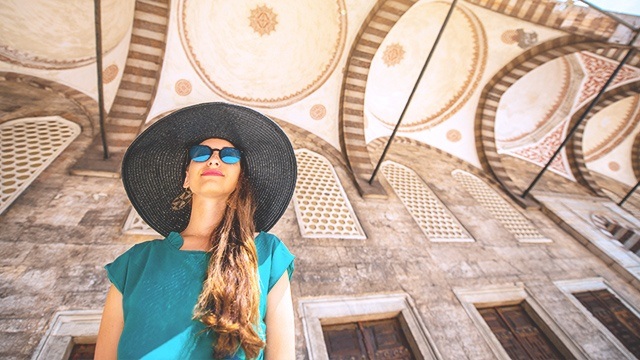 Wishing to look back on your vacation with photos that aren't just a series of weirdly-angled selfies? Here are a few ways to take better travel shots so you can truly reminisce when work becomes too much:
1. Have a reliable camera or camera phone that has the ability to give you clear and high-resolution photos.
Many professional photographers now invest in both a DSLR and a camera phone, and while not everybody can be a pro behind the lens, you can still always invest in a mobile device that will help you get the best moments of your travel.
ADVERTISEMENT - CONTINUE READING BELOW
CONTINUE READING BELOW
Recommended Videos
Former Miss Universe Pia Wurtzbach, who is the new face of the newly-lauched Huawei P10 and P10 Plus, explained during a press conference that aside from taking photos of her niece, she also loves documenting her international adventures.
"I just came back from New York and LA… I asked somebody else to take a photo of me with a nice background behind the Yellow Cab [at] New York, or… like what I just posted [on Instagram], I was Rodeo Drive for the first time… It's me during my travels."
The key is to invest in the right device. Getting a good camera phone and studying what exactly it's capable of can help bring to life the best memories of your trips.
TRY: Huawei P10 (P28,990) and P10 Plus (P36,990), which sport dual 20MP rear cameras and front 8MP cameras co-engineered by Leica, one of the most well-respected names in photography. Both have precise 3D facial detection for portraits, a natural bokeh effect, and RGB and monochrome modes.
ADVERTISEMENT - CONTINUE READING BELOW
2. For your accommodations, choose a place that's visually unique.
If you want to take photos of beautiful venues, start with your accommodations. While luxury hotels are great, there's still nothing like the simple, rustic beauty of B&Bs maintained by welcoming locals. These places are not only great for selfies, but they are also where you can get reliable information on sights to visit and things to experience.
ADVERTISEMENT - CONTINUE READING BELOW
TRY: Visit The Yellow Doors Hostel in Tacloban, a cozy nook managed by siblings Trixie and Jack Palami, which was a project to help bring back tourism in the province in the aftermath of Typhoon Haiyan. For more details on booking and rates, visit them on Facebook.
3. Make use of natural light.
Many beautiful things happen before the sun rises and after it sets. Play with how daylight can highlight your shots, and how nighttime can cast shadows for drama and flair. Best if you wake up early and you stay out late—a lot of things appear more beautiful in these odd hours.
4. Talk to people.
People make great subjects. Reach out to them, and a lot of them will surprisingly accommodate a shot or two with you.
5. Doll yourself up, but always remember to blend in.
Of course, you'd want to look nice for selfies, but you also need to know that for you to interact better with people (see #4), you need to look less intimidating. If you're interested in taking photos of the locals in your destination, then you might as well want to blend in. Doing so helps you move around easier (as touristy people tend to look like they're easy to swindle), plus your possible photo subjects will feel more at ease with you.
ADVERTISEMENT - CONTINUE READING BELOW
TRY:  Uniqlo off-shoulder loose-cut cotton blouses, available in Uniqlo branches for P990.
6. Practice the rule of thirds.
One of the most basic things you need to know to take good photos is the rule of thirds, which, according to Digital Photography School, is "breaking an image down into thirds (both horizontally and vertically) so that you have nine parts… The theory is that if you place points of interest in the intersections or along the lines that your photo becomes more balanced and will enable a viewer of the image to interact with it more naturally." There are so many ways to utilize the rule of thirds, and there are many schools that offer photography classes where you can learn about them should you be interested in upping your skill.
ADVERTISEMENT - CONTINUE READING BELOW
TRY: Sign up for a class at PCCI Institute of Photography. Visit their website for their schedule of classes.
7. Use filters wisely.
Seriously, there's no real need to go trigger-happy on your Instagram filters, especially if you've already taken your photo in good lighting (see #3). Don't use filters to make your image look overdone, and instead apply them only to highlight the best features of your shots.
ADVERTISEMENT - CONTINUE READING BELOW
8. Tell a story.
Selfies are great, taking sophisticated photos is more than just OOTDs—it's about telling the story of your destination and translating to imagery how it makes you feel. Your shots can be rough, but if you manage to convey what you want to say, then you're doing it right.
Load More Stories