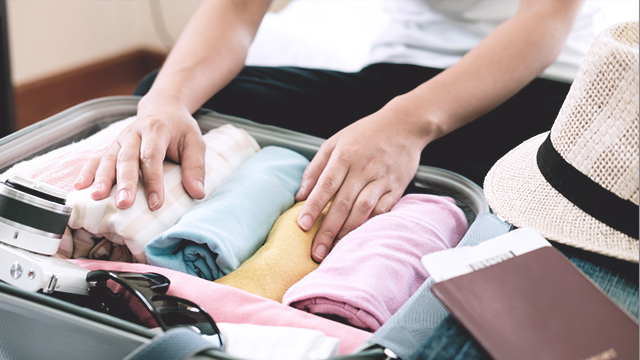 What you pack in your travel bag can make or break your trip, and packing efficiently can help guarantee that you will have everything you'll need.
Proof? A survey has previously revealed that one out of two Filipinos wastes an average of four vacation days a year due to poor planning. Just look back on all your emergency trips to the drugstore or mall just because you forgot an essential item for your trip. Even more hassle if the closest convenience store is a few kilometers away from your hotel, or when you're totally unprepared for the drastic weather change in your destination.
CONTINUE READING BELOW
Recommended Videos
ADVERTISEMENT - CONTINUE READING BELOW
To avoid wasting money by buying things you could have just brought, here are some tips to help you pack for your next business or vacation travel:
How to pack a suitcase
To pack a suitcase, you will want to put the heavier items in the bottom such as your shoes, thick clothes, and big toiletry bottles you're lugging around. If you're carring breakables, you'll want to use your clothes to help pad them, but don't forget to wrap each piece individually first (maybe with some tape and newspapers) to be extra sure. Keep the items separate by using cloth bags, and make sure liquid containers are wrapped in plastic so nothing seeps through should accidents occur.
You will also want to spread the weight around so nothing gets pressed onto each other, so keep other items small pouches so you can move them around easier.
How to pack a suit in a suitcase
We've previously talked about the benefits of wearing a suit when you travel, but it's also important to keep them looking sharp, pristine, and wrinkle-free for full effect. To pack a suit into your luggage, pop the shoulders inside out (or pop one side, then fold and insert the other shoulder into it), and fold it in half vertically (with the lapels touching each other), then fold it horizontally before storing them in your bag. Alternatively, you may also roll the suit jacket after the first fold.
ADVERTISEMENT - CONTINUE READING BELOW
How to pack a dress in a suitcase
Dresses are trickier to pack since the silhouettes are usually less structured, so your approach should depend on the natural shape of the dress. If you're traveling to attend a formal occasion, you might want to opt for a dry cleaning or garment bag, as the wrap will help protect your dress from wrinkles. For a more casual piece, you may simply fold it in half vertically and roll it, or fold it into a neat reactangle and place it on top of your luggage last. Make sure that the weight below it is evenly distributed so it doesn't cause any further wrinkles on the flight.
How to pack a suitcase for a week
In a packing video made by online personality Carly Cristman of E! Style Collective, she reveals it helps to pack on about five to eight tops that have versatile styles so they can be easily paired with whatever bottoms you are bringing. (Neutral colors are usually your safest bet!) Packing four bottoms with different styles will also help vary up your look. 
ADVERTISEMENT - CONTINUE READING BELOW
For cold weather, she suggests bringing one thick jacket or coat, three sweaters, leggings, and thermal underwear. 
How to pack shoes in a suitcase
It's best to really think about the right footwear for your trip, especially if you'll be doing a lot of walking once you reach your destination. It might also be smart to wear your workout or walking shoes when you travel if you're taking a long-haul flight.
Shoes are tricky to pack, as they are pretty much breeding grounds for bacteria, dirt, and toxins. For hygienec reasons, it's best to keep your shoes in a case separate from your clean clothes and underwear--a plastic or cloth bag will do! You should also put your heaviest pair in the bottom of your suitcase, and stuff them with socks to maximize space.
How to pack toiletries in checked luggage
If space is an issue, it's best to prioritize "double-duty" products. Micellar water, for instance, works as a cleanser, toner, and moisturising mist. Now, if you'd rather bring your existing bottles and containers with you, to make sure that you minimize spillage, it's best to wrap the caps, even the base of the caps, in tape. You should also put all the liquid containers in a ziplock as an extra precaution.
ADVERTISEMENT - CONTINUE READING BELOW
How to pack a suitcase to maximize space
You'll want to fill in every space when you're packing a suitcase (think of how you play Tetris!). For starters, make sure none of the bags or purses you being remain empty. Use them as pouches or containers instead! You can use them to further compartmentalize the other, smaller items you're bringing, like makeup, jewelry, and accesories. You may also stuff socks into your shoes, and panties in between your bras.
How to pack wine in a suitcase
If you're bringing wine or any sort of alcohol (like if you're off to a bachelorette or your grandparents' wedding anniversary), try to wrap it in clothes or a towel you wouldn't necessarily miss should an accident happen. Keep it in the center of the suitcase for extra stability! You may also put it in a ziplock bag. If you want to be extra careful, you may request for a 'FRAGILE' sticker or tag on your luggage.
ADVERTISEMENT - CONTINUE READING BELOW
How to pack perfume in checked luggage
Since you can't bring a full-sized bottle of perfume on board, you will need to pack it in your checked luggage. There will always be a bit of a risk in transporting perfume bottles, so it's up to you if you'd rather remove it from it's original cardboard packaging or not (Although if they're to be given as gifts, it's understandable why you wouldn't want to). The key is to pad it extremely well! Similarly, you may also request for a 'FRAGILE' sticker or tag on your luggage.
How to pack everything in one suitcase
Keep in mind that if you're using your suitcase as a carry-on and not checked-in, you won't be allowed to carry liquids that are more than 50 ml. In the video below, YouTube vlogger Aja Dang shares tips to pack 14 looks in one carry-on. She advises to bring three bottoms: a skirt, jeans, and slacks, two outer layers (one to pack, the other to wear on the flight), three pairs of shoes: walking shoes, heels, workout shoes, and four tops: a shirt, a button down, one fancy, and one casual top.
ADVERTISEMENT - CONTINUE READING BELOW
Comments
Load More Stories