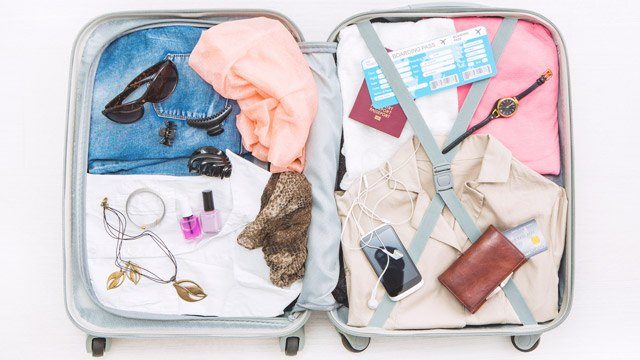 We have to be a smart shopper when it comes to luggage. Why? The good ones are expensive, so you want your chosen luggage to last several years. And there's nothing like wheeling a cumbersome, heavy, unyielding suitcase to make a trip several times more stressful! So look at luggage shopping as an investment for your future travels. To help you pick the best one, we've listed down important points we've learned from The Wirecutter's extensive luggage review: 
ADVERTISEMENT - CONTINUE READING BELOW
CONTINUE READING BELOW
Recommended Videos
1. Soft-sided luggage wins over hard-shell overall.
Hard-shell suitcases are typically lighter than their soft-sided counterparts, but if you're looking for durability, interior organization, and exterior pockets, the latter takes the trophy, according to the reviewers.
"The hard shells can crack more readily under the extremes of our drop test and handle-jerking tests," Scott Applebee, vice president of marketing for Travelpro, told The Wirecutter. Durability is a big consideration when buying luggage because they're bound to take a lot of beating. "Soft-sided luggage is more flexible, quite literally, so these bags tend to bend, not break, and scratch instead of crack," said The Wirecutter writer Kit Dillon.
Hard-shell luggage may come in vibrant colors and cute designs, but the plastic makes scratches and wears more prominent as well. Couple that with the durability disadvantage, so it's best to go for soft-sided if you plan to use your luggage for a long time. 
ADVERTISEMENT - CONTINUE READING BELOW
2. Can't decide what size to choose? Go for a 25-inch luggage.
We always need a roomy suitcase especially when you're planning to bring home lots of pasalubong. But, if you choose one that's too large, the suitcase can make it too easy for you to pack too much and exceed allowable weight limits at the airport check-in, explained The Wirecutter. After testing, they found that a 25-inch luggage is a perfect size for a typical traveler. Talking of their top picked luggage, the Travelpro Platinum Magna luggage, a 25-inch suitcase,  The Wirecutter said, "[It can hold] a full seven-days' worth of clothes for two people." Not bad, right?
3. Check the zippers. 
Many bags fail at zippers. Check for grip and smoothness. The zipper shouldn't be difficult to open or close, shouldn't open by itself, or come off its tracks easily. According to The Wirecutter, zippers by YKK (you'll be able to see the letters on the zipper itself) are the most reliable. 
ADVERTISEMENT - CONTINUE READING BELOW
4. Check the wheels. 
For bigger suitcases that can get quite heavy when full, make sure they have four wheels -- not two -- and can do a 360° spin. "We find that spinner wheels ease some of the awkwardness of maneuvering a heavy bag through an airport," said The Wirecutter. A problem in four-wheeled suitcases, however, is they can be less sturdy and are more prone to breaking. To counter this, ask the sales assistant if the luggage has "sealed wheel bearings."
If you're going for carry-on luggage, which is smaller, two wheels are okay as they will take up less space in the overhead compartment.
5. Pockets are great for traveling families.
Here's another reason to go for soft-sided luggage: they have more pockets. They're nifty extra features that you should consider when especially when you already have a family of your own. "[They] can be a lifesaver if you're traveling with kids and need quick access to extra-small toys, coloring books, clothes, or supplies," said The Wirecutter.

[h/t: The Wirecutter]
ADVERTISEMENT - CONTINUE READING BELOW
This story originally appeared on Smartparenting.com.ph.
* Minor edits have been made by the Femalenetwork.com editors.
Comments
Load More Stories